What Kamala Harris And Beau Biden's Friendship Was Really Like
Robin L Marshall, Mark Wilson/Getty Images
As Joe Biden and Kamala Harris continue their presidential campaign, let's acknowledge the person who inadvertently helped to unite the pair: the former Vice President's late son, Beau Biden.
"I first met Kamala through my son Beau," Joe wrote in an email to campaign supporters announcing Harris as his running mate (via Marie Claire). "He had enormous respect for her and her work. I thought a lot about that as I made this decision. There is no one's opinion I valued more than Beau's and I'm proud to have Kamala standing with me on this campaign."
Indeed, when Beau and Harris were both Attorneys General for their respective states, the two shared a professional relationship that blossomed into a deep friendship, which lasted until Beau's untimely death in 2015 following a battle with brain cancer. Below, we dive deeper into the pair's friendship — a camaraderie that included a great deal of respect for one another, both professionally and personally. 
Kamala Harris and Beau Biden 'had each other's backs'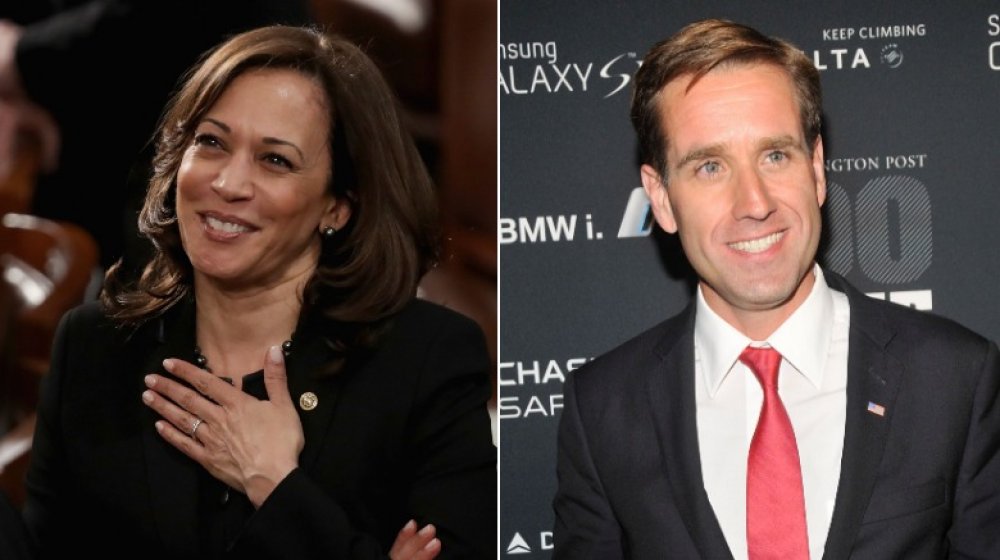 Win Mcnamee, Ben Gabbe/Getty Images
Kamala Harris and Beau Biden's friendship began while Harris served as the Attorney General of California, and Beau held the same position for the state of Delaware.
In 2011, Harris made a controversial decision in the wake of the housing crisis following the Great Recession of 2008. According to Oprah Magazine, the politician was pressured to accept a settlement from the mortgage financing industry, which would have given California millions from big banks. Harris, however, did not take the deal, instead opting to hold out for a higher offer — a choice that received plenty of blowback. But one politician who had her back was Biden, who collaborated with Harris during his own investigation into the banks.
"There were periods, when I was taking heat, that Beau and I talked every day, sometimes multiple times a day," Harris wrote in her 2019 memoir, The Truths We Hold (via The Guardian)."We had each other's backs." The two also worked to fight "online child abuse imagery, sex trafficking, gun violence, and elder abuse in nursing homes," Oprah Magazine reported.
After Biden's death in 2015, Harris honored her late friend in a moving post on Instagram. "I feel fortunate to have known Beau as a friend and to have had the opportunity to work closely with him as Attorneys General," she shared. "My heart and prayers go out to his family, which he loved so passionately."