Inside The Plexiglass Controversy At The Vice Presidential Debate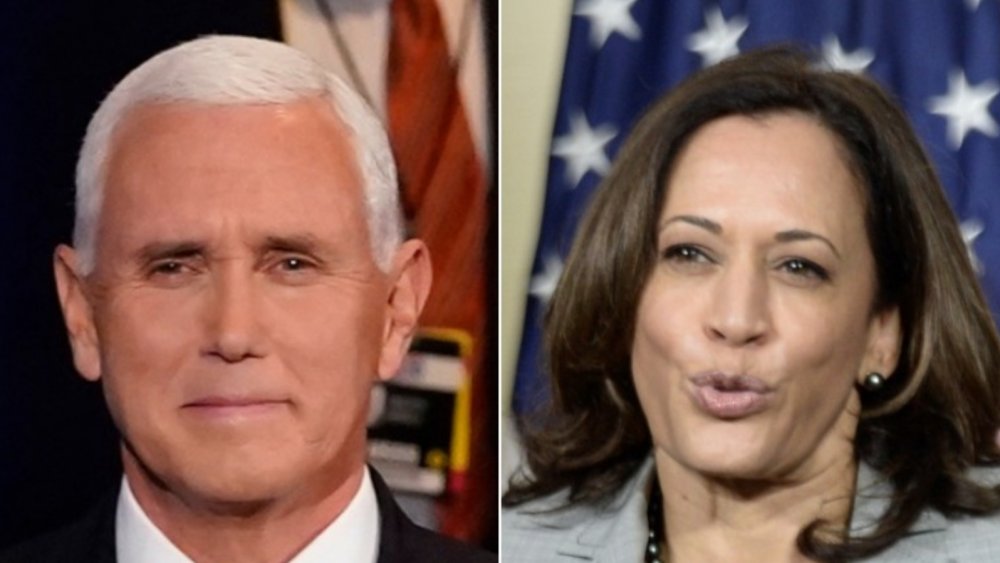 It appears the debate between Vice President Mike Pence and Democratic vice presidential nominee Kamala Harris started way before the vice presidential debate on Oct. 7, 2020, at the University of Utah. What are we talking about, exactly? In case you're new here, allow us to introduce you to the plexiglass controversy, aka the debate before the debate. The appetizer before the entree. The preview before the premiere. Well, you get it.
As reported by The Washington Post, the trouble first began when Vice President Mike Pence's advisers were adamant that plexiglass barriers weren't necessary for the debate. But unfortunately for Pence's camp, the "two clear dividers, one next to each of the tables," were already being set up. As for Harris? Well, her campaign requested the barriers in the first place.
According to the Commission on Presidential Debates co-chair, Frank Fahrenkopf Jr., Pence walked back his objections to the precautionary measures after he viewed the setup. "They said if Senator Harris feels safer to have two plexiglass dividers up, we have no objection," Fahrenkopf explained, according to CBS News. 
But wait — there's more about this back-and-forth to explore. Here's everything you need to know about the plexiglass drama at the VP debate.
Mike Pence's camp questioned the need for plexiglass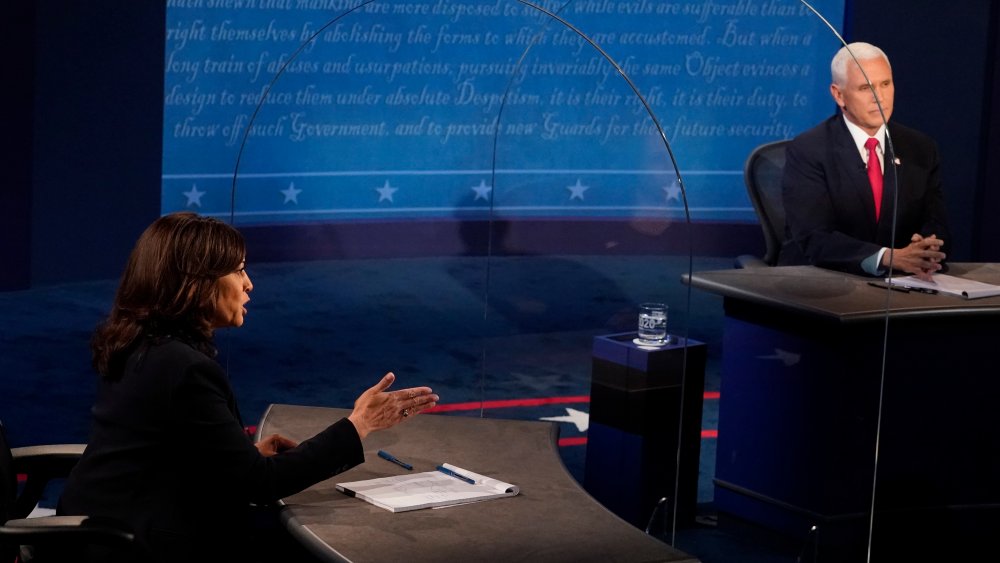 Pool/Getty Images
Vice President Mike Pence's team was singing a much different tune, however, before they finally agreed to allow the precautionary measures. Per The Washington Post, Pence's chief of staff, Marc Short, stated that the vice president's team did not think the barriers were needed due to all of the other safety measures in place, including a 12-foot distance between the opponents and daily testing. "If she wants it, she's more than welcome to surround herself with plexiglass if that makes her feel more comfortable," Short maintained. "It's not needed." Ron Klain, a senior adviser to Democratic nominee Joe Biden's campaign, tweeted in response, "The head of the WH Task Force on COVID should be busy getting plexiglass into countless workplaces and shops to keep workers and shoppers safe — not belittling its use."
Side note: Medical experts told The New York Times that plexiglass barriers might not be effective in preventing the spread of the coronavirus. Go figure.
The plexiglass barriers, however, were only the tip of the iceberg. A new wrench was thrown in when President Donald Trump's aide, Stephen Miller, tested positive for COVID-19. As it turns out, Miller is married to Katie Miller, one of Pence's lead staffers. As The Washington Post noted, the University of Utah's policy regarding coronavirus stated that anyone who has been exposed to a person diagnosed with COVID-19 should self-quarantine for 14 days. 
The bottom line here? The pre-debate drama was just as wild as the debate itself.