The Untold Truth Of Rand Paul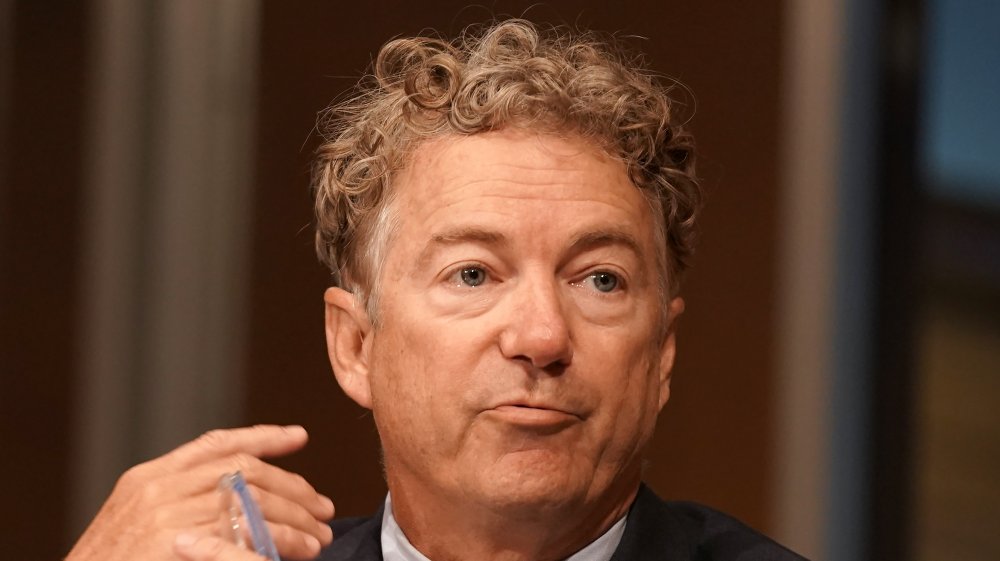 Pool/Getty Images
Kentucky Sen. Rand Paul is a complicated man. The Republican senator is definitely controversial, with behavior that sometimes ignites confusion and even anger — even from his fellow Republicans. 
According to his U.S. Senate bio, Rand Paul is a doctor who graduated from Duke University Medical School. He is also a "devoted husband and father of three" and a "devout Christian." He once ran for president, following in his father's footsteps.
Paul was the first senator to test positive for the coronavirus, but his actions while waiting for his test results were surprising. Paul reportedly upset his colleagues and aides in the Senate by "not doing more to self-quarantine earlier and for potentially exposing senators to the coronavirus," according to CNN. Another Vox report noted a "fair amount of worry among Paul's colleagues about their possible exposure." The outlet wrote that "Paul was at the Senate Republican lunch meeting on Friday, and he was reportedly swimming in the Senate gym's pool on Sunday morning" — the same day that he received his positive test result.
As a doctor, you would think Paul would be a bit more careful about following CDC guidelines. But according to The Washington Post, the ophthalmologist is "self-certified" and has questionable qualifications. Furthermore, that wouldn't be the only time this doctor turned senator defied expectations. Read on to find out more about Rand Paul.
Rand Paul got into a fight with Dr. Anthony Fauci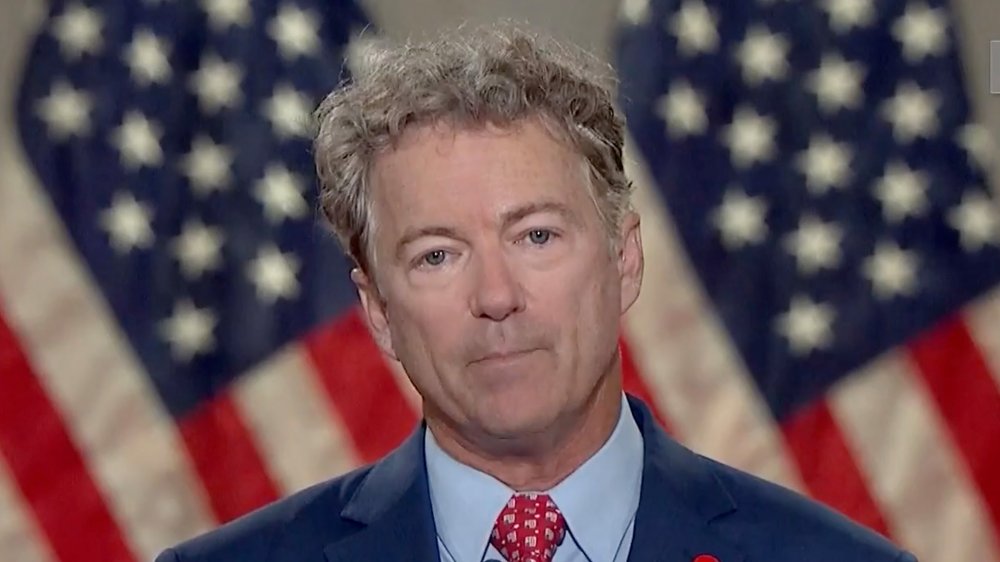 Handout/Getty Images
Sen. Rand Paul has made people upset before. In 2017, Paul's neighbor Rene Boucher became so upset that he physically attacked him. According to NBC News, the skirmish caused Paul to suffer "five rib fractures, including three displaced fractures." The senator also "required medical attention for pneumonia" after the attack.
So what caused this vicious incident? The Washington Post called the incident a "long-standing landscaping dispute." Paul was awarded $580,000 in a civil suit in 2019. Paul is definitely not at fault for his neighbor's violence, but the senator does have a knack for getting into arguments.
In September 2020, Rand Paul got into a fight with Dr. Anthony Fauci during a hearing about opening schools during the pandemic. Paul attempted to argue the concept of virus "herd immunity" with Fauci, who is one of the world's leading infectious disease experts and the director of the National Institute of Allergy and Infectious Diseases. After listening to Paul's opinion, the ordinarily calm Fauci lost his patience.
The Daily Beast reported that Fauci snapped at the Kentucky Senator: "You are not listening to what the director of the CDC [Robert Redfield] said that in New York, it's about 22 percent [that have tested positive]. If you believe 22 percent is herd immunity, I believe you're alone in that." That was far from their first disagreement.
Paul's controversial opinions don't end there. After the 2020 vice presidential debate, Paul accused the "deep state" of planting a fly on Vice President Mike Pence's head.