Rob Kardashian Tweets Kylie Jenner's Digits In Social Media Rant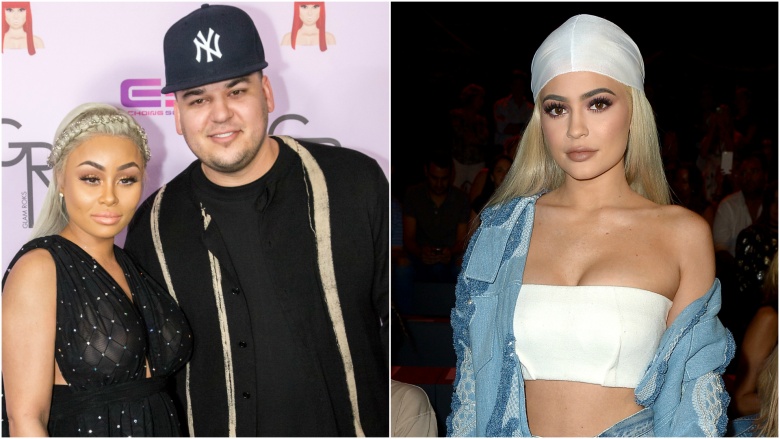 Getty Images
Rob Kardashian reportedly tweeted the phone number of his half-sister, Kylie Jenner, to his 6.65 million followers on Sept. 26, 2016 amid drama over an upcoming baby shower. "I ain't hacked either this is Rob," the 29-year-old Rob & Chyna star tweeted after sharing Jenner's digits. His message also included a series of crying-laughing emoticons.
Kardashian subsequently tweeted Jenner's number a second time, then shared his explanation in a separate tweet. "Didn't invite the Mother of my child to a baby shower you all were trying to throw for me!!?" he wrote. "You all must have lost your damn minds." Kardashian was referring to his baby mama and fiancée, Blac Chyna, 28, who has had a rocky relationship with her future in-laws.
A source for E! News lent some context to the Twitter outburst, confirming it did, indeed, have to do with a baby shower being planned in Kardashian's honor. "Rob couldn't attend, so Chyna was going to attend and Kim [Kardashian] said if Rob didn't go, then Chyna couldn't go," said the source. "It sounds like that's what caused the argument."
Jenner has reportedly changed her phone number.
This isn't the first time Rob, 29, has lashed out on social media. In July 2016, he deleted all traces of Chyna from his Instagram account amid rumors that their relationship was in turmoil. He pulled a similar move in September 2016.
The couple revealed on the premiere episode of their reality docuseries, Rob & Chyna, that they're expecting a baby girl. This will be the couple's first child together. Chyna has a son, King Cairo, with Jenner's current boyfriend, Tyga.