The Truth About Cynthia Bailey And Russell Simmons' Relationship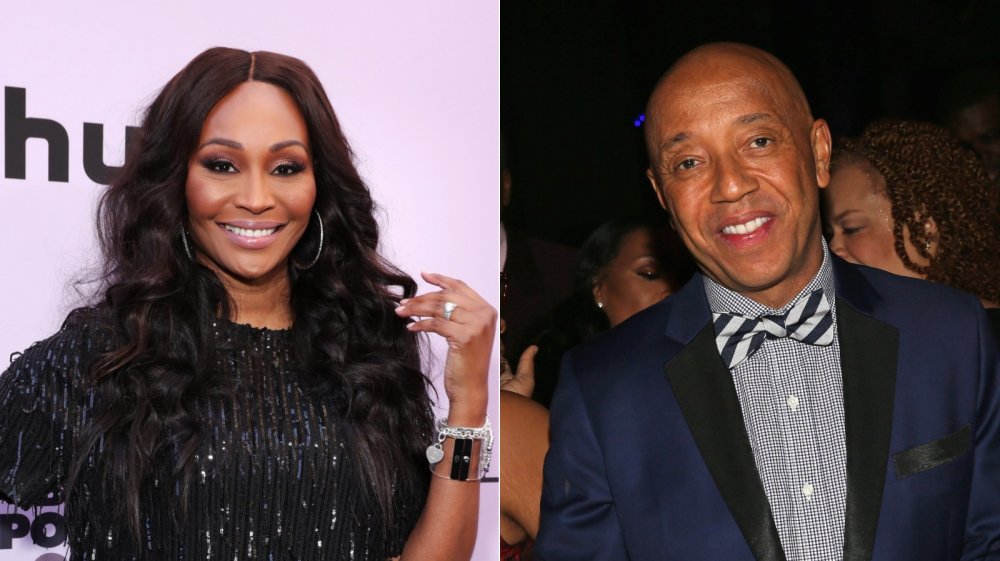 Leon Bennett, Bennett Raglin/Getty Images
Prior to her engagement to sportscaster Mike Hill, as reported by CNN, Real Housewives of Atlanta star Cynthia Bailey had a history of not making it to the altar. Before her marriage to Peter Thomas in 2010 (later divorcing in 2017, according to Bravo), Bailey's experienced cold feet on more than one occasion with her previous lovers. In 1996, the former model declined a proposal from ex-boyfriend Jayson Williams after he proposed to her during halftime at a New Jersey Nets game, per Straight From The A. Bailey later entered a relationship with actor Leon Robinson. She later gave birth to their daughter, Noelle Robinson, according to the outlet.
Now that Hill is claiming his place as the lucky man to take Bailey on her second trip down the aisle, it's safe to say that Bailey has sifted through the frogs to finally get her prince. So, who exactly was the first one to lose his chance to tie the knot with Bailey? Fashion and music mogul Russell Simmons. Keep scrolling to find out everything you need to know about this former fashion duo.
Russell Simmons was not Cynthia Bailey's type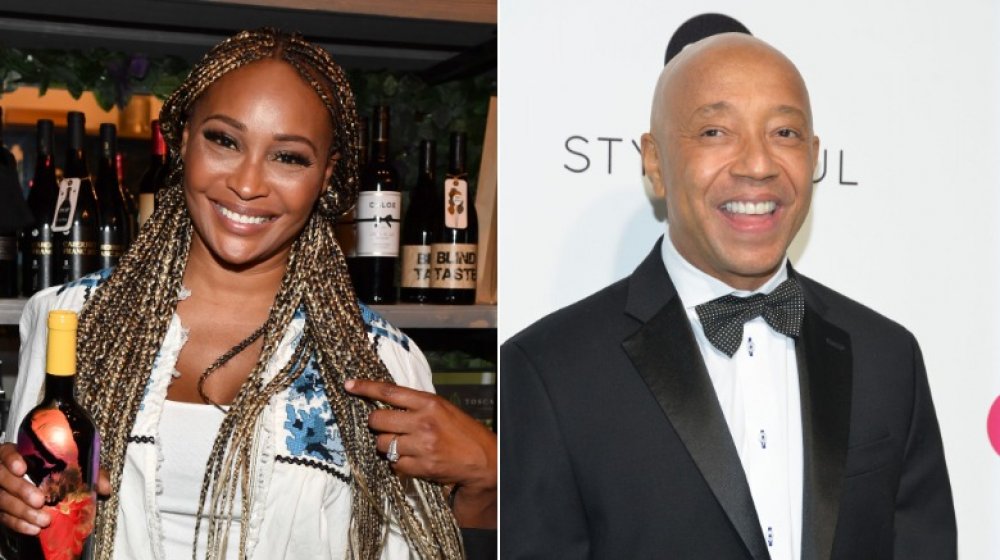 Paras Griffin, Michael Tullberg/Getty Images
Often when people refer to Russell Simmons' love life, the first person that comes to mind is his relationship with ex-wife and model Kimora Lee Simmons. The Phat Fashions couple married in 1998 and had two daughters, Aoki and Ming Lee Simmons, before splitting in 2006 amidst rumors of Simmons' infidelity, according to Showbiz Cheat Sheet. However, it is often forgotten that he once dated Cynthia Bailey before he married the Baby Phat founder.
Bailey and Simmons dated in the early '90s when Bailey's modeling career reached its peak. The two met in New York City, and according to Bailey, Simmons was persistent in his efforts to get her attention. The RHOA star told Straight From The A in 2011 that she wasn't initially interested in Simmons due to his style, but agreed to go on a date with him. "[Simmons] wasn't my type, you know. He was still wearing the paisley wool shirts and the jeans and he was sending flowers and every second was like, 'Please, please, please, please?'"
The couple dated for seven months before their relationship ended due to Bailey's suspicion of Simmons cheating, Simmons proposed to Bailey but she turned him down, Essence reported. Since their relationship's end, the two have maintained a friendship. Bailey spoke highly of his personal growth, saying (via Straight From The A): "There's two Russells: There was Russell that we knew 25 years ago and there is the new, vegan, yoga Russell."