The Truth About Meghan Markle's Relationship With Katharine McPhee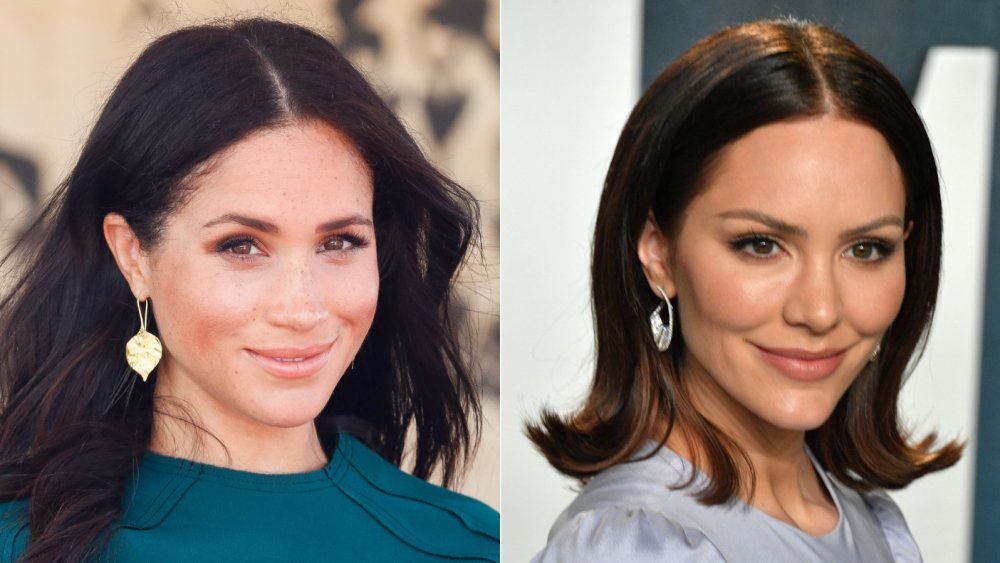 Chris Jackson, George Pimentel/Getty Images
Katharine McPhee publicly revealed her pregnancy on Oct. 8, 2020, prompting congratulations from all over the world and worldwide web. Perhaps one of the most unexpected sources of congratulations came from the Duke and Duchess of Sussex, Prince Harry and Meghan Markle. The royal couple took Katharine and her husband, record producer David Foster, out to dinner in Montecito, California the same day the news of the pregnancy made headlines.
While the foursome may seem like a somewhat random squad, they all have fairly long histories with each other. For starters, David is reportedly something of a "surrogate father" to Harry, and has served as a source of comfort and normalcy as the Prince moved to California from the United Kingdom. It turns out, however, that Meghan and Katharine also have a long history, dating back before either of them were famous and were growing up together in California, dreaming of a life making it in Hollywood.
Katharine McPhee and Meghan Markle went to school together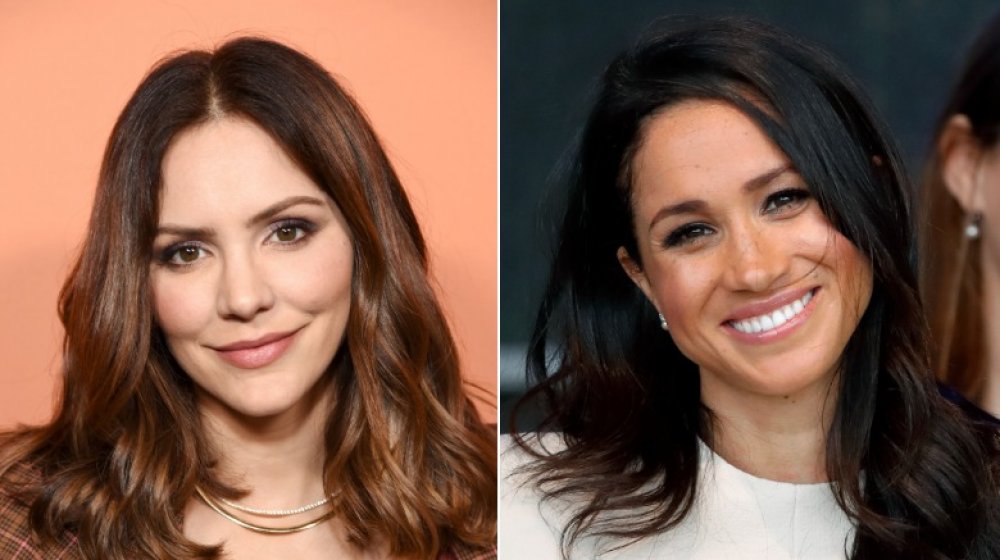 Michael Kovac, Max Mumby/indigo/Getty Images
Before American Idol, before Suits, before marriages and divorces and remarriages, Katharine McPhee and Meghan Markle were kids in California attending school together. Katharine shared a photo on Instagram in January 2019 of herself and Meghan in a school musical back in the day, joking, "She grew up to be the Duchess of Sussex and I grew up to star on the West End, so same life if you ask me." Katharine gave more of the story to People, saying, "She was actually in my sister's class — two years older than me ... I did two shows with her when I was a seventh-grader or eighth-grader." She then added, "I don't know if there are videos of her singing, but she's a really good singer."
The two are even closer now than they were back then, not only going to dinner together with their husbands, but also reportedly planning to spend Christmas 2020 together. Early in October 2020, the Daily Mail reported that the Duke and Duchess will be welcoming Katharine and David Foster into their home for the holidays, explaining that "Meghan very much wants to host the first Christmas at their new home," adding, that "[s]he's really excited and is planning on doing all the traditions she grew up with as a child, including the cooking." 
It seems like Meghan and Katharine are going to be friends for the long haul, and might even be raising their children alongside each other.