The Truth About Bill Burr And Pete Davidson's Relationship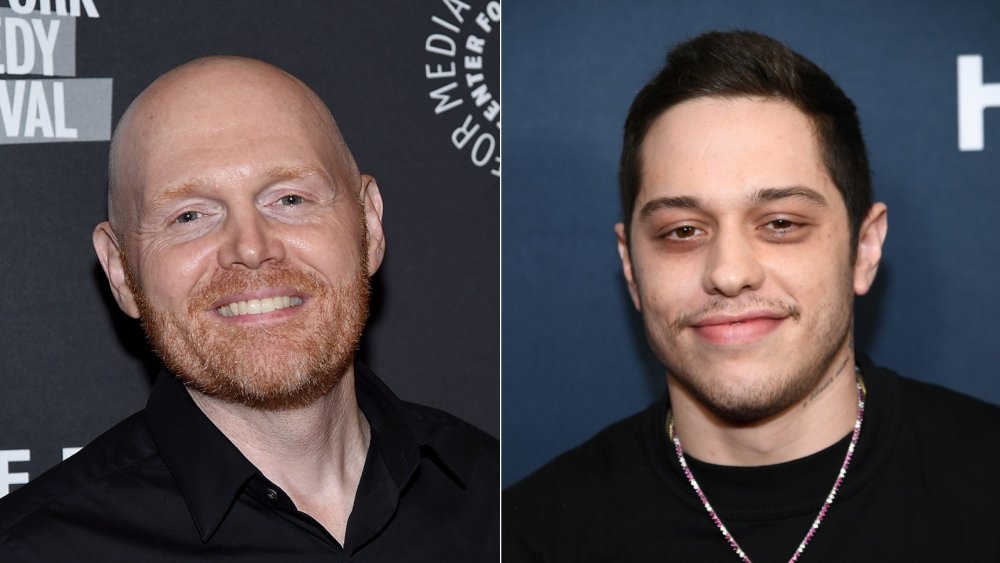 Jamie Mccarthy, Dimitrios Kambouris/Getty Images
In gearing up for his October 2020 Saturday Night Live hosting gig, comedian Bill Burr found at least one familiar face when he entered 30 Rock for rehearsals: Pete Davidson. The two worked together closely on 2020's The King of Staten Island, a somewhat autobiographical account of Davidson's life that was sadly blocked from a theatrical release by the coronavirus. Burr said he was especially disappointed that the film could not be released theatrically because that meant there would be no red carpet premiere — an event the cast wanted to use to spotlight the work of firefighters, per Variety. In the film, Davidson's father is a firefighter who gets killed in the line of duty, mirroring Davidson's real-life father, who was killed on 9/11.
Burr beamed about working with Davidson in the lead-up to The King of Staten Island's release. In conversation with Looper, Burr called him "very, very professional and hard-working." He added, "He was always the first guy there and the last guy to leave." But while working together on The King of Staten Island certainly elevated the bond between Pete Davidson and Bill Burr, the two actually knew each other, and were good friends, long before the film was even conceived.
Bill Burr met Pete Davidson as an 'awkward 15-year-old'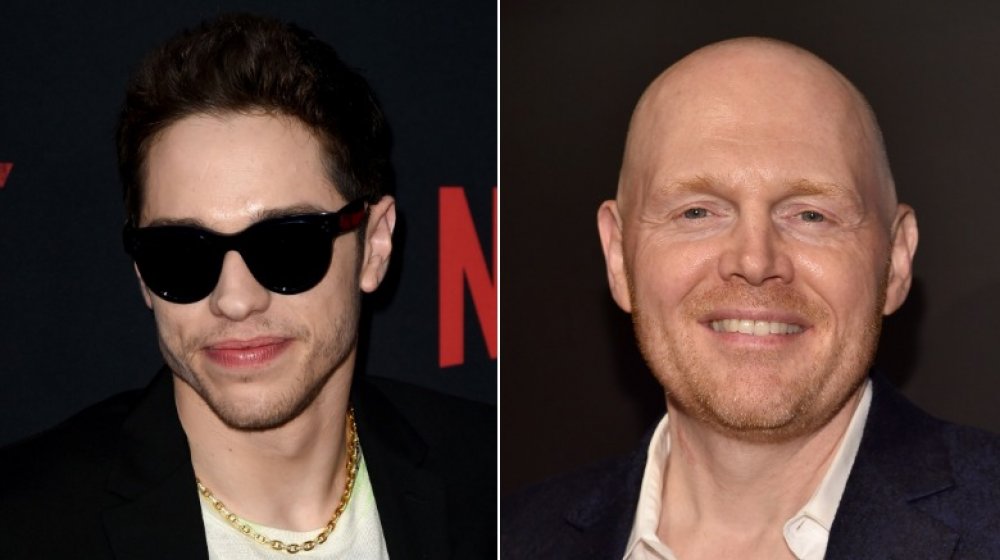 Kevin Winter, Alberto E. Rodriguez/Getty Images
Long before SNL or The King of Staten Island, Pete Davidson was a teenager just getting his sea legs in the world of standup comedy. He and his mother went to see Bill Burr perform and, as Burr told Variety, "The next morning I was coming down to the casino to go to the airport, and right as I stepped out of the elevator, this woman came up to me and goes, 'Hey, Mr. Burr, we were at the show, this is my son. I took him to go do his first stand-up show.' He was standing there, this big, awkward, skinny kid."
Years passed, and they met again; this time, though, Davidson was on stage and Burr was in the audience. "I ran into him in the club, he's doing his thing," Burr recalled. "He said, 'Hey, Bill, I don't know if you remember this, I came out to one of your shows.' I went — Atlantic City. Stars like him, they just have that 'it' thing. You remember them." 
When it came time to make The King of Staten Island, Davidson personally wanted Burr to be in the film. Burr revealed, "Pete called me and said, 'Hey man, I'm writing this movie with Judd [Apatow], and we have a role here we want you to do. Would you want to do this?' I was like, 'Yeah it's a Judd Apatow movie.'" We think it's safe to say that, as these two friends reunite on Saturday Night Live, this certainly won't be their last endeavor together.