What You Didn't Know About Lil Wayne's Friendship With Drake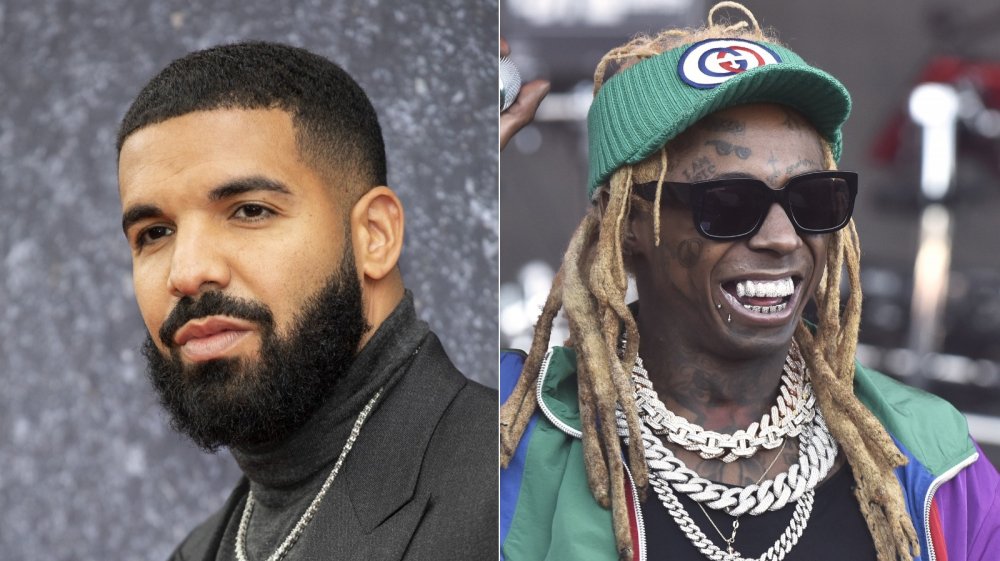 John Phillips, Tim Mosenfelder/Getty Images
Drake is arguably the biggest star in the world. It seems like every week he's breaking a new record, whether it's on Spotify or the Billboard charts or on social media. But Drake's road to the top was a long one, and one that would not have been possible without the mentorship of another ultra-famous rapper: Lil Wayne.
Lil Wayne turned 38 in September 2020, and Drake took to Instagram to wish Weezy a happy birthday. He did not hold back, writing that Wayne "gave me everything I have." This wasn't the first time Drake has shared extreme praise for his fellow rapper, posting a story on Instagram (via XXL Magazine) for Father's Day that read, "You are my brother but you raised me so happy Fathers Day I love u."
It's no surprise that Drake feels so strongly about Lil Wayne. The two have worked together for over a decade, and they toured the world together as both continued to climb to the top of the music industry.
Drake credits much of his success to Lil Wayne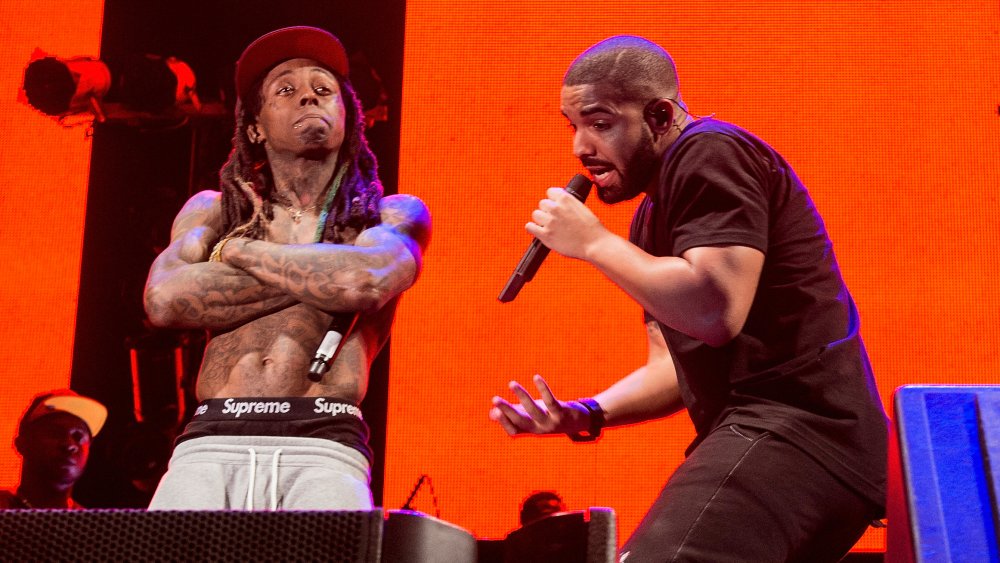 Erika Goldring/Getty Images
"It takes a village" is a cliché because it's true, and it's true with Drake's success. Before he was a famous rapper, he was a Canadian teen television star, and the idea of him becoming a rapper seemed foreign. It was Lil Wayne who decided to give Drake a chance, saying, via Complex, "Drake was always just a knockout from the door." While Drake has made his appreciation for Wayne clear, the feeling is mutual, with the fellow rapper confiding that "I'm honored he even chose me as an option" as a mentor.
Lil Wayne took Drake, along with other Young Money acts like Nicki Minaj, on tour, helping to expose Drake's talents to a wider audience. It was the 2014 Drake vs Lil Wayne tour that Drake's former manager Cortez "Tez" Bryant credits with helping Drake cross the threshold from star into superstar, saying (via Complex), "It was at a time when Drake had arrived as an artist." Tez said the tour not only helped Drake's career, but helped to transform Wayne from a regional U.S. star into an international phenomenon. Drake said of the tour, via Complex, that Wayne was "the most selfless artist ever," and that Wayne put them in front of 20,000 people night after night. 
With the continued support the two have shown each other, it's clear that the bond between them is genuine, and they really do appreciate the support they have received from one another.