Are Josephine Langford And Hero Fiennes-Tiffin Dating In Real Life?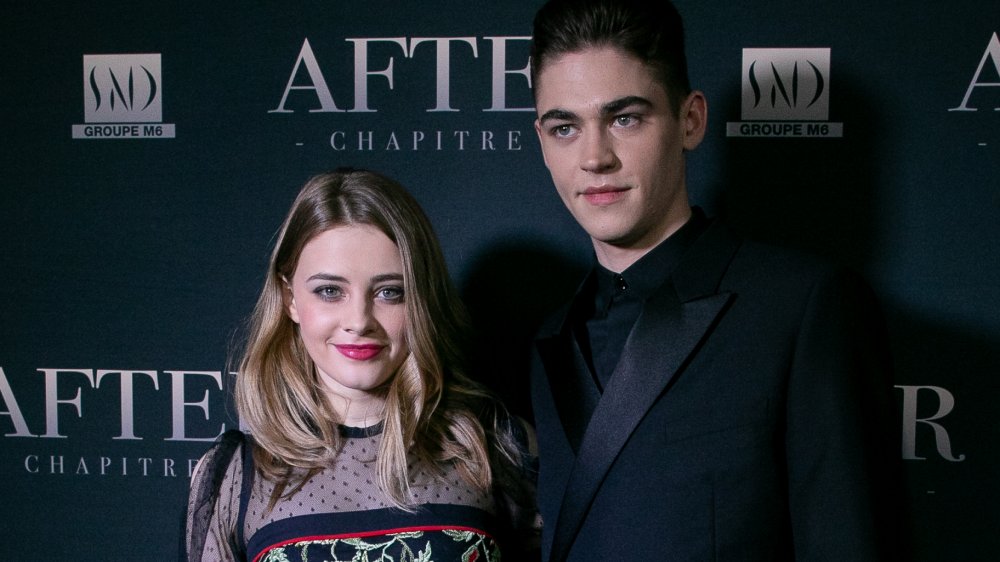 Marc Piasecki/Getty Images
Josephine Langford and Hero Fiennes-Tiffin star alongside each other in the After series, based on the book series of the same name by Anna Todd. The first movie of the series, After, was released in April 2019, and right away, fans latched onto Langford and Fiennes-Tiffin's bond — both as their characters Tessa Young and Hardin Scott and in real life.
In the story, Tessa and Hardin have a tumultuous relationship. Tessa is the good girl who comes to college attached to her boyfriend back home, only to meet bad-boy Hardin who just wants to mess with her. One thing, of course, leads to another, and before you know it, Tessa is breaking up with her boyfriend back home and falling in love with Hardin. Langford — who is the younger sister of 13 Reasons Why star Katherine Langford — and Fiennes-Tiffin's chemistry is apparent on-screen, which naturally led viewers to wonder if the two might be dating in real life.
Their chemistry is clearly apparent off-screen as well — the two appear quite comfortable around each other while promoting the movie series, so what's the truth? Are they or aren't they together?
Hero Fiennes-Tiffin said in 2019 that he'd never had a girlfriend
Well, we actually don't know, because neither one has said one way or the other! Both are fairly private people and share next to nothing on social media, so there are no clues there. Hero Fiennes-Tiffin told Elle in February 2019 that his dating life has been sparse at best. "I've never had, like, a proper relationship. I haven't had a girl I would call my girlfriend." Excuse us while our jaws drop, because that is a bit shocking. The former Harry Potter actor stuck to that story, though.
However, that leaves plenty of time for something to have changed with his After co-star Josephine Langford. She's not speaking on the matter, though, either. She told Refinery29 in April 2019 amid promo for After that her private life is just for her. "It's important to have privacy and have a personal life. I'm trying to have boundaries. I want to be myself and be honest, but I don't have to feel a hundred percent uncomfortable and exposed and tell the world every detail of my life."
For After fans who are hoping they might be dating in real life, there is still hope — while we can't say for sure whether or not they're dating each other, we feel confident they aren't dating other people, and that has to count for something, right?