What You Need To Know About U.S. Rep. Katie Porter
Alex Wong/Getty Images
If you want to see cabinet members and Fortune 500 CEOs break out in a cold sweat, simply mention the name Katie Porter. What you need to know about U.S. Representative Katie Porter appears simple, but there's much more there than meets the eye. She's both a mom and the first Democrat to win a House seat in California's 45th Congressional District in 2018. Yet, while Porter was elected during the same midterm election as the infamous Alexandria Ocasio-Cortez, she did not truly gain national attention until she claimed the spotlight for her questions during various congressional hearings. One of Porter's earliest viral moments came during a congressional hearing in April 2019, in fact. 
Porter and her whiteboard went viral after trying to get billionaire bank CEO Jamie Dimon to explain why he couldn't pay his employees a livable wage when he made $31 million a year. Once footage of Porter questioning Dimon spread across social media, Rep. Porter's takedowns quickly became legendary on the House floor. In a short time, Porter has become famous for speaking truth to power and championing working families. To find out what you need to know about the California congresswoman, read on!
Katie Porter is a single mom and domestic violence survivor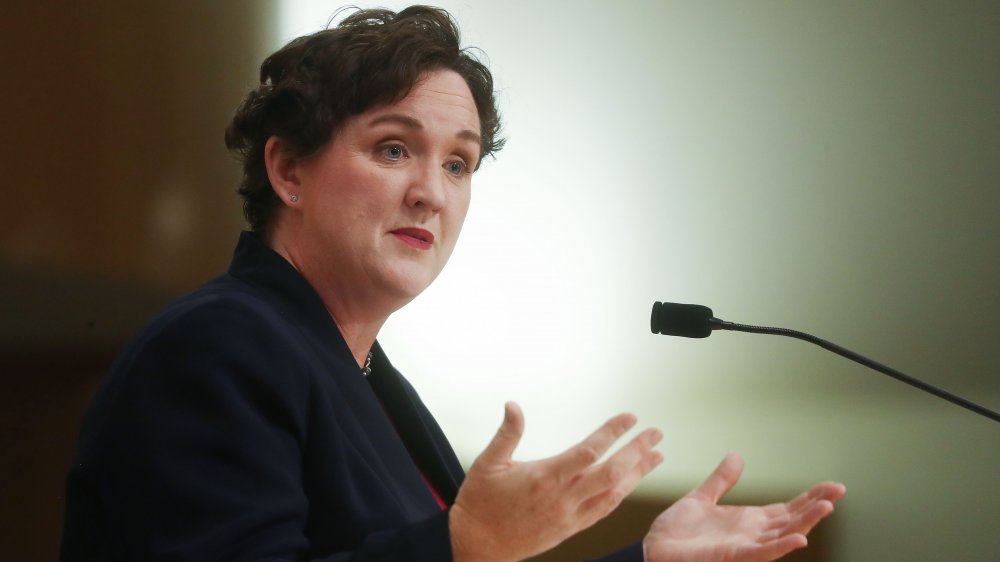 Mario Tama/Getty Images
Katie Porter is the only single mother in Congress (via the New York Times) and she's a domestic violence survivor. During her campaign for Congress, Porter's divorce and her protective order against her ex-husband were used against her (via HuffPost). However, once she was elected to Congress, Porter utilized her struggles to improve the lives of other women. The freshman congresswoman shared her deeply personal domestic abuse experiences as she worked to reauthorize the Violence Against Women Act. In a video, Porter fought back tears, describing the first time she called police for help. The officer told Porter if she called for protection again, her children would be taken away.
Porter survived domestic violence and her experiences gave her extra empathy for the people she serves. In an April 2020 interview with Elle, Porter shared her concerns for Americans challenged by the pandemic. "A lot of the worst things that happened in my marriage happened because of the acute stress of the divorce and life changes," Porter said. "That's not unlike the stresses that some people are facing now with COVID."
Senator Elizabeth Warren also spoke highly of Porter's empathy for her constituents (via Elle). Warren praised the freshman congresswoman from California, saying "Katie understands deep down what it's like to do your best and get caught up in a bigger wave that knocks you over. She's resilient — she bounces back, but she never forgets what it was like to be down."
Katie Porter's colleagues think she's a superhero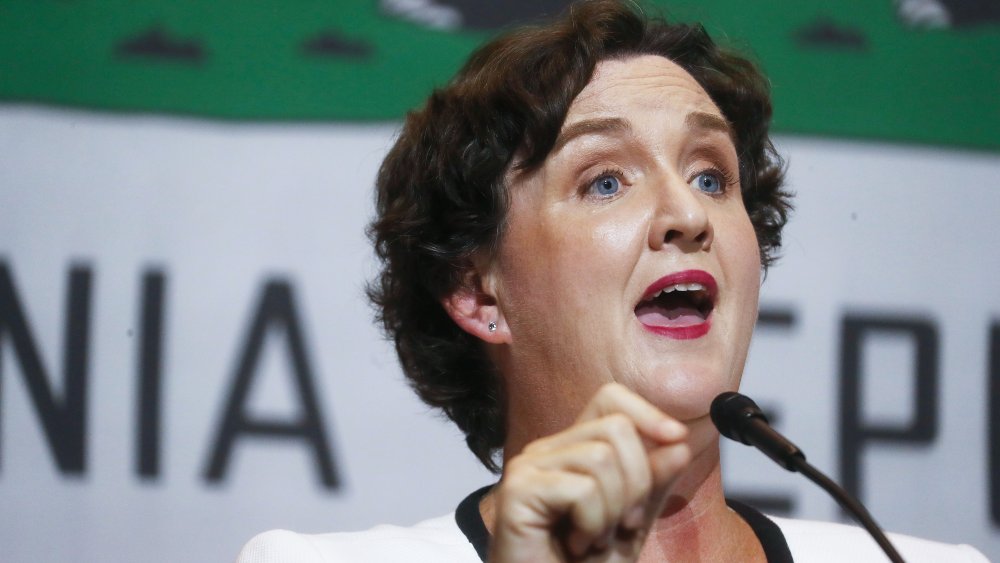 Mario Tama/Getty Images
Another freshman congresswoman, U.S. Representative Ayanna Pressley, told Elle that Porter is a superhero. "My first impression was that she was Superwoman," the Massachusetts representative said. "She could speak about very complicated things and make them digestible and interesting." Like the champion she is, Porter even showed up for work on Halloween 2019 dressed as Batman.
Sen. Elizabeth Warren, Porter's former law school professor and mentor, echoed the sentiment when Porter revealed the advice Warren offered shortly after Porter began her tenure. "I said to Elizabeth, 'I don't feel like I've found out how to make a difference,'" Porter told Elle. But, after Porter's takedowns against the Equifax and Wells Fargo CEOs, Warren recognized Porter's strengths. "She said, 'You found your voice. Don't ever stop using it,'" Porter added.
Porter doesn't think her work requires superhuman powers; she just listens to the people she represents. In a Washington Post interview, the congresswoman noted that most people don't see problems through a Democratic or Republican lens — they only see how problems impact their lives. "There is a lot of desire to talk about the issues without having it be about partisanship," she explained. "I'll say 'we've got a real problem in this country with pharmaceutical prices.' I don't say 'we've got a real problem with pharmaceutical prices because of Republicans.' The reality is I've got a lot of Republican constituents who can't afford the pharmaceutical prices, too."