Ben Carson Is Worth A Lot More Than You Think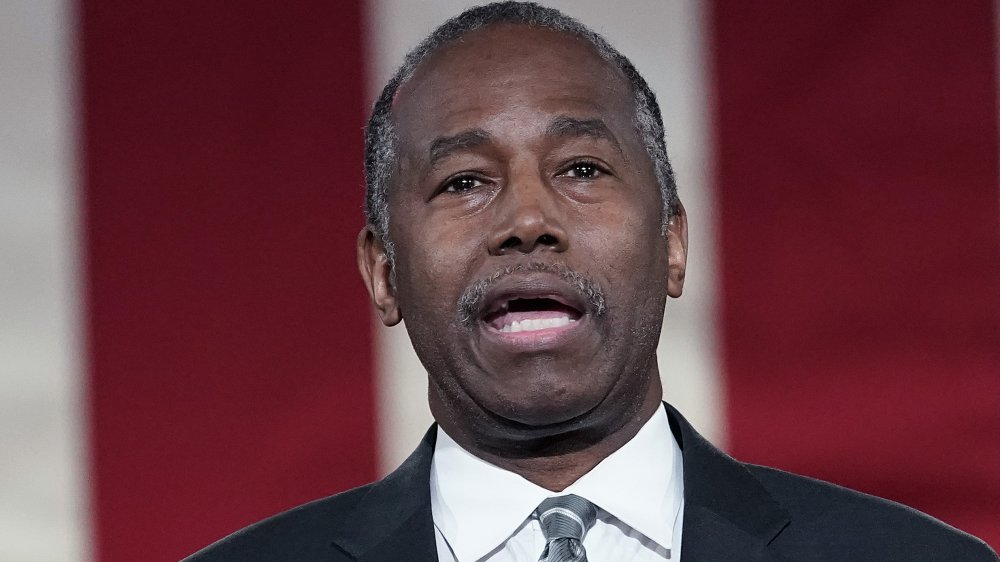 Drew Angerer/Getty Images
We may receive a commission on purchases made from links.
Dr. Ben Carson has had an interesting and (lucrative) career, and he has the net worth to show for it. While Carson has served as the Director of Housing and Urban Development under President Donald Trump since 2017, he's also a famed, retired neurosurgeon. Carson, who was raised by a single mother, grew up in difficult circumstances in Detroit, Mich., per Biography. Despite his humble beginnings, the academically gifted Carson persevered and ultimately found his calling in the medical field. 
He got a full ride at Yale University, and by 1984 was named director of pediatric neurosurgery at Johns Hopkins University, per NPR. "When he walked around Hopkins, he was like God," a former colleague said (via The New York Times). A student recalled: "Some of my friends had a big poster of him up in their dorm room." Carson is widely recognized as the man who, along with "a team of physicians and nurses," completed a successful surgical separation of conjoined twins in 1987. He detailed the procedure in his 1996 book, "Gifted Hands." So the phrase "hey, it's not brain surgery" doesn't apply here. 
By the early-2010s, Carson had shifted his focus a bit, according to Biography, entering politics and launching a presidential campaign in hopes of becoming the 2016 Republican nominee. Carson dropped out of the race in March 2016 and became a vocal Trump supporter. With a speech at the 2020 Republican National Convention under his belt, here's Dr. Ben Carson's stunning net worth today. 
Being a neurosurgeon seemingly paid off for Ben Carson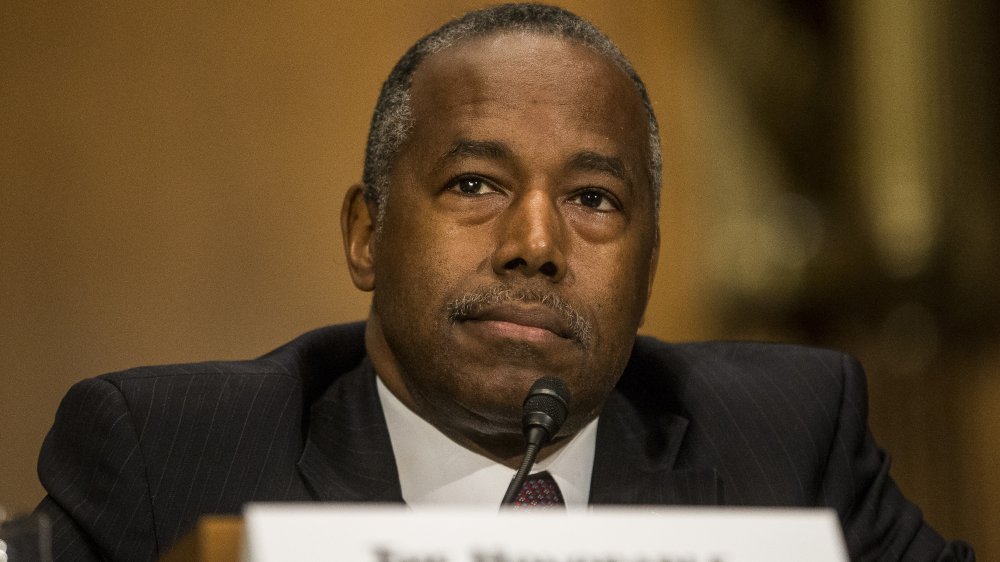 Zach Gibson/Getty Images
Ben Carson is worth a mind-boggling (pun intended) $30 million, according to Celebrity Net Worth. But how did the political and medical figure amass that wealth? For one thing, being a neurosurgeon brings in a pretty penny. 
According to Glassdoor, these days, the average neurosurgeon rakes in about $571,814 annually. According to Forbes, aside from his medical payday, Carson also "joined the boards of Costco and Kellogg in the late 1990s, where he earned more than $5 million in compensation." Per the outlet, he "stepped down from both in 2015" to pivot into politics. While he's no longer making money from his board roles, Carson still earns "thousands of dollars" a year in royalties from his bestselling books. 
Carson's net worth has seemingly translated into having a taste for the finer things, though somewhat ... controversially. In 2018, The New York Times reported that Carson used Department of Housing and Urban Development money to purchase a $31,000 dining room set for his office. This "as the White House circulated its plans to slash HUD's programs for the homeless, elderly and poor," according to The New York Times. Reportedly, "department officials did not request congressional approval." The reason? The set allegedly "served a 'building-wide need.'"
Well, when you're worth tens of millions, the definition of "need" may change!