Why Everyone Is Talking About Donald Trump Jr.'s Watery Eyes During His RNC Speech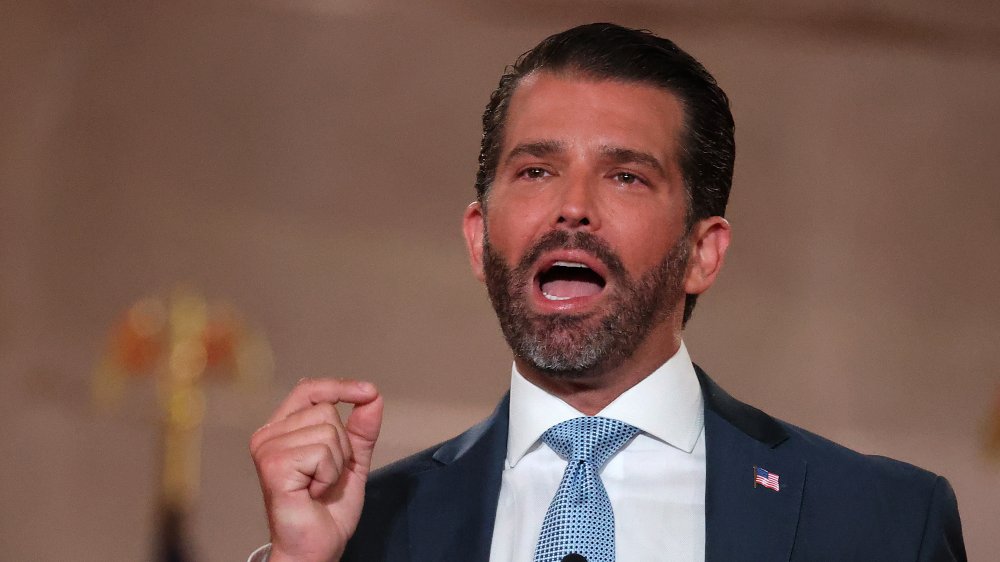 Chip Somodevilla/Getty Images
Eye-carumba! Donald Trump Jr. took the virtual stage during the first night of the Republican National Convention on Aug. 25, 2020,  and the internet was abuzz after his speech. Not due to his passionate argument for reelecting his dad on Nov. 3, which included jabs at Democratic presidential candidate Joe Biden, such as calling him the "Loch Ness Monster of the swamp." Nope, the masses apparently wanted to talk about how watery Don Jr.'s eyes looked during the speech.
Yes, Trump Jr. — usually the one dishing out insults on his meme-filled Twitter and Instagram pages — quickly became the subject of the internet's wrath. "What is wrong with Donald Trump Jr's eyes? I have no idea what he is saying because I can't stop staring at his eyes," one Twitter user wrote. Yikes! Media outlets are in a frenzy over Trump Jr.'s glassy-eyed gaze as well, speculating what the cause of the noticeable physical feature could be. Was it allergies? Or as outlets such as Salon have speculated...something more illicit? His glaze does remind some folks of the Thanksgiving table, and that one cousin who joins the family suspiciously late. On Aug. 25, 2020, #cocaineconvention was trending on Twitter.
The first night of the RNC also included a high-octane speech from Don Jr's girlfriend, Kim Guilfoyle. The two began dating in April 2018; the Fox News personality was previously married to Democratic California Gov. Gavin Newsom. Anyway, here are the best/worst — depending on your politics — celebrity reactions to Donald Trump Jr.'s watery eyes and some other eye-catching times celebs made news during high-profile speeches. 
Celebrities are not holding back over Don Jr.'s eyes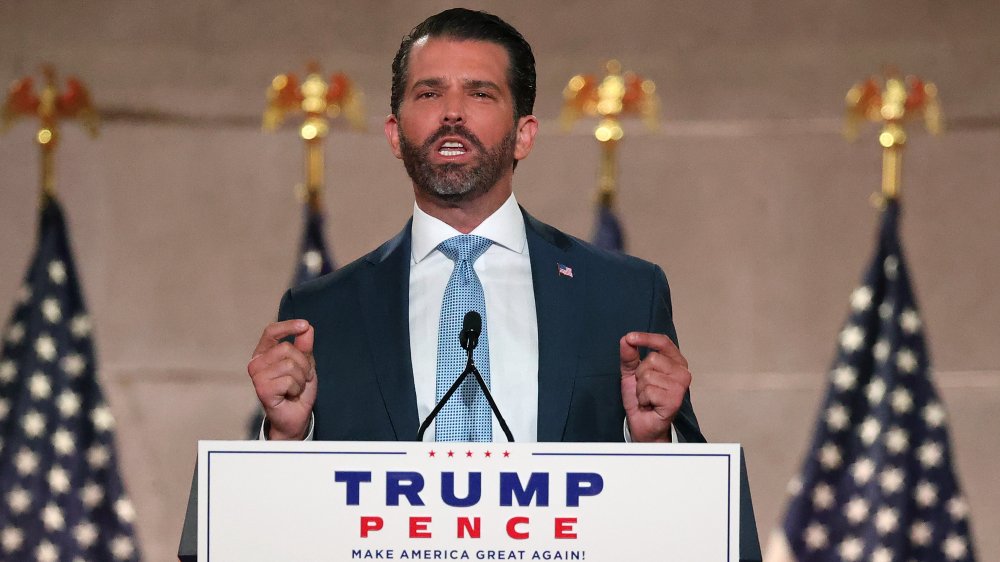 Chip Somodevilla/Getty Images
Celebrities are not holding back after witnessing Donald Trump Jr.'s watery-eyed look during the 2020 Republican National Convention. "Donald Trump Jr. looks like he's been crying. Did Kimberly G. yell at him?" tweeted Tony Award-winning performer Bette Midler, a regular critic of the Trump presidency. Actress Debra Messing didn't hold back either, making a more pointed joke about the speech. "One word: Visine," she tweeted. 
The RNC is gearing up to be an all-out family affair, with, as of this writing, three more Trump children speaking throughout the event, including Ivanka, Eric, and Tiffany, as well as first lady Melania Trump, per People. Many are especially curious to see Tiffany, who hasn't been as publicly involved with politics compared to her siblings. However, she appears to have maintained a good relationship with President Donald Trump. "Thank you for your constant love, guidance and for always believing in me!" she wrote to the president for Father's Day 2020.
Circling back to Donald Trump Jr., he isn't the first celebrity figure to make news after making a speech but not for the speech itself. At the 2000 Oscars, then-Hollywood newcomer Angelina Jolie made waves when she appeared to be a little too close to her brother, Haven, giving him an on-the-lips-smooch after winning the best supporting actress Oscar. Remember when Winona Ryder's "Facegate" facial expressions upstaged the rest of the Stranger Things cast at the 2017 SAG Awards? So while Donald Trump Jr. has certainly made news for his watery-eyed speech, at least he's in good company. 
Donald Trump Jr.'s girlfriend made headlines too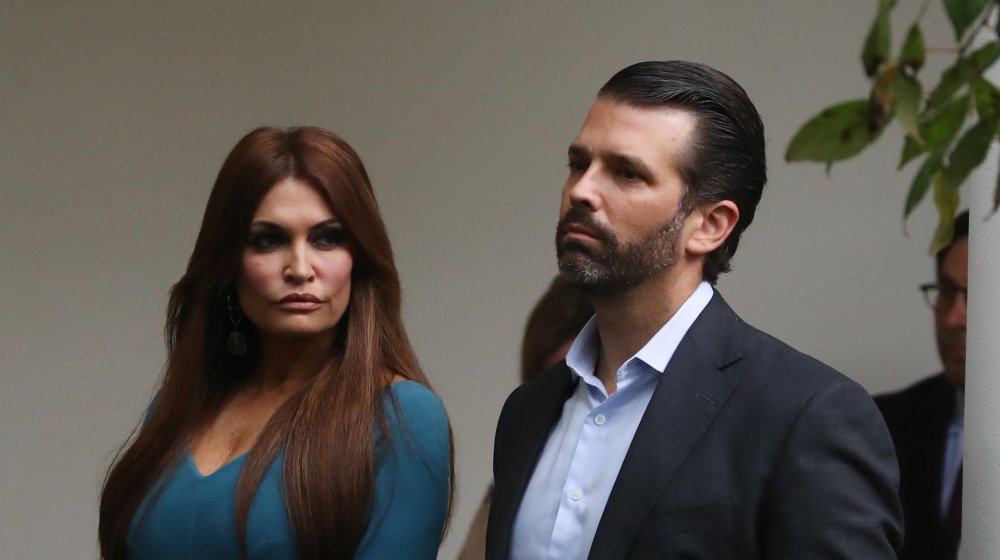 Mark Wilson/Getty Images
As it turns out, Kimberly Guilfoyle gave teary-eyed boyfriend Donald Trump Jr. a run for his money as the most discussed speech from Night 1 of the Republican National Convention (RNC). In Guilfoyle's case, however, the buzz wasn't around appearances but her energy, as well as the sheer volume at which she delivered her six-minute speech. Twitter users had a field day with the lawyer, former Fox News host, and fundraiser for President Donald Trump's re-election campaign, commenting on her loud delivery and enthusiastic body language. Some noted how Guilfoyle appeared to get a rigorous bicep workout in, as her arms were rarely at her sides.
One viral tweet compared Guilfoyle's demeanor to a Power Rangers villain, while singer Maren Morris quipped, "This is not SNL?" One user compared her energy to a speech The Office's Dwight Shrute made at a sales convention. However, many people offered praise, too. Boyfriend Don Jr. tweeted, "Absolutely incredible. Your passion for our country knows no bounds." And as Marie Claire noted, the speech was pre-recorded, which some might argue is impressive.
Whether you agreed with the message or not, in both speakers' cases, it seems people were taken aback less by content and more by their apparent intensity. With three more days of the RNC left as of this writing, we're bracing ourselves for more, um, newsworthy moments. It's fair to say these RNC guests know how to make a splash on the podium.