The Truth About Donald Trump Jr. And Kimberly Guilfoyle's Relationship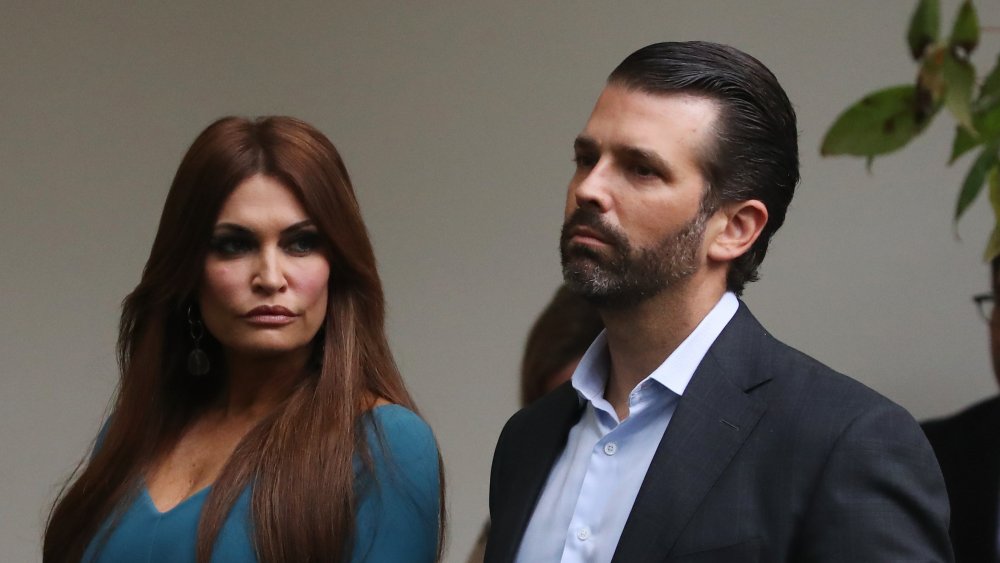 Mark Wilson/Getty Images
Days after throwing a fundraising party for Donald Trump's re-election campaign, sources from Kimberly Guilfoyle and Donald Trump Jr.'s inner circle have come out of the woodwork to divulge the dynamic in their relationship — and how it was on full display at their Hampton's fête.
As Page Six (among multiple news sources) reported, the fundraiser hosted by former Fox News talking head Guilfoyle and her left-trolling boyfriend took place on Aug. 8, 2020. Attempting to curry favor with larger donors, the event notably was held near their residence in Bridgehampton, a hamlet located in Long Island's Hamptons beachside community, which is known as a summer getaway for New York's wealthy and elite. 
Nicknamed "Trumpilla" due to the fundraiser's unusual venue — a bonafide flotilla of luxury boats — the event was thrown by Trump Victory, a fundraising operation that works closely with the RNC. Among the 50 people who reportedly attended the entire affair — which reportedly cost $2,800 per ticket and an extra $20,000 for dinner — were Tiffany Trump and an uncanny Donald Trump impersonator, according to the Daily Mail. Eyewitnesses alleged to Page Six that Don Jr. didn't wear a mask, even though Guilfoyle tested positive for coronavirus a little over a month ago.
So what did anonymous sources have to say about the couple? And what does it say about their relationship?
Donald Trump Jr. discussed Kimberly Guilfoyle's phone habits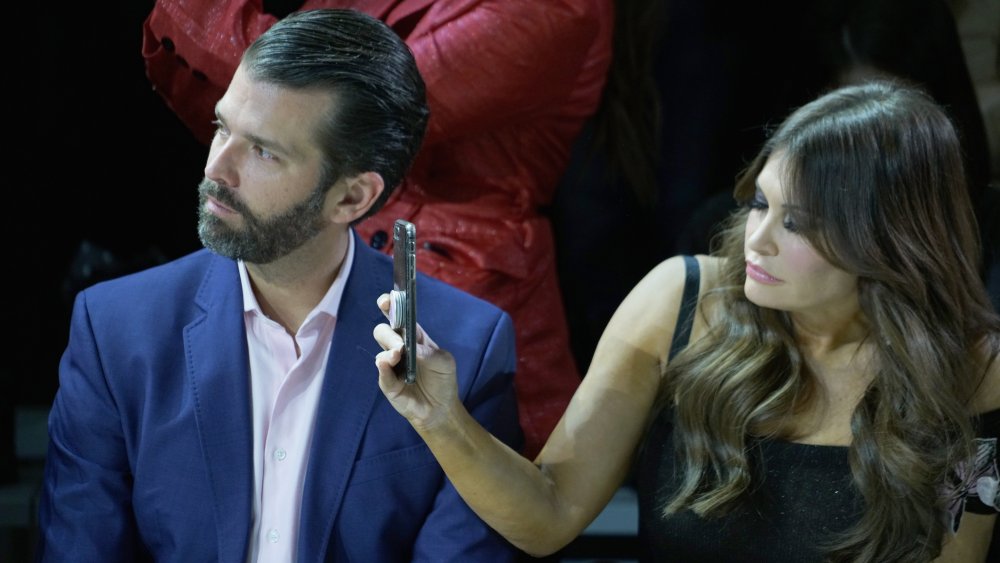 Manny Carabel/Getty Images
An insider who attended the Hamptons fundraiser exclusively claimed to Page Six that Donald Trump Jr. said Kim Guilfoyle is the "boss" when it comes to their relationship. Don Jr. supposedly shared that Guilfoyle's approach extends both in their personal and public lives, ranging anywhere from wrangling donors to fund his father's reelection campaign to the way the couple furnishes their multiple residencies.
Speaking of those multiple homes, an insider quipped to Page Six about Guilfoyle's taste, "There are lots of ruffles and pastel colors and other frilly touches." Seemingly, this source dislikes Guilfoyle's take on traditional American decor — everyone's a critic these days.
Interior design preferences aside, Donald Jr. is supposedly anything but silent when it comes to the power dynamic between him and Guilfoyle, who he began dating only a few months after filing for divorce from his first wife, Vanessa Trump, in 2018. During the August 2020 "Trumpilla" fundraiser, the son of President Donald Trump was overheard telling guests about how Guilfoyle tends to spend her time on her phone until the early hours of the morning for work-related purposes. Don Jr. allegedly said, "'I asked her who she was calling at 1 in the morning,' and she said, 'I'm talking to donors in LA.'" 
How does Donald Trump Jr. really feel about Kimberly Guilfoyle?
Though it is unclear whether Donald Trump Jr. meant this as a compliment or as a complaint about his girlfriend Kimberly Guilfoyle's hardworking nature, there's a chance it might be the latter. It's worth noting from a speculative standpoint that Don Jr. has made headlines for his controversial attitudes toward women in the workplace, and also has a history of defending conservatives accused of workplace harassment and demeaning women.
To be fair, however, it's just as likely that Don Jr.'s comments were in praise of Guilfoyle, a once wildly successful lawyer from California who frequently appeared on Fox News as both a host and a special correspondent for over a decade before parting ways with the network in 2018. Sources told HuffPost at the time that Guilfoyle's departure was acrimonious, although this wasn't confirmed.
As the Daily Mail noted in their coverage of the August 2020 "Trumpilla" fundraising event, Trump Jr. and Guilfoyle are regarded as a quintessential Republican political power couple, using their position to support President Donald Trump's 2020 bid for a second term in office.