Why Blackpink's Lisa And BTS' Jungkook Are Sparking Dating Rumors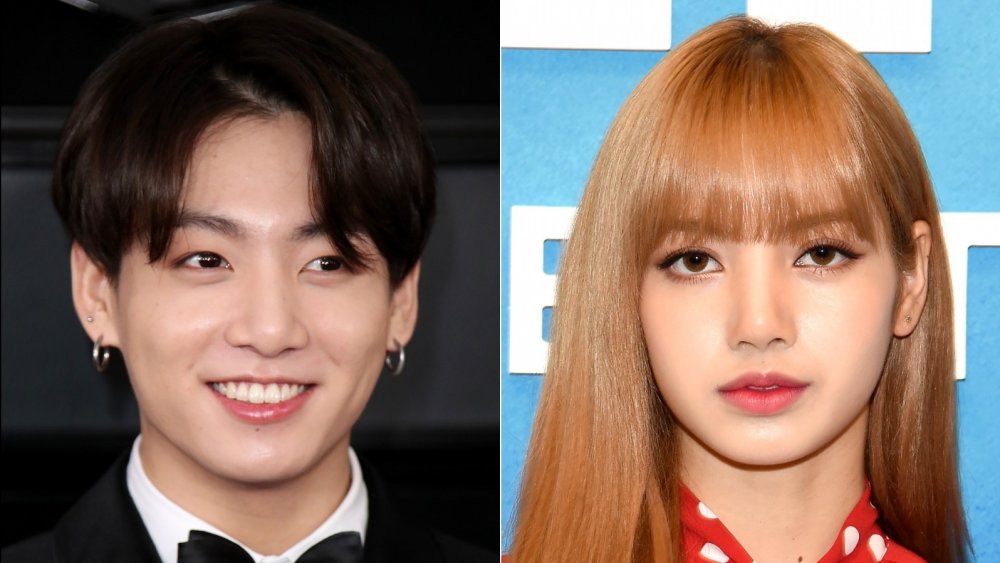 Dan Macmedan, Larry Busacca/Getty Images
The continued rise of K-Pop is probably one of the few good things to come out of 2020. Fans the world over go crazy for the studio-created boy and girl groups, but the life of a K-Pop star can be brutal. For starters, the stars usually start training as children. They spend years in specialized programs that teach them dancing, singing, and stage presence, but graduation is no guarantee of success — few trainees go on to become stars, per BBC.
These days, the two most "it" K-pop groups out there are undoubtedly the all-girl group Blackpink and the seven-member boy band BTS. In August 2020, BTS and Blackpink released dueling music videos for their respective singles, "Dynamite" and "Ice Cream." BTS' "Dynamite" video seemingly paid tribute to the '70s, while "Ice Cream" featured Selena Gomez and followed the members of Blackpink as they rap/sang their way through a life-size candy land. BTS racked up more than 100 million views in 24 hours, and "Ice Cream" garnered just over 79 million views in the same amount of time. 
There was definitely a little competition between the groups, but it was all in good fun. The feeling was so friendly, in fact, that rumors started to swirl that Lisa from Blackpink and Jungkook from BTS were an item. Additionally, Film Daily reports that the two "have been spotted together a few times," further fueling romance rumors. A relationship between Lisa and Jungkook seems unlikely for a few reasons, but fans are still holding out hope.
Lisa and Jungkook could get in a lot of trouble if they are dating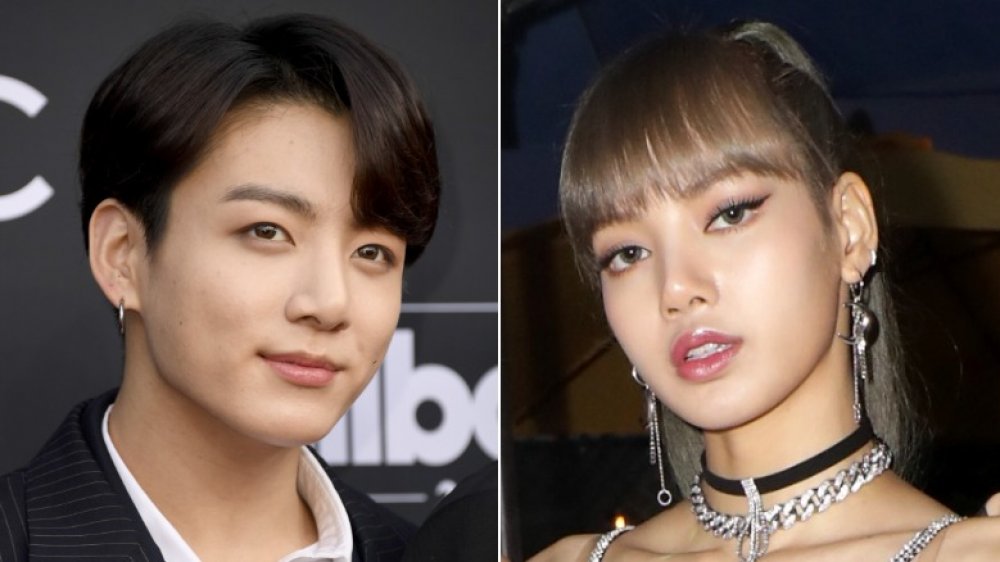 Frazer Harrison, Roger Kisby/Getty Images
As two of the biggest stars in the K-Pop game, fans would love nothing more than to see Lisa and Jungkook together, but thats probably not going to happen any time soon — allow us to explain. Remember how it's really hard to become a K-Pop star? Yeah, well turns out it doesn't get any easier if you make the cut and land a coveted position in a group.
K-Pop stars train for hours a day, tour most of the year, and never stop promoting their work. It has also been reported that to maintain their figures, some K-Pop stars follow strict (and sometimes dangerous) diets. There are all kinds of rumors online about what the members of Blackpink eat to stay so small. As if that's not enough, the record labels also reportedly control the star's personal lives. K-pop stars are under strict orders not to discuss relationships and are rarely seen in public with a partner, per CNN.
Per Blackpink's contract with YG entertainment, the girls are subject to a "dating ban," meaning they can't date anyone without express permission from the president of the label, according to Film Daily. It seems very unlikely that Lisa and Jungkook are together given the obstacles to their potential relationship. That being said, fans are holding out hope nonetheless. For now, though, they'll just have to wait until Blackpink renegotiates their contract to find out what's really going on with Jungkook and Lisa.