The Real Meaning Behind Selena Gomez And Blackpink's 'Ice Cream'
Blackpink has been one of the major faces of K-Pop since they released their first single album, Square One, in August 2016. In a relatively short amount of time, they've achieved a level of international success matched by few other K-Pop groups. Their catchy, multilingual songs and immaculately choreographed music videos music draw an audience from all of the world. They were the first K-Pop girl group to perform at Coachella, per The Hollywood Reporter, and, despite a relatively small library, more than a few of their pop/rap tracks have found a home on international charts, according to Time.
Rosé, Jisoo, Lisa, and Jennie are seemingly just getting started. On Aug. 28, 2020, Blackpink dropped their single "Ice Cream," featuring Selena Gomez. The hype around "Ice Cream" was nothing short of pandemonium, with the official teaser surpassing 18 million views in just a couple days. Gomez and Blackpink teased the single for weeks before its release, sharing tantalizing videos and highly stylized pictures that seemed to promise a '70s inspired theme. 
Blackpink fans (a.k.a. Blinks) held their breath, hoping that the "Ice Cream" video would break the record for most views on YouTube within 24 hours. In August 2020, BTS dislodged Blackpink from the #1 spot with their first English single, "Dynamite," per Variety. At the time of this writing, "Ice Cream" had not surpassed "Dynamite." So what's all the fuss about, anyway? Here's everything you need to know about "Ice Cream."
Blackpink enlisted big names to write 'Ice Cream'
"Ice Cream" was well-received by critics and fans alike. And why not? Selena Gomez and Ariana Grande helped write it. And if anyone knows pop music, it's Grande. Forbes called the tune "infectious," and Blackpink supporters nearly lost their minds hyping the song on Twitter. "Blackpink is a group that never disappoints you, their work is excellent from the production, costumes, set design, etc.," one fan wrote.
Sure enough, the artists seemingly spared no expense when it came to the music video. The video opens with Selena Gomez (dressed in a red bikini and sailor hat) pulling up in an ice cream truck. "Come a little closer/ cause you lookin' thirsty/ I'ma make it better, sip it like a Slurpee," she croons in a sugary sweet voice.
The song then launches into an upbeat, pop tune, which might not win a Grammy but will probably snag the number one spot on your Spotify anyway. The lyrics are mostly silly references to chilled desserts: "Coldest with the kiss, so he call me ice cream." There are also a couple nonsensical lines like: "Catch me in the fridge, right where the ice be," but its fun, nonetheless.
As one critic pointed out, the key to a great pop song is less about the lyrics and more about matching the words to the music. Blackpink, who does not write their music or lyrics, ensured success by enlisting both Gomez and Grande to collaborate with their label's in-house writers. The result? The perfect summer song.
Selena Gomez was really excited to work with Blackpink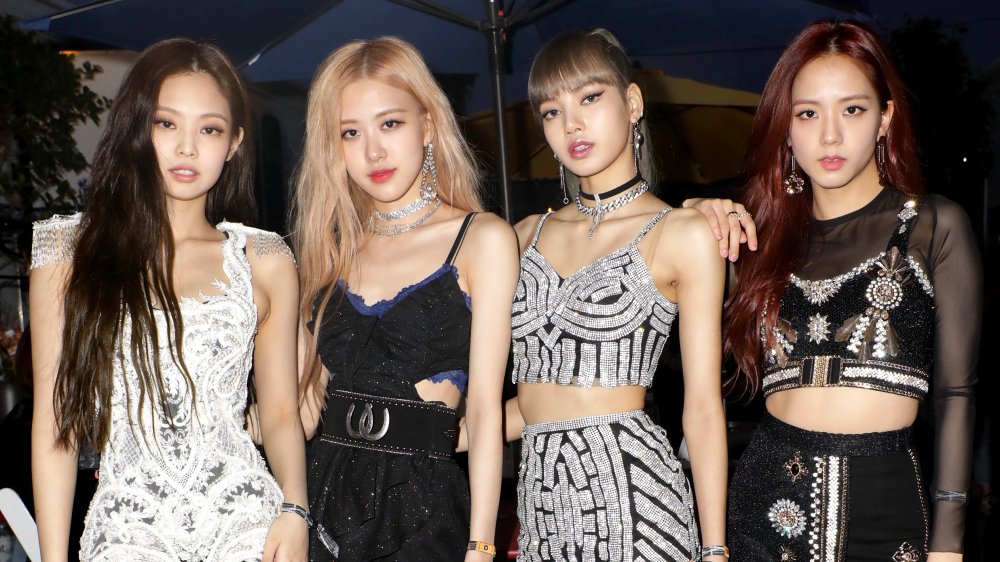 Roger Kisby/Getty Images
While Selena Gomez and Blackpink were busy promoting their single, fans learned something new about the "Lose You to Love Me" singer: she's a huge K-Pop fan. Gomez and Blackpink shared a FaceTime call a few days before the "Ice Cream" video dropped. In the short but sweet (get it?) clip, Gomez graciously thanked Rosé, Jisoo, Lisa, and Jennie for staying up to talk to her (Korea is 16 hours ahead of California). The Blackpink girls told Gomez they were happy to be collaborating with her, as as they are big fans of the pop star's music. "I'm so stoked," Gomez responded, adding, "I've been a fan of you guys, and so, like, this is a big, big dream for me." Stars: they're just like us; they also love K-Pop.
While we might share Gomez's love of foreign, pop tunes, our best bet for paying homage to our favorite artists is social media. However, someone with Gomez's star power can take it a step further and make an ice cream flavor in honor of her favs. Days before "Ice Cream" dropped, Gomez announced that she'd be teaming up with Serendipity to create a limited-edition ice cream flavor to celebrate the new song. 
The Cookies & Cream Remix ice cream line was released the same day as the single, Aug. 28, 2020, per Variety. In a sweet nod to her favorite girl band, Gomez opted to deviate from standard flavoring and use pink vanilla as the base for the ice cream. A sweet treat to go with a sweet beat!