Kelly Clarkson's Shady Reaction To Lil Nas X's BBMAs Speech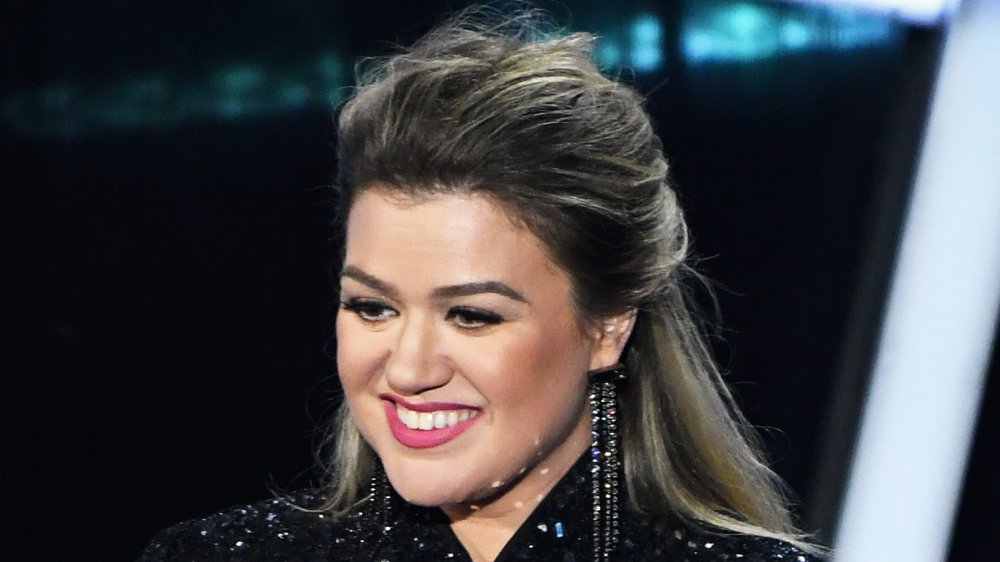 Kevin Mazur/bbma2020/Getty Images
Although filmed without a live audience due to the coronavirus pandemic, the 2020 Billboard Music Awards in Las Vegas on Oct. 14, 2020, still had a lot going for it. Fan-favorite Kelly Clarkson energetically kicked off the awards show as host for the third year in a row, rocking a beautiful sequin dress to boot."Tonight is about the way music touches us all because music connects with us in so many ways, no matter who you are, it moves us sometimes literally," Clarkson said in her opening monologue, per People. "We dance. We sing. We cry, like I do often. It brings back those good memories, and it also helps us make new ones. Music also connects us to each other, from virtual living room dance parties to neighborhood balcony concerts, music has united us."
The music lineup was, expectedly, stellar, with Alicia Keys, DJ Khalid, and others performing for viewers at home. There were some noticeable changes, too. Billie Eilish came to the show rocking a face mask, for example, while other guests tuned in virtually, like the famous YouTube twins, TwinsthenewTrend. Perhaps because of these changes, some parts of the show did not go as smoothly as planned. Yep, things got awkward real fast when Clarkson got caught reacting to rapper Lil Nas X's acceptance speech for his Top Hot 100 Song win ("Old Town Road").
So how did Twitter react to the seemingly shady moment? Keep reading to find out.
Twitter calls out Kelly Clarkson's 'stank face'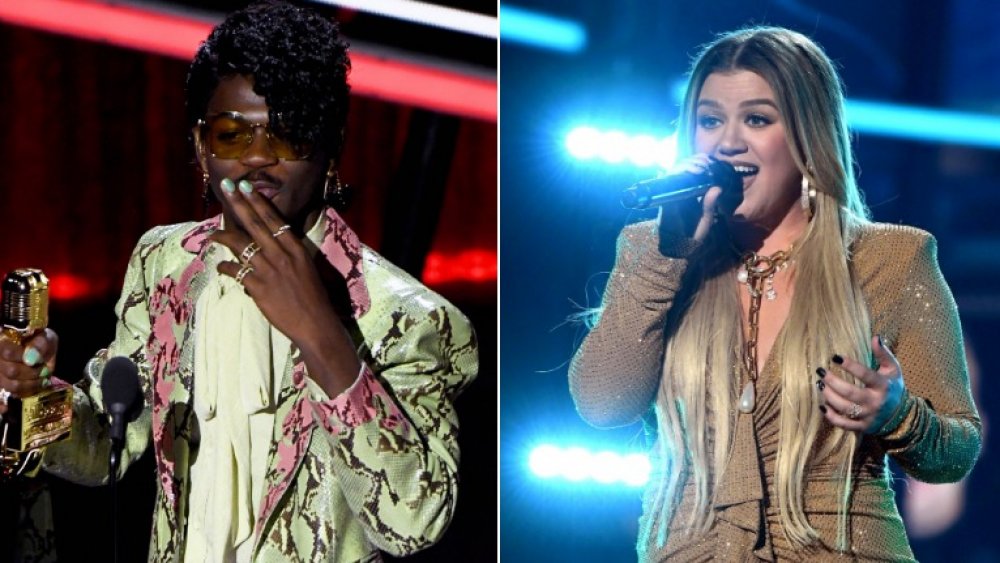 Kevin Mazur/bbma2020, Kevin Winter/bbma2020/Getty Images
After singer Billie Eilish dominated the first two award categories, it came time for Lil Nas X's to shine for his summer hit, Old Town Road. In his speech, the country singer entered with his usual swagger, clad in a neon snakeskin suit. The star ended his speech with a few jokes and woos for himself before exiting the stage, a moment Kelly Clarkson seemingly reacted to when the cameras shifted back to the singer without her knowing. Her look was a mix between side-eye and inquisitive, and the star soon realized she was under watch.
"Oh! I didn't see you point," she told the camera operators. "I'm so sorry. Congratulations to Little Nas X! That's awesome!" Whatever the cause for the mix-up, though, it's clear Twitter had a field day with the situation. Many viewers said Clarkson had a "stank face" on and argued that she was giving the country rapper "dirty looks." One person tweeted, "Did @kellyclarkson just get busted frowning at Lil Nas X."
Of course, knowing Clarkson and some of her other awkward blunders, there could be a completely different explanation for her frown. But for now, her fans are not letting it slide.