Demi Lovato's BBMAs Performance Sent A Harsh Message To Trump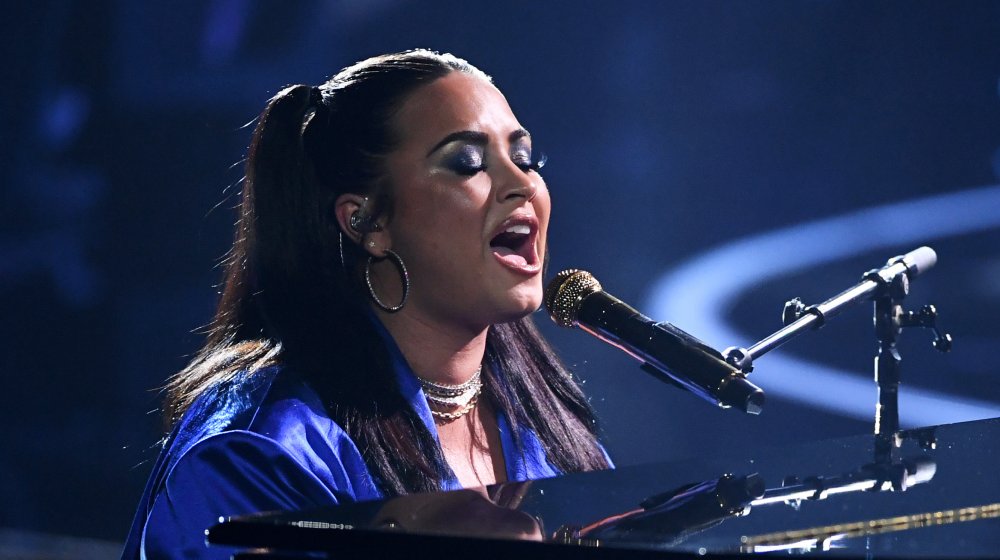 Kevin Winter/bbma2020/Getty Images
Demi Lovato isn't holding back when it comes to her lack of appreciation for President Donald Trump. In fact, she dropped a brand-new track called "Commander in Chief" on Oct. 13, 2020, and performed it for the first time on the 2020 Billboard Music Awards stage the very next night. Her song takes aim at President Trump, addressing the way he has run the country while in office, and each harsh line of the song is just another jab at everything she believes he has been doing wrong.
Lovato, who's often candid about herself and her opinions, brought her powerful ballad to the stage on a night when other artists also used their platform to encourage fans to make their voices heard and vote during the upcoming presidential election. Lizzo even used her entire acceptance speech — and her dress — to encourage voters to get out and cast their ballots. But, while Lizzo's message was very overt, though no less eloquent, Lovato's was almost eerily subtle, thanks to the sweeping melody of the song. 
NBC cut Demi Lovato's 'VOTE' message on stage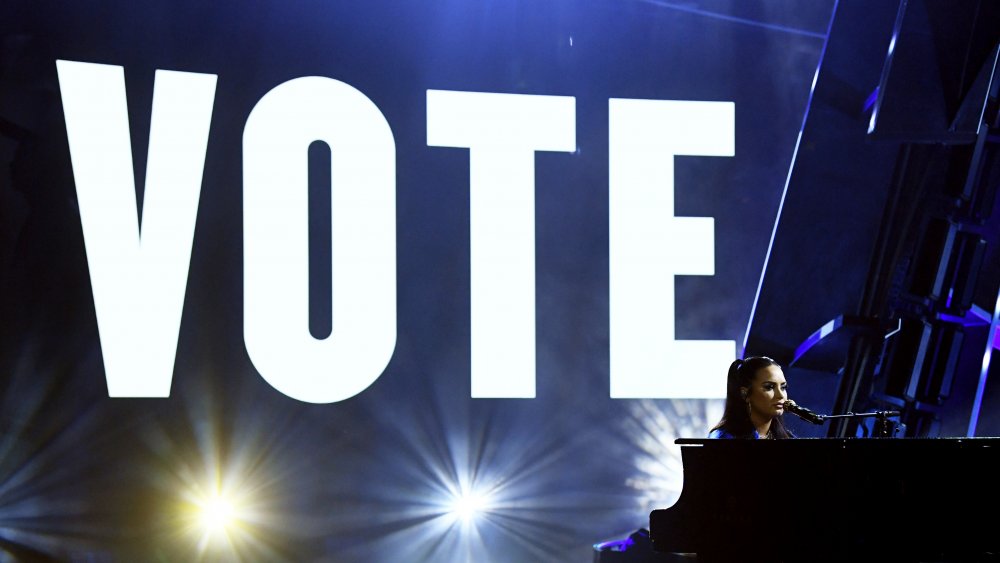 Kevin Winter/bbma2020/Getty Images
It turns out, though, that Demi Lovato had every intention of making her performance a more overt stab at President Donald Trump and a more impactful call for viewers to vote. According to TMZ, Lovato intended for the backdrop of her performance to read "VOTE," but NBC cut it when the show aired. You can see in photos and the video TMZ shared that the message was loud and clear. According to TMZ's sources, "The network pulled the plug on the 'VOTE' message because the song itself was a slam on Trump and the 'VOTE' message was a call to vote against him."
Although her message might not have been exactly what she wanted, the lyrics in "Commander in Chief" are still startlingly clear. With its obvious chorus — "Commander in Chief, honestly / If I did the things you do / I couldn't sleep, seriously / Do you even know the truth? / We're in a state of crisis, people are dyin' / While you line your pockets deep / Commander in Chief, how does it feel to still / Be able to breathe?" — there's no doubt how Lovato feels about Trump's time in Oval Office.