How Asher Angel Really Feels About Breaking Up With Annie LeBlanc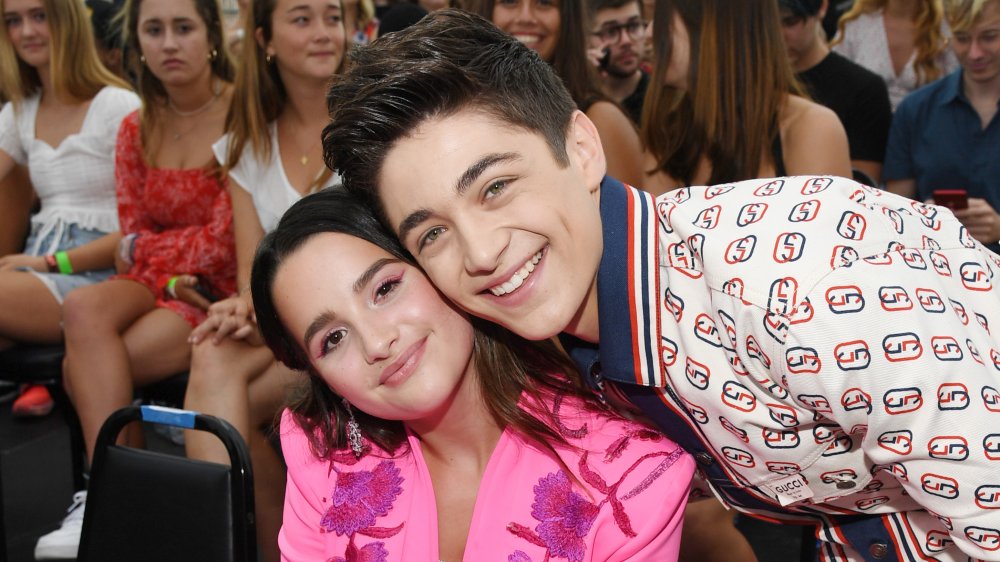 Kevin Mazur/fox/Getty Images
2020 has been a rough year for relationships. Sadly, singer Asher Angel and YouTube star Annie LeBlanc were among its casualties, as Ashley announced in a May 2020 Instagram Story, as per J-14. As the outlet notes, Angel and LeBlanc first met on his music video set for "Chemistry" in June 2018. A little more than six months later, the two went public with their romance on Instagram in February 2019.
While guesting on Zach Sang's podcast in May 2019, the former Andi Mack star said of LeBlanc, "She's super cool, super nice, and she makes me happy. I make her happy, I guess, somehow. I don't know how. It's crazy. But she's the best and she's very supportive." While the couple seemed to be going strong, Angel and LeBlanc decided to call it quits in May 2020 after almost two years together.
Like many couples, the coronavirus pandemic seems to have played a part in their breakup. Angel told Entertainment Tonight that he and LeBlanc hadn't seen each other in 75 days due to quarantine. Of the time apart, Angel stated, "we're young, we're teenagers, so we were seeing each other every other day and all of a sudden, that's just taken away from us. That was super hard."
The truth about Asher Angel and Annie LeBlanc's public split
Annie LeBlanc broke the news that she and Asher Angel had ended their relationship in an Instagram Story on May 13, 2020. She wrote, according to J-14: "It breaks my heart to write this, but Asher and I have broken up." She continued: "It's no one's fault, especially not his. He treated me exactly the way a girl should be treated and deserves no hate. He will always hold a special place in my heart and I wish him nothing but the best. I hope you guys will understand and continue to support and love us both." LeBlanc seemed to imply that the breakup was seemingly mutual. 
Angel's Instagram message about their breakup was a little more cryptic. "You know you really love someone when you can't hate them for breaking your heart," he wrote. After the singer posted this message to Instagram, LeBlanc alluded to Angel's mom being behind the message via an Instagram Live session to set the record straight. "This is just a normal teenage breakup and it happens all the time," she said, per Just Jared Jr. "No one did anything wrong, and I worded it as well as I could, and I thought about it, and I read it over and over and over again, and I wished him nothing but the best."
Now that Asher Angel's relationship with Annie LeBlanc is over, how does he really feel about the breakup?
Asher Angel was truly heartbroken after breaking up with Annie LeBlanc
Breakups can be brutal, and Asher Angel took his break up with Annie LeBlanc pretty hard. Following their split, Asher spoke to Entertainment Tonight in May 2020 about how he was holding up. "I'm heartbroken. I love her so much. She was... she's my everything. She is my rock, she means the world to me. I was trying to be optimistic about the whole thing, and think that she would maybe come back, or she just needed some time and space." Sadly, the pair did not reunite.
Angel went on to say that he just wants "her heart to be happy. That's the biggest thing. As long as her heart's happy, I'm happy. I'm always going to be here for her and her family, and I believe she knows that."
According to J-14, as of August 2020, Angel has a new beau: Reagan Sheppeard, who starred in the music video for his song "Do U Wanna." The Instagram account TikTok Shade Room has been documenting the alleged couple's interactions. Angel may have sent Sheppeard some roses in July 2020, and the two were together in what looks to be his car in September 2020.
While Angel has seemingly moved on since he split with LeBlanc, she has seemingly remained single but has kept busy. According to Just Jared, LeBlanc is starring in a new Nickelodeon series, Side Hustle, which is set to premiere in November 2020.