The Real Reason Paul Rudd And Jeffrey Dean Morgan Bought A Candy Shop Together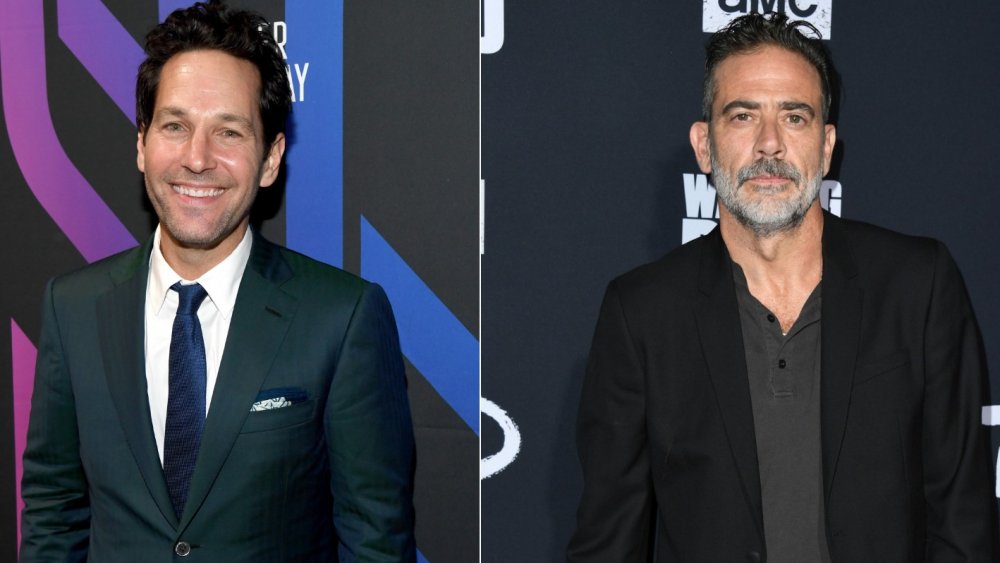 Kevin Mazur/Jon Kopaloff Getty Images
What do The Walking Dead star Jeffery Dean Morgan and Hollywood heartthrob Paul Rudd have in common? Surprisingly, the two own a candy store in Rhinebeck, N.Y. together, along with their wives— Hilarie Burton, former One Tree Hill star, and Julie Rudd.
Nestled on Rhinebeck's main street is Samuel's Sweet Shop, a humble establishment with the old-fashioned charm of a general store, the Poughkeepsie Journal reported in April 2019. The shop was first owned by Ira Gutner, who passed away in 2014, prompting Morgan and Rudd to take over ownership to keep it from closing.
The joint venture is far from the glamorous projects these two actors usually take on. So, how did Morgan — a zombie killer — and Rudd — an Avenger star who seemingly never ages — make the leap to candy store owners? Ready on to see why these two Hollywood hunks felt compelled to save the cozy store from shutting down in the first place.
Jeffery Dean Morgan & Paul Rudd love their community
Both Jeffrey Dean Morgan and Paul Rudd have a home in Rhinebeck, N.Y. For Morgan, the decision to buy a farm in the Hudson Valley area was an easy one as he has always loved farming, having worked on his grandmother's farm in Seattle, Wash. every summer as a kid, as he told the New York Post in October 2020. Morgan said he enjoys the hard work and the way farming keeps him and wife Hilarie Burton (pictured above) busy, as well as their two kids. He also remarked that Rhinebeck now feels like "our town." He gushed, "It's the first time I've felt at home in my entire adult life. It's a combination of the people and the scenery. It's a different vibe from my 20 years in LA when I didn't even know my neighbors."
Morgan was a regular at Samuel's before the original owner Ira Gutner's death, and Gutner was the first person he met in town. Following his death, the Poughkeepsie Journal reported that the celebrity friend group immediately approached store manager, John Traver, assuring him they would help the business stay afloat. The newly minted store owners were very hands-on, proving no job is too small for these notable stars — the Poughkeepsie Journal noted that Rudd occasionally works the register. 
Rudd said about the decision to buy Samuels, "One of the most important things any human can experience is to be a part of a community and feel connected to where you live and to other people who live there, especially in a job like mine."