Why Whoopi Goldberg Isn't A Fan Of Kate Gosselin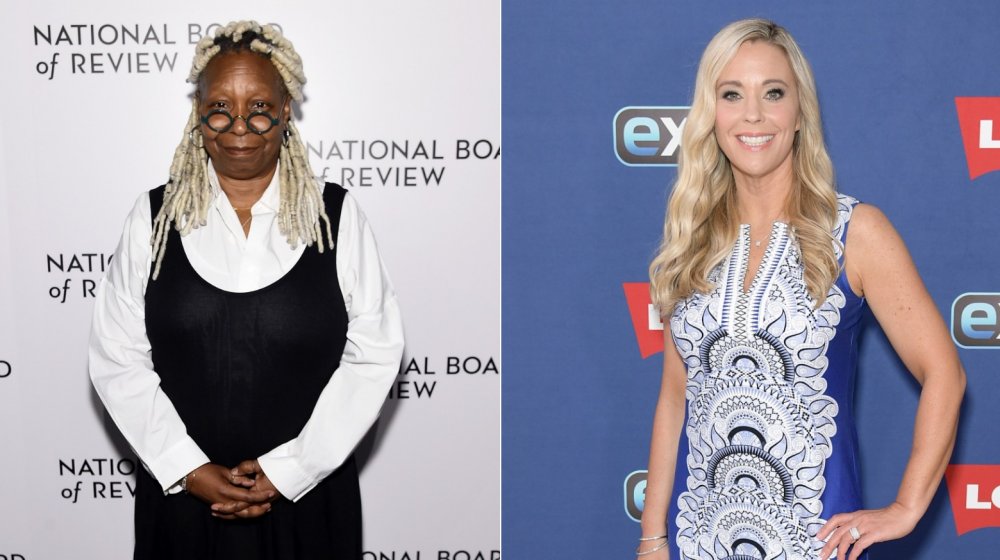 Jamie Mccarthy, Michael Loccisano/Getty Images
If you've watched The View, you know that there can be some differences of opinion between the co-hosts and their guests. One of the most epic verbal battles on the talk show occurred between host Whoopi Goldberg and reality TV star Kate Gosselin, who served as a week-long guest host on The View in September 2009, shortly before Kate divorced her then-husband, Jon Gosselin.
As you probably recall, the Jon and Kate Plus 8 stars' break up was far from smooth. In May 2009, Us Weekly reported that Jon was allegedly having an affair with a third-grade school teacher named Deanna Hummel. The following month, Kate filed for divorce. Looking back on her marriage, Kate told People, "I really would have thought he'd have been here for the long haul. The weirdest thing is that overnight he became a different person."
In mid-August 2009, Kate made an unannounced visit during her husband Jon's court-allotted time with their children, Radar Online reported. She said she was upset about her husband's choice of babysitters. Jon called the police as their argument became heated. Jon and Kate's divorce was finalized in December 2009, per CNN. But Kate co-hosted The View shortly before the split was official and, during her appearance, Kate Gosselin had a major argument with host Whoopi Goldberg about how the infamous reality TV mom handled that situation.
Whoopi Goldberg chastised Kate Gosselin for breaking the law
What did Kate Gosselin do that changed Whoop Goldberg's opinion of her? During Kate's appearance on The View, Goldberg gave her a tough time, questioning Kate about her argument with Jon. Goldberg said, "When you go into a custody thing with someone you have your specific time... and you're not supposed to walk on [that]. And I'm sorry, that's the law. You could have gone to jail, do you realize that?"
"I've learned my lesson and I have learned that it was not a good thing," Gosselin responded. "I realized that I was wrong and it was his custody and will I do it again? No, but it doesn't answer to me, like, a babysitter I've never met or approved of. And that bothers me." Goldberg responded, "You don't know what [Jon] likes and what he doesn't. His attitude could be the same on something you feel is perfectly normal."
Joy Behar stepped in to keep things from escalating, saying, "The beauty of this story is that he was winning the PR wars when you were on the air, they were talking about how you picked on him, and you were shrewish," Behar said, adding, "You don't look shrewish." Kate Gosselin has not appeared as a guest on The View since the blow-up and, as long as Whoopi Goldberg has a seat at The View's table, Kate's' probably not going to pull up a chair any time soon.