Shania Twain Wants To Collab With This Surprising Rapper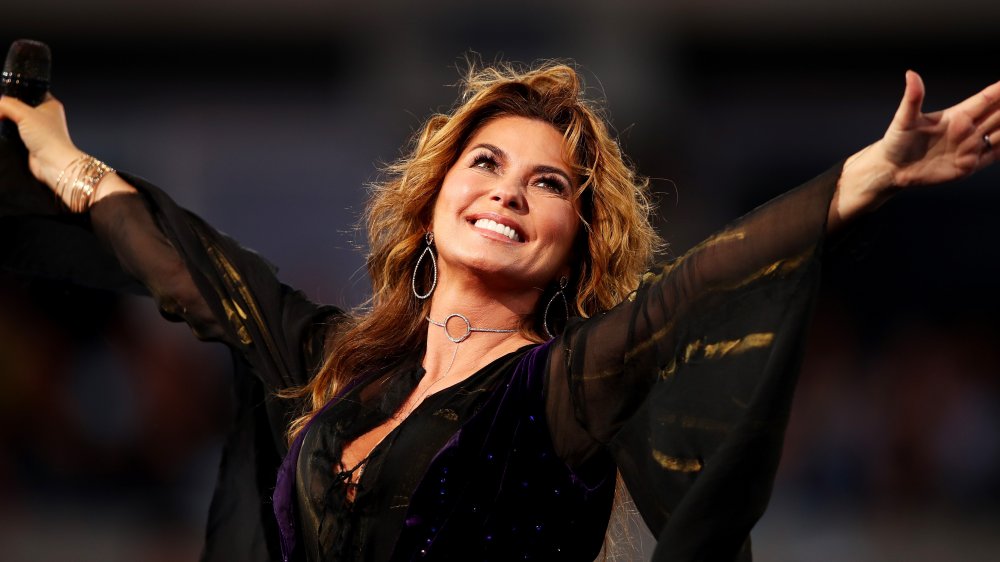 Clive Brunskill/Getty Images
One of the most memorable moments from the 2019 American Music Awards was Post Malone's reaction to Shania Twain's "Man! I Feel Like A Woman!" performance. While she was singing a medley of her greatest hits onstage, the rapper was dancing in the crowd, mouthing all the words to the iconic track. His dance moves also quickly became one of the most-talked about moments of the night and even caught the country superstar's attention after the show. Twain responded to a video of Malone, tweeting, "Awesome! I'm so glad I got to see this! @PostMalone's got moves" with a bunch of fire emojis. 
The interaction had fans buzzing and many couldn't help but wonder if the two might ever record on a song together. (Plus, Malone had previously told Jimmy Fallon in 2019 that he plays a lot of Twain's music backstage while getting ready for shows.) Well, it seems the country music legend was one step ahead of them. Keep scrolling to read about Twain's collaboration plans and why she's waiting on Malone to make a move.
Does Shania Twain already have the collab ready to go?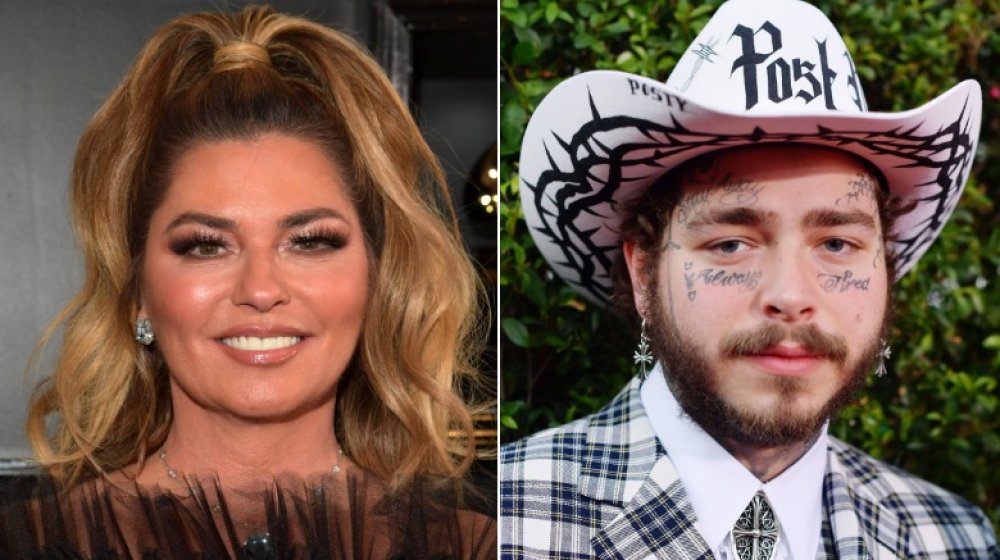 Lester Cohen, Matt Winkelmeyer/Getty Images
Shania Twain discussed Post Malone's admiration during an interview on The Talk in November 2019, calling video footage of him dancing to her song at the 2019 American Music Awards "adorable." Then, when asked if she'd consider teaming up with the rapper on a duet, the country star responded without hesitation. "Oh, I've written a song for us already. He doesn't know it yet. He knows now!" she said. "So Post, I have a song for us." 
In December 2019, she told People that she was serious about potentially collaborating with Malone, but revealed that he had not reached out to her yet. "I'm not strategizing. If he doesn't want it, it's no problem, but I have definitely [written a song for him,]" she said. "So we'll see. I'm a fan of his anyway. I really love it. I love his voice."
It turns out, Twain and Malone actually go way back. In March 2020, she told Variety she first met him when she went to see him perform in concert as Justin Bieber's opening act. "The photo I have with him, he doesn't have those tattoos yet," Twain explained. "I think he just has one little fine barbed wire on [his forehead] that you can barely see." She added, "I think we're destined to jam and creatively get together."