Here's What Sparked Cardi B's Feud With Doja Cat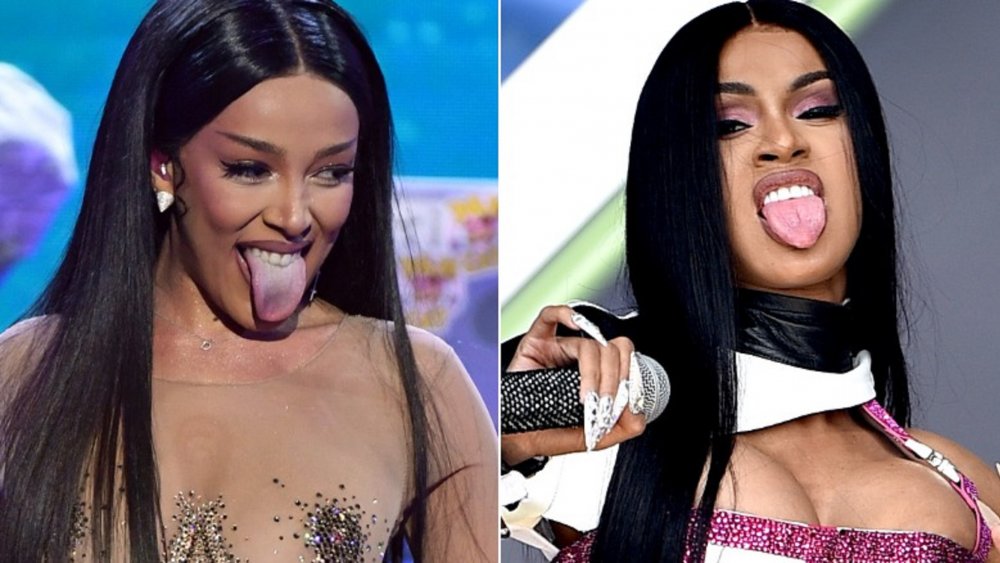 Julien Hekimian, Amy Sussman/bbma2020/Getty Images
Doja Cat gets the internet. As one of the music industry's Gen Z stars, Doja understands memes in a way that her elders can't — a skill she has used to her advantage. Her first No. 1 song on the Hot 100, "Say So," reached the top of the chart thanks, in large part, to a viral TikTok dance. Her breakthrough into the mainstream came from another viral video, this one called "Mooo!," which featured the instantly-recognizable first line, "B****, I'm a cow."
Doja's affinity for online attention, however, has not always worked in her favor. The internet, as they say, is forever, and posts from the past have spelled controversy for Doja Cat. In 2020, she came under fire for past songs that allegedly made light of police violence and for hanging out in some very questionable chat rooms. Tweets of hers from 2015 also showed the artist using homophobic language. It was one Instagram live, however, that sparked a feud with one of Doja's contemporaries: Cardi B.
How Doja Cat 'pressed' Cardi B's buttons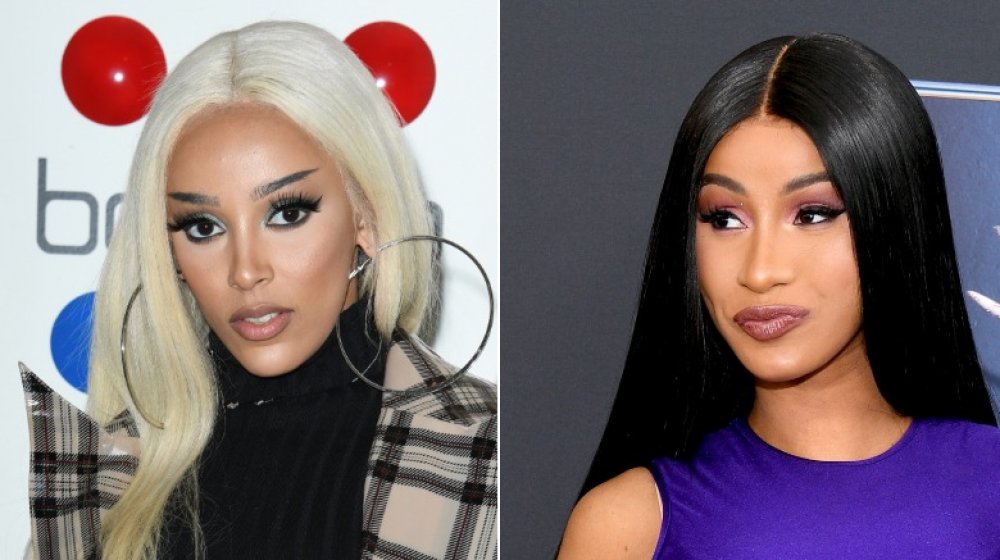 Jon Kopaloff, Dia Dipasupil/Getty Images
In an Instagram live, Doja Cat filmed herself singing along to the chorus of Cardi B's song "Press." Doja performed the hit in a way which blurred impression and caricature, and appeared intended to be humorous, if not necessarily complimentary. The video made its way to Twitter, where many of Doja's fans enjoyed it, with one tweeting, "I cannot stop watching Doja Cat make fun of Press by Cardi."
Not everyone was thrilled with the impression, however, including Cardi B herself. Responding to a since-deleted post that included the video, Cardi wrote (via Complex) "Do anything for clout ... Moo," seemingly taking a shot at the song that first made Doja a viral star.
Doja later explained that she never intended to be malicious but was simply hyped-up on caffeine, telling Big Boy (via Complex) "I was making fun of the song. But it's a dope song. I acknowledged that, as well. And people edited out the parts where I was acknowledging that it was great." 
She and Cardi have since spoken and apparently buried whatever hatchet there may have been between them. "She's a smart woman and I feel like she probably makes fun of her friends and other celebrities," Doja Cat said. "That's just something you do when you're either hopped up on caffeine or lit." 
We love to see a happy ending.