Doja Cat Looks A Lot Different Than When She Was Younger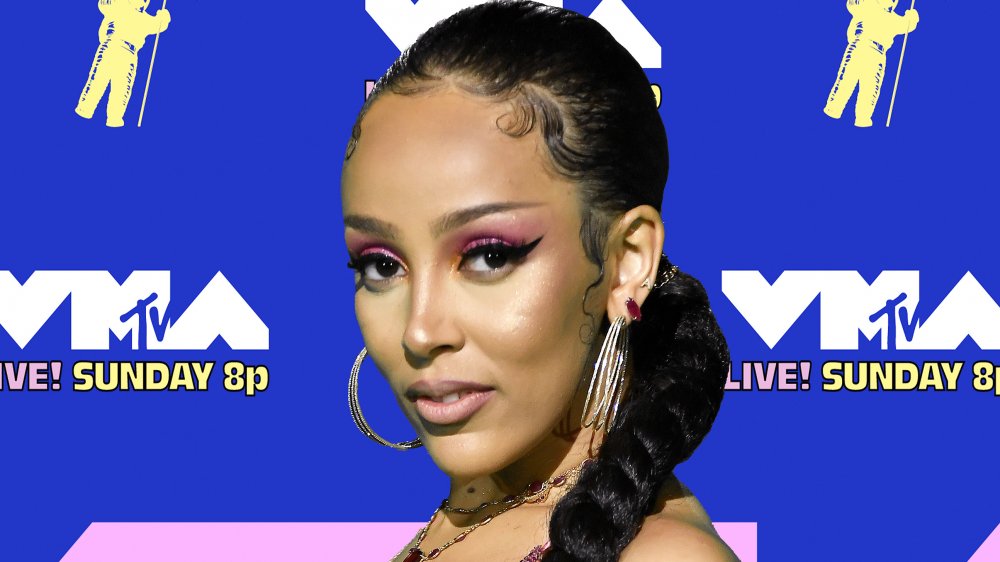 Frazer Harrison/Getty Images
Doja Cat's look has totally changed, if we do "Say So" ourselves! The (sometimes controversial) singer and rapper, whose full name is Amala Zandile Dlamini, became a massive Tik Tok sensation overnight with her single "Say So (feat Nicki Minaj)." In May 2020, it became the star's first Billboard No. 1 as well as (somehow) the first for rap legend Minaj. With 558 million Spotify plays, the catchy, sun-kissed tune is a summer 2020 playlist essential, but it's not the first time Doja played the internet for success.
Way back in 2018, the then-relatively unknown singer released "Mooo!" — a low-budget rap video with Doja Cat in a cow outfit singing, "B**ch I'm a cow." Wait, what? "It was a joke between me and my fans," the rapper said in a 2018 interview with Dazed. "We started it on Instagram Live, just me and 60 other people, and we all had fun coming up with puns and metaphors." 
Well, the joke certainly isn't on Doja because that video has amassed 78 million views as of this writing, and in 2019, she made good on the momentum with her debut album, Hot Pink. Doja Cat is now a rap superstar. She performed at the 2020 MTV Video Music Awards and was nominated for three awards, per Deadline. Here's her surprising and impressive glow-up since she was just a Doja Kitten, so to speak...oh, and her dash of COVID controversy.
Doja Cat has totally transformed her look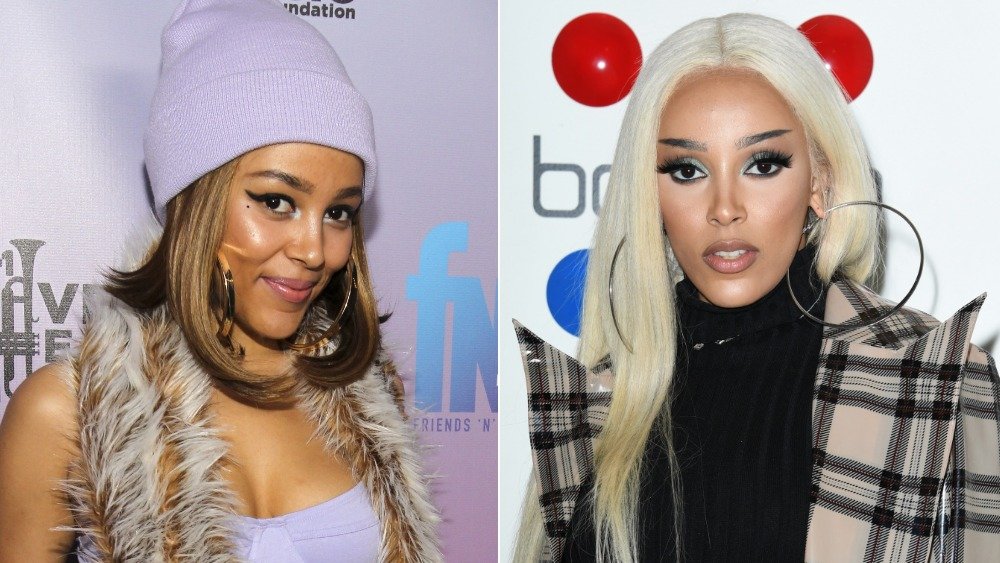 Doja Cat has certainly upgraded her look. Left is a photo of her in 2014, way before she would make it as a singer, while the right finds the star in 2020. As you can see, the more updated Doja Cat has the confidence of being a pop star of her caliber, but she's always had a distinct, unforgettable look. While "Mooo!" saw Doja in fitting cow-print, she's also taken to music videos in extraterrestrial anime-inspired looks, a full watermelon suit, and more. Doja Cat definitely has her own style.
"I would get in trouble for s**t that I would wear at school," she told Billboard. "I was once sent home for putting glitter on my face — it was so crazy. I didn't give a s**t about school; all I cared about was wearing a cool outfit every day, dancing and music."
But Doja Cat's meteoric rise, and great style, hasn't come without serious controversy. During an Instagram Live in March 2020, the rapper said she had no coronavirus concerns and even had some choice words for those who did. "It's a flu," she told her followers, according to CNN. "You just take some Mucinex and drink water and tea and sleep. That's all you gotta do." In July 2020, the rapper reportedly contracted the virus herself. "I'm okay now," she said. "It was a four-day symptom freakout, but I'm fine now."