Inside Emily Ratajkowski And Amy Schumer's Friendship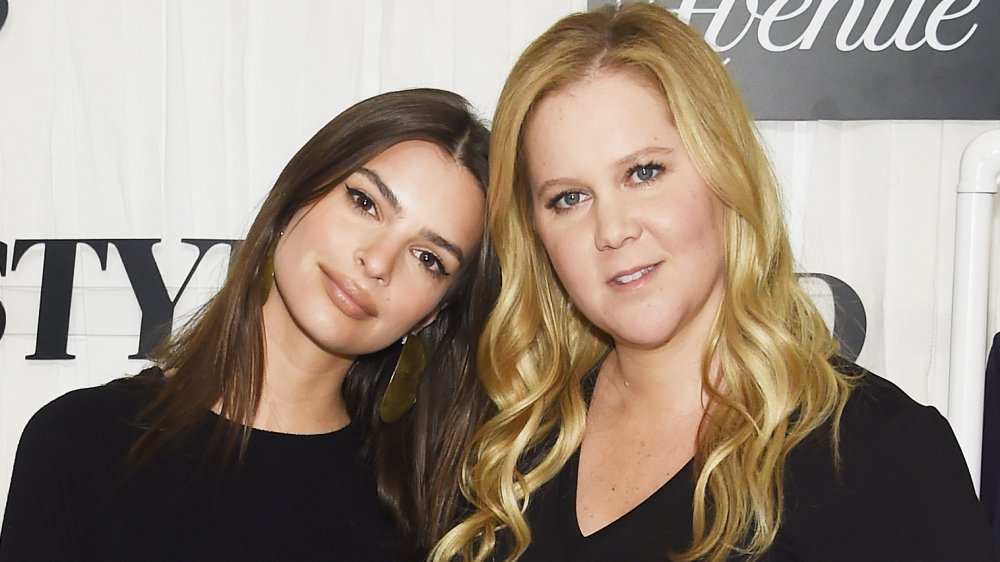 Dimitrios Kambouris/Getty Images
It's a beautiful day when two Hollywood stars become friends, and Amy Schumer and Emily Ratajkowski are two friends who have a connection worth celebrating. Why? They've worked on film projects together, participated in political protests and proved that they have each others' backs. In 2018, Ratajkowski appeared alongside Schumer in the comedy I Feel Pretty, a film that questions the rigid brackets of what defines beauty for women. 
That being said, their friendship isn't limited to flicks. According to Bustle, the two pals made a trip to Washington D.C. in October 2018 to protest Brett Kavanaugh's Supreme Court nomination and ended up getting arrested.
In November 2018, Ratajkowski spoke with Busy Philipps on an episode of her now-defunct talk show, Busy Tonight. Ratajkowski gave Philipps the low-down on a conversation with Schumer prior to the protest. "I was flying back from Europe and got wifi and the first text I received was, 'Hey, want to go get arrested with me on Thursday?'" Ratajkowski said (via Bustle). "And I said, 'actually, yes,' and that's basically the only conversation we had about it."
In addition to tackling politics and movies, they're also fiercely protective of each other.
Don't come for Emily Ratajkowski while Amy Schumer's around -- and vice versa
Craig Barritt/Getty Images
If there's one thing to know about Amy Schumer and Emily Ratajkowski's friendship, it's that they have each others' backs. Following their very public arrest in October 2018, Ratajkowski got criticized for not wearing a bra, according to PopCulture. Schumer quickly shut down the criticism.
In a since-deleted Instagram caption, Schumer wrote (via Pop Culture): "In the 'what to wear when being detained for 4 hours on an 87 degree day after a 2 hour march' handbook bras aren't recommended." Schumer went on to say that Ratajkowski sacrificed "herself fighting to protect women's rights to choose what they do with their own bodies," adding, "How about we show her the same courtesy and direct some of that toxic energy to the people who deserve it."
Schumer wasn't done, writing (via Pop Culture), "Your comments are synonymous with saying what a woman wears insights [sic] bad behavior. Have you written three furious tweets to, I don't know, maybe someone who sexually assaulted someone? I'm gonna guess no. You reserve your rage for the victims or a beautiful woman you're threatened by."
And the love and support seemingly goes both ways. Schumer gave birth to her son, Gene, on May 5, 2019, according to Us Weekly. When the outlet asked Ratajkowski how Schumer was doing as a new mom, she said, "I think she's great. I love how honest she's being. It's very cool." These two women show that friendship can come in the form of protests, social media defense and support during life's biggest milestones.