Everyone Was Surprised To See This Celeb At The Debate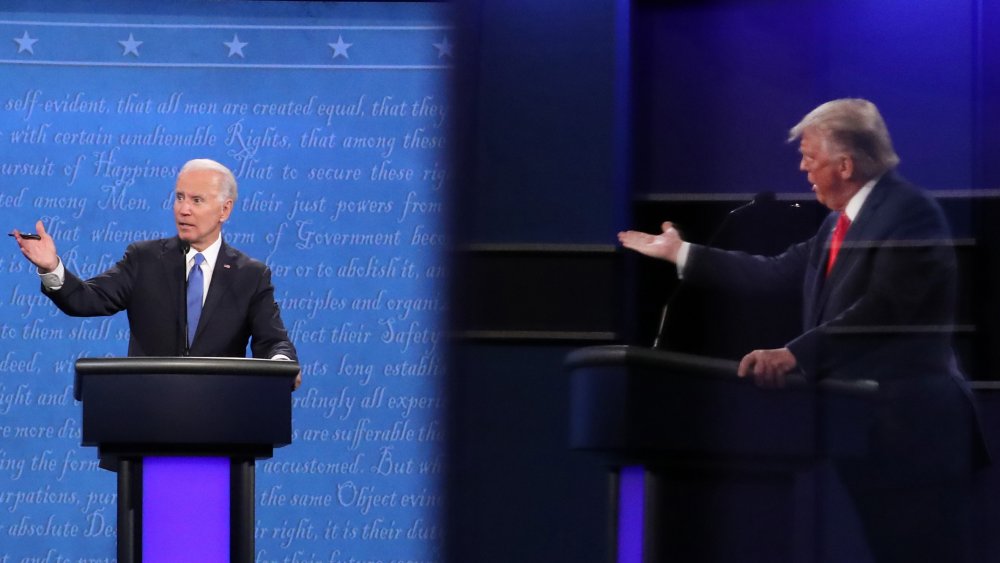 Chip Somodevilla/Getty Images
During the 2020 presidential election, celebrities have been making their public endorsements, choosing between incumbent President Donald Trump and Democratic presidential nominee former Vice President Joe Biden.
Voters might remember the 2016 election, where megastars like Beyoncé, Jay-Z, Lady Gaga, Ariana Grande, Katy Perry and more rallied behind the Democratic nominee Hillary Clinton, as per The Wrap. Some even opted to perform at campaign rallies.
Four years later, with the added coronavirus pandemic to the year 2020, celebs may not be able to showcase their talents in front of a large crowd in support of the two candidates, but are still showing up in other ways. Actresses Eva Longoria, Tracee Ellis Ross, Kerry Washington and Julia Louis Dreyfus took the Democratic National Convention stage in support of former VP Biden. 
Stars who support the President include Cheers actress Kirstie Alley, and actors Scott Baio and Jon Voight, according to Marie Claire. But there's one celeb who went the extra mile in support of the incumbent candidate, and showed up in person at the third Presidential debate.
Kid Rock was 'happy to be invited' to the debate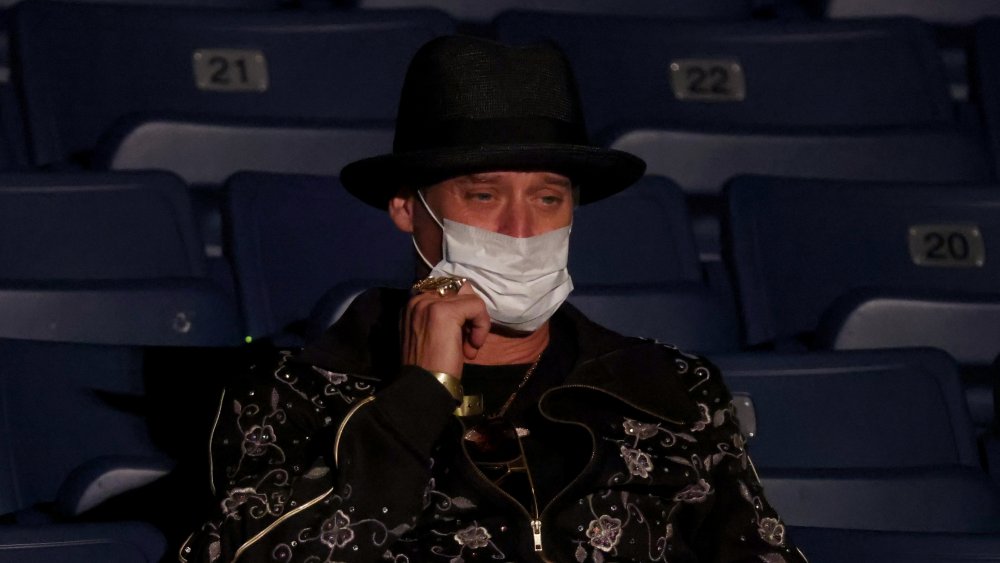 Justin Sullivan/Getty Images
Since the 2016 presidential election, singer-rapper-Southern rocker Kid Rock has vocally and publicly supported President Donald Trump's election and reelection bid. The artist headlined a campaign rally in Detroit, Michigan in September 2020, performing a 20-minute set, according to Billboard.
To everyone's surprise, Kid Rock even showed up to the third presidential debate in Nashville, Tenn on Oct. 22, 2020. The New York Post reports the singer was seated next to PGA pro golfer John Daly at the event, which took place at Belmont University.
"I think being here says it all, right?" the artist told NBC News when asked if his attendance was in support of the President. "Happy to be invited."
Twitter was flabbergasted by Kid Rock's appearance in the sparse audience. "Raise your hand if you had John Daly and Kid Rock sitting together at the debate on your 'What the Absolute F*** is This S***' bingo card," one user wrote. "Wait. What? John Daly and Kid Rock were in the debate audience? This is surreal," commented another viewer. Another joked about the artist's aging moniker: "Isn't it time to start calling him Middle-Aged Rock?"
According to NBC, Kid Rock showed up to the event without a mask, but was given a complimentary one by debate staffers, per commission rules for the event.