Ryan Lochte Says Michael Phelps 'Wasn't There For Him' After Rio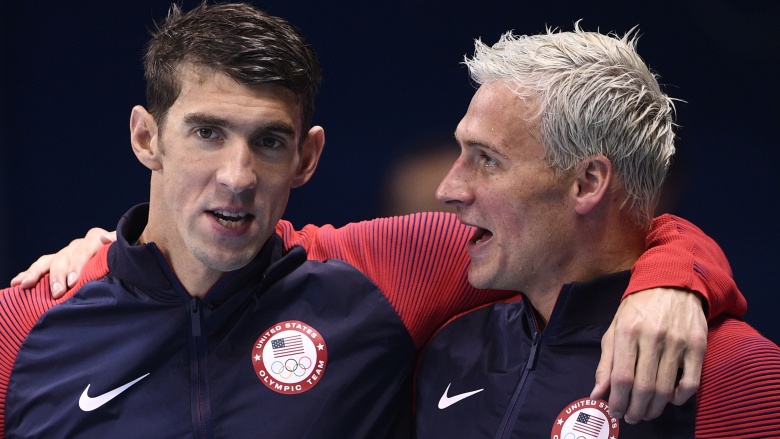 Getty Images
Ryan Lochte is crying so many rivers he can probably swim in them. In an interview with USA Today, the Olympian-turned-Dancing With the Stars contestant whined that teammate Michael Phelps didn't support him much after he was busted for trashing a gas station in Rio de Janeiro, Brazil, then lying about being the victim of an armed robbery with two teammates.
"I think he texted me back saying, 'Yeah, sure. I'm here to help,' or something like that,'" Lochte said of Phelps. "But he didn't call me. I was like, 'Hey, can you please call me? Let me know, I need help.' That never really happened."
Lochte, 32, did admit that Phelps may not have intentionally ditched his teammate in his darkest hour. "He's busy," Lochte said. "He has his own life. He has a kid. So it's gotta be hard, you know?"
For his part, Phelps, 31, previously said he did try reaching out to Lochte, telling Today (via Us Weekly), "Ryan and I have been teammates forever and it's always hard to see a friend and a competitor going through a hard time like this—I know what it feels like. I've been through it before. Hopefully he can come out of this a better person. I've reached out to him a couple times and I think he understands a lot. He will be able to grow from this."
The troubled swimmer said his teammates, including James Feigen (who paid an $11,000 fine to get his passport returned after the incident), Gunnar Bentz, and Jack Conger, have also been distant, despite his efforts to reach out. "I wanted them to realize I didn't abandon [them]," Lochte said. "I was like, 'I just want you to know, if you need me or anything, I'm here, and I'm sorry that we all got in this. Don't think I tried to abandon you guys.'" Lochte sighed, "They don't reach out as much or they don't respond as much, which I totally understand."
He said that after the controversy, "I did not step foot outside, not even to get the mail, because there were news cameras. I've never seen so many TV station vans parked right outside my front lawn. [Reporters] running up, ringing the doorbell, hoping that I open it up and they have cameras on me. Like, it was insane," he said. "In my eyes, I was the most hated person ever. I thought about just hiding for like a year straight. Not even go out. Like, if I do, wearing sunglasses and a cap. Just completely hiding away from everyone. I was that low."
Thankfully, Lochte had his family on his side, "My family kept on saying, 'You're a fighter, you're a fighter. You never give up. You never quit,'" he said. "What I learned about myself is how I can keep fighting. That's what I really learned through everything, being at the lowest point and being able to crawl out of that hole, that dark hole, and keep going."