Here's How Borat Ended Kid Rock And Pamela Anderson's Marriage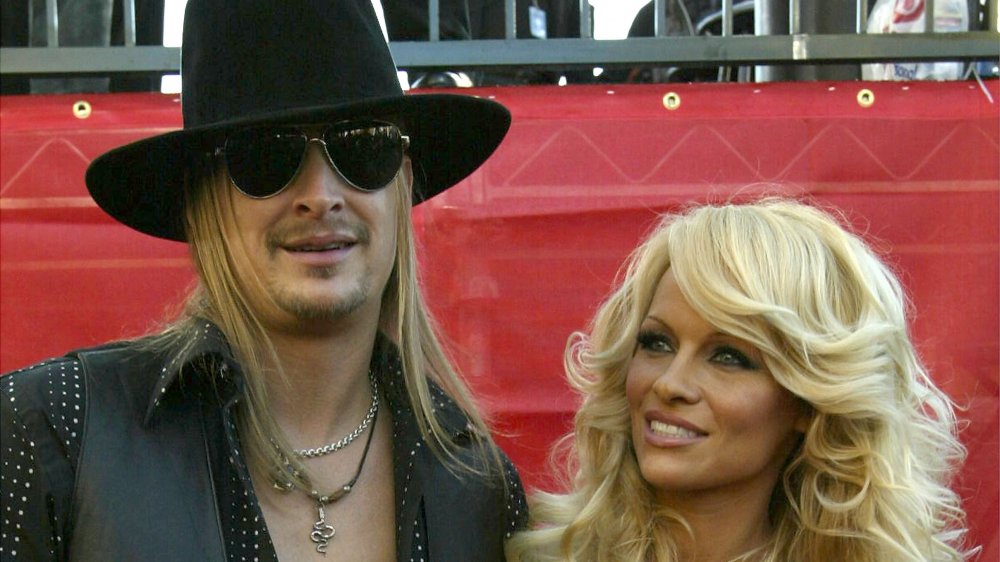 Kevin Winter/Getty Images
It might not seem like a likely correlation: Borat and... Pamela Anderson and Kid Rock? Trust us, we'll get there. 
Borat Sagdiyev, the star of the Borat films played by Sacha Baron Cohen, has been somewhat of a cultural phenomenon since Cohen created him. The Kazakh character originated in the '90s but didn't see the big screen until a decade later when Borat: Cultural Learnings of America for Make Benefit Glorious Nation of Kazakhstan screened at the Toronto International Film Festival.
Borat, in short, is eccentric, which can be said for all of Cohen's characters. In the mockumentary, Borat is a fictional journalist who travels throughout the United States, encountering people along the way — people who had no idea the film was a joke. One of the people he encountered in the film was none other than Anderson (who was the only one who did know the movie was a joke). In fact, Borat was completely obsessed with the model, so it's no wonder Anderson made an appearance in the movie. When Borat finds her in a Virgin Megastore, he "kidnaps" her. Yet, while the entire storyline was performed in jest, Anderson's role in the film was seemingly what broke up her marriage with Kid Rock. 
Yes, you read that correctly. According to Cohen, Borat is to blame for their divorce.
Kid Rock reportedly blew up at Pamela Anderson over her role in 'Borat'
In Pamela Anderson's scene in Borat, Sacha Baron Cohen's character meets her at a signing and attempts to carry her out of the store, picking her up at one point. He told the Daily Beast in 2019 that he clipped her jaw at one point, saying, "She lost two things. One, she lost a tiny bit of bone from her jaw and secondly, she lost a husband."
As it turns out, Anderson's husband at the time, singer Kid Rock, was not fond of the movie at all. In fact, he was pretty upset by it. A CBS News report from 2006 — published right after the pair's split — even featured sources who claimed Kid Rock's insecurity and anger issues were to blame for the breakup. Anderson and Kid Rock reportedly attended a screening of the film just prior to their split, during which a source claimed Kid Rock blew up at Anderson over her role, calling her derogatory names. The source called the whole night "embarrassing." 
More than a decade later, in 2019, Cohen spoke out about the supposed ordeal, telling the Daily Beast that he actually texted Anderson after the screening to ask how it went, at which point Anderson informed him that she and her husband were getting divorced. When Cohen asked why, she simply replied, "The movie." Cohen added, "And I thought it was a joke, but then a few weeks later they got divorced and they put as a reason for divorce, Borat."