The Truth About Kiernan Shipka And Gavin Leatherwood's Relationship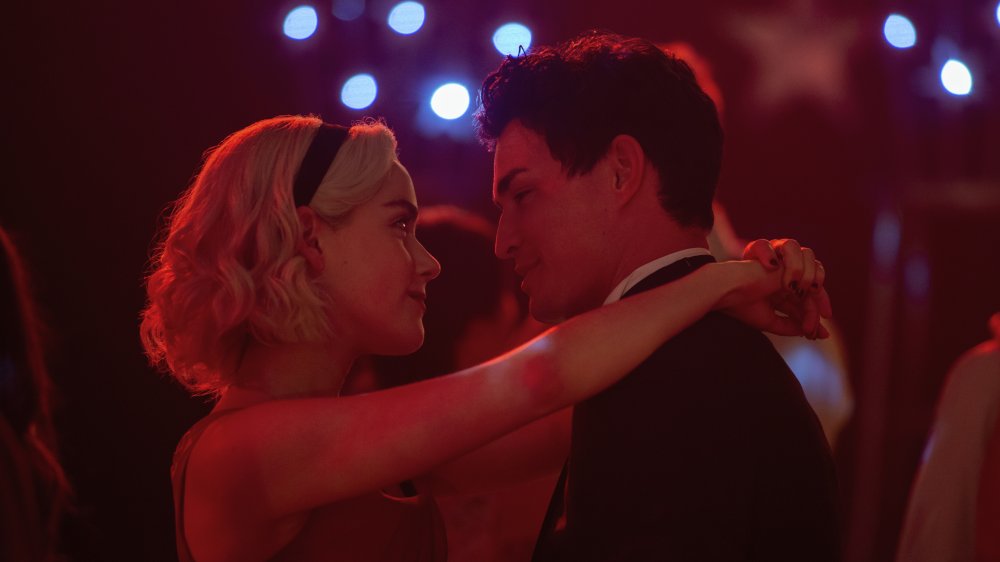 Diyah Pera/Netflix
The moment that you first see Kiernan Shipka and Gavin Leatherwood together on screen in the Netflix supernatural hit The Chilling Adventures of Sabrina, you can feel their undeniable chemistry that the two exhibit. In the series, Kiernan plays the title role of Sabrina, while Leatherwood portrays Nicholas Scratch, a warlock who studies at the Academy of Unseen Arts alongside Sabrina and develops genuine feelings for her.
Their characters' first on-screen kiss sparked fan speculation if Shipka and Leatherwood had feelings for one another in real life. The kiss was that convincing. Leatherwood revealed that he was extremely nervous about shooting the kissing scene. In April 2019, he told Entertainment Tonight that he went up to Kiernan's trailer before the day started. "[When she answered the door], I was just like hang on and I just planted a smooch on her and was like 'I'm sorry, I just had to get that out of the way, my heart is pounding, I'm shaking, and I just didn't want that to be awkward on screen for the first time,'" he said. Luckily, Kiernan was totally cool with it!
Fans affectionately named the on-screen couple "Nabrina." While Kiernan Shipka and Gavin Leatherwood had a ton of chemistry on the show, did they have that same chemistry off-screen? Keep reading to find out.
Kiernan Shipka and Gavin Leatherwood face pesky dating rumors
In December of 2019, Gavin Leatherwood shared a selfie with his Chilling Adventures of Sabrina co-star, captioning the pic: "I love Kiernan. She's amazing. This is Gavin typing and not Kiernan stealing his phone." Similarly, the former Mad Men star regularly posts pics hanging out with Leatherwood and fellow castmates. The two have posted many more photos like this, so some fans were convinced they were indeed dating. While Kiernan Shipka and Leatherwood are definitely close friends, there is no evidence to support the fact that they are together as a couple. Neither of them has ever confirmed nor denied the dating rumors.
Leatherwood did poke fun at the dating rumors in a tweet involving his Sabrina co-star Luke Cook, though. In May 2019, he took to Twitter to share the message, "Just to make it abundantly clear... Luke Cook and I are and have been dating for over a year now. Here's a pic the morning after a night of vigorous love making." Cook replied in an Instagram post, "These rumors are getting OUT OF HAND! Someone photoshopped me into this post-coital picture of Gavin Leatherwood and Sam Corlett me and Gavin are NOT dating! ughhh."
All jokes aside, if Shipka and Leatherwood aren't dating each other, then who are they dating? Continue reading for more details on their love lives.
Are Kiernan Shipka and Gavin Leatherwood loved up?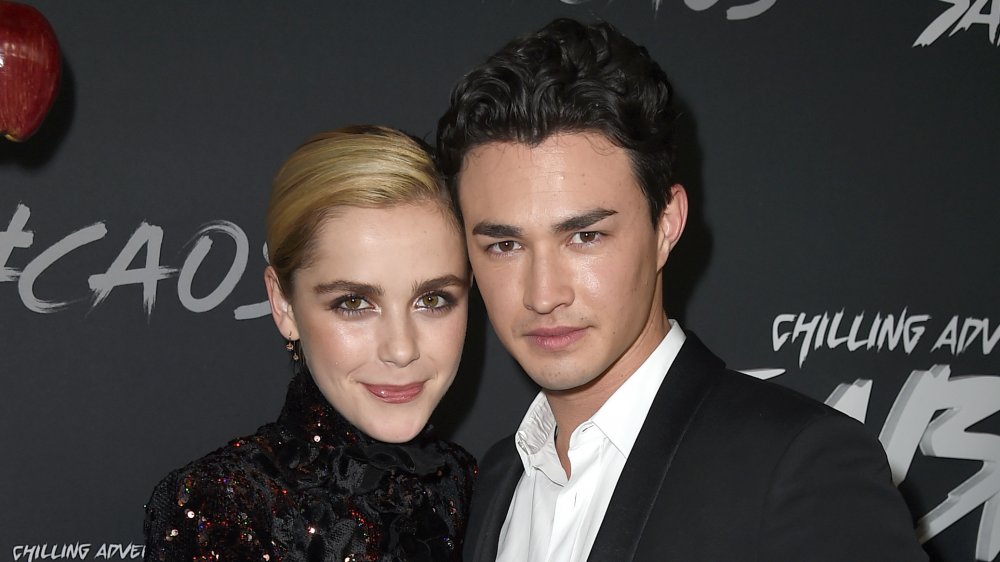 Kevin Winter/Getty Images
There have been a few other Kiernan Shipka dating rumors floating around. In March of 2019, she was snapped by the paparazzi enjoying an evening at the Chateau Marmont in West Hollywood (via E! News) with Gary Oldman's son Charlie, looking pretty cozy. Other rumors have linked Shipka to director Christian Coppola, thanks to an Instagram photo that the actress posted on July 4, 2019. She captioned the pic, "My Love," after the pair attended the Fendi show in Rome. On Nov. 10, 2019, she posted a snuggly photo and declared, "I love you @ccopp." But the last time Coppola showed up in Shipka's Instagram feed was on Feb. 29, 2020, in a photo she captioned, "hey @ccopp come home."
As for Leatherwood's dating life, he's kept his personal life on the down-low and has never been publicly linked to anyone. In July of 2020, Netflix announced the network was canceling The Chilling Adventures of Sabrina after its fourth and final season. Upon learning of the cancellation news, fans were crushed, while Nabrina stans are still hoping that someday Shipka and Leatherwood may end up together in real life.