The Real Meaning Behind Harry Styles' Golden Lyrics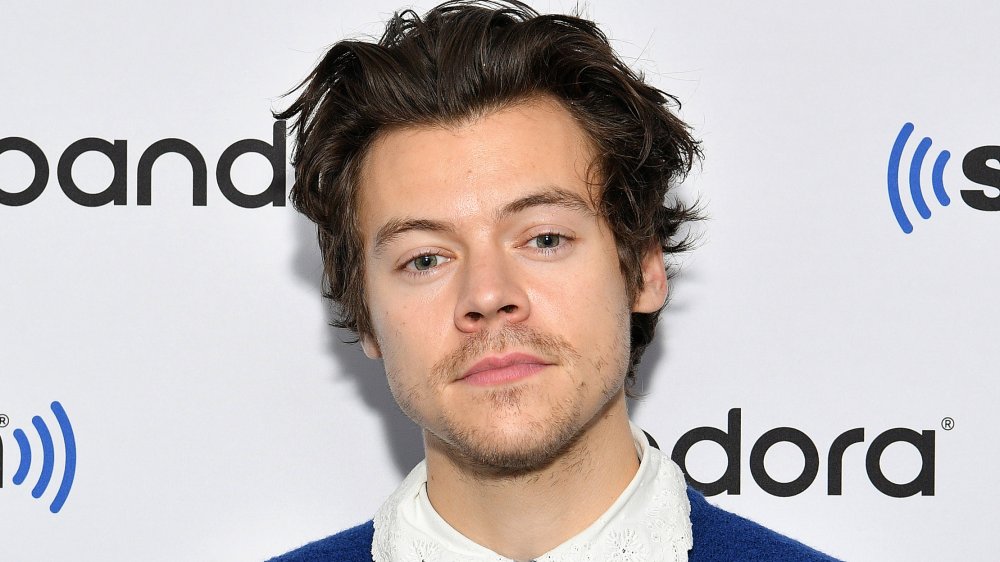 Dia Dipasupil/Getty Images
Didn't get to go on vacation in 2020? Well, you can live vicariously through Harry Styles in his "Golden" video, which hit YouTube on Oct. 26, 2020. The music video for the single features about three minutes of a mostly shirtless Styles running around the Amalfi Coast. The video stands in sharp contrast to the average person's 2020. For starters, Styles isn't wearing sweatpants, and he isn't at a Zoom birthday party. He's actually on vacation, something most people had to give up amid the coronavirus pandemic.
What's more, he looks like he's having fun (sans mask), another rarity of 2020. The Italian-inspired video — which sees Styles driving a vintage convertible, dancing in medieval villages, and swimming in the Mediterranean — finally answered everyone's questions about why Styles was in Italy in the summer of 2020, and why he grew a mustache, per Vulture. Well, kind of. The mustache didn't appear in the video in all its glory, but at least we know why he summered in Europe in 2020.
The song itself is full of '70s-esque guitar riffs and mostly nonsensical lyrics. "You're so golden/You're so golden," Styles sings in the chorus, "I'm out of my head, and I know that you're scared/ Because hearts get broken." Sure, the video is sexy and fun, but what's the song actually about? What do the lyrics really mean? Let's investigate.
Harry Styles' Golden isn't a love song
So we've already established that the video for Harry Styles' "Golden" is about escapism, but what about the lyrics? What we know so far is that it probably isn't about anyone in particular. Some of the songs on Styles' 2019 album Fine Line are confirmed to be about Styles' relationship with his ex-girlfriend, model Camille Rowe, but as of this writing, Styles hasn't dropped any hints about "Golden," per Pop Buzz.
Before the video for Golden dropped in October 2020, Styles sat down with Apple Music's Zane Lowe and dished on Fine Line, which he says was partially inspired by his international lifestyle. His time in California, in particular, served as inspiration for "Golden." Styles said the song "was like the perfect PCH [Pacific Coast Highway] song," adding, "It feels so Malibu to me." Styles went on to call the lyrics and the music video a "source of joy," sharing, "I'd like to think [the video] will maybe cheer a couple of people up. Cheered me up." 
If running around Italy with Harry Styles isn't a source of joy, we don't know what is.