These Are President Trump's Favorite Movies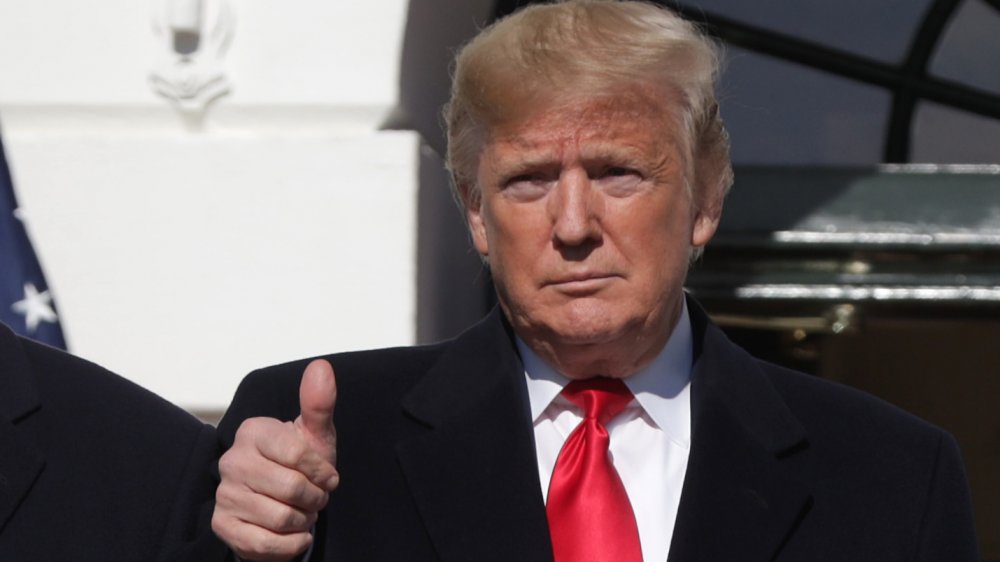 Alex Wong/Getty Images
President Donald Trump is not afraid to make it known when he dislikes something, be it the "fake news media," certain politicians, or celebrities who have wronged him. Trump, for example, has called out Saturday Night Live, whose writers have taken advantage of the political divisiveness in America over the last four years and crafted it into comedy or jabs at politicians. (Of course, they've been doing this long before Trump's presidency, though.)
In an early 2019 skit in which Alec Baldwin returned to play Trump, Baldwin mocked the president's health (Trump's personal physician once wrote that he would be the "healthiest" president ever) and his plans to build a wall at the U.S. Mexico border, per The Hollywood Reporter. In response to the skit, Trump took to his infamous Twitter account to condemn the award-winning sketch comedy show. "Nothing funny about tired Saturday Night Live on Fake News NBC!" he exclaimed. "Question is, how do the Networks get away with these total Republican hit jobs without retribution? Likewise for many other shows? Very unfair and should be looked into. This is the real Collusion!"
While Trump has made it routine to bash on "fake news" TV networks, he has largely kept films out of the conversation. In fact, there are quite a few movies of which he is fond. These are President Trump's favorite movies.
So, what does President Trump consider a 'fantastic' movie?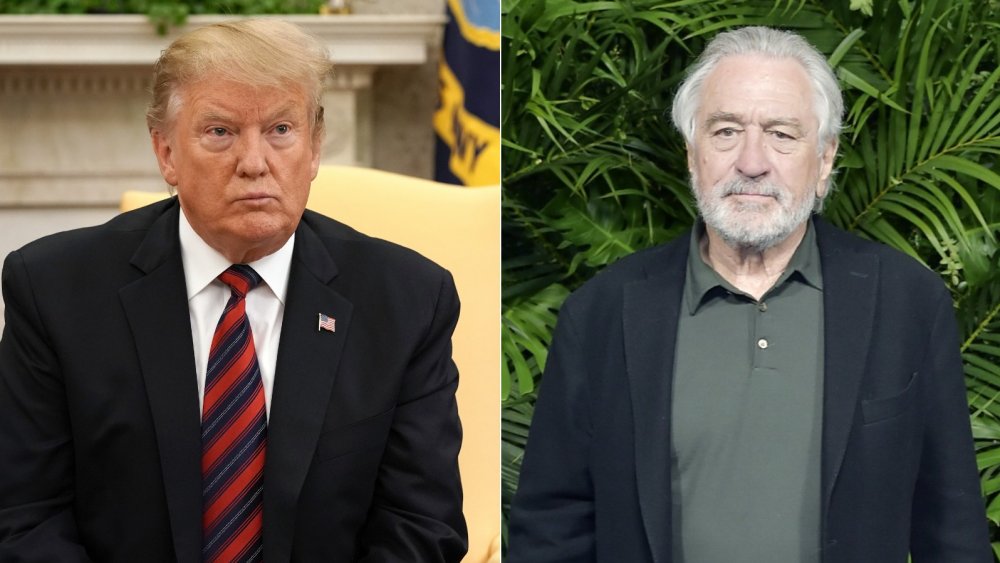 Chip Somodevilla, Stefanie Keenan/Getty Images
President Donald Trump seems to have a soft spot for older movies packed with action. In a 1997 New Yorker profile, Trump, who was an A-list businessman at the time, called the violent martial arts film Bloodsport "an incredible, fantastic movie." He also loves 1990's Goodfellas, starring Ray Liotta, Robert De Niro, and Joe Pesci. According to CBS News, Trump said the dramatic film had a "stellar" cast. However, he might think differently of the cast now, considering he and De Niro have put up a public fight.
Since Trump took office, De Niro has made it clear he dislikes the 45th president. In a CNN interview (via IndieWire), the actor said, "This guy should not be President. Period." This statement came after his 2018 rant against Trump during the live Tony Awards broadcast. Trump pushed back in a series of tweets (per CNN), saying De Niro has a "low IQ" and has taken "many shots to the head by real boxers in movies."
Also making Trump's lists of approved movies are the 1972 classic The Godfather, Gone with the Wind (1939), and Citizen Kane (1941). He also loves watching 1996's The Good, the Bad and the Ugly because he identifies with it. "The characters are well-developed and sometimes remind me of some of the types I've had to deal with over the years in business," he told Movieline in 2012.
Well, if you ever wanted to marathon a celebrity-turned-president's movie recommendations, now you can.