What Blake Shelton And Gwen Stefani's Body Language Really Says About Their Engagement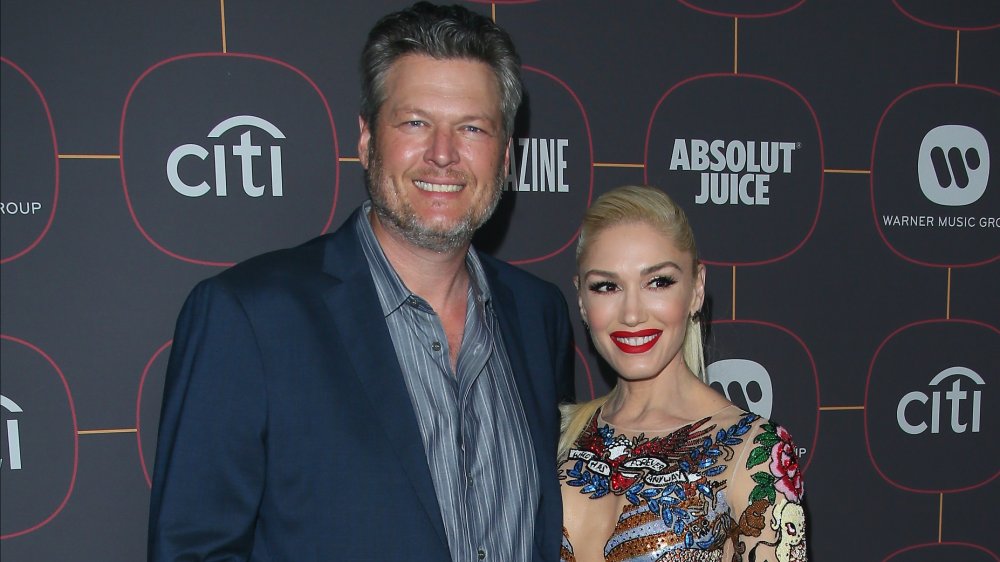 Jean Baptiste Lacroix/Getty Images
The world's been waiting for Gwen Stefani and Blake Shelton to get engaged ever since they started dating in 2015, and now that wait is over. In October 2020, Stefani announced on Instagram that she's affianced to Shelton. So much for all of the speculation and rumors about whether or not The Voice stars hit a rough patch or if there was trouble in paradise in 2020, eh?
Nicki Swift asked life coach and relationship expert Nicole Moore to analyze the body language in the couple's engagement announcement photo. "Of course, we expect couples in engagement photos to look happy and close, but the photo Gwen chose to share as her engagement announcement really highlights how close this couple is," Moore began, before zeroing in on Shelton's "hand around her waist pulling her in tight as he can." 
As Moore put it, this gesture "indicates a desire to devour his love, and take in every piece of her." The relationship expert explained that the country crooner's body language conveys he is head over heels for Stefani. "He's literally pushing himself into her as close as he can and his body language is saying: I can't get enough of you and I love you exactly as you are." 
An examination of their body language shows that they couldn't be any closer to each other, both literally and figuratively.
View this post on Instagram
Blake Shelton and Gwen Stefani's body language speaks volumes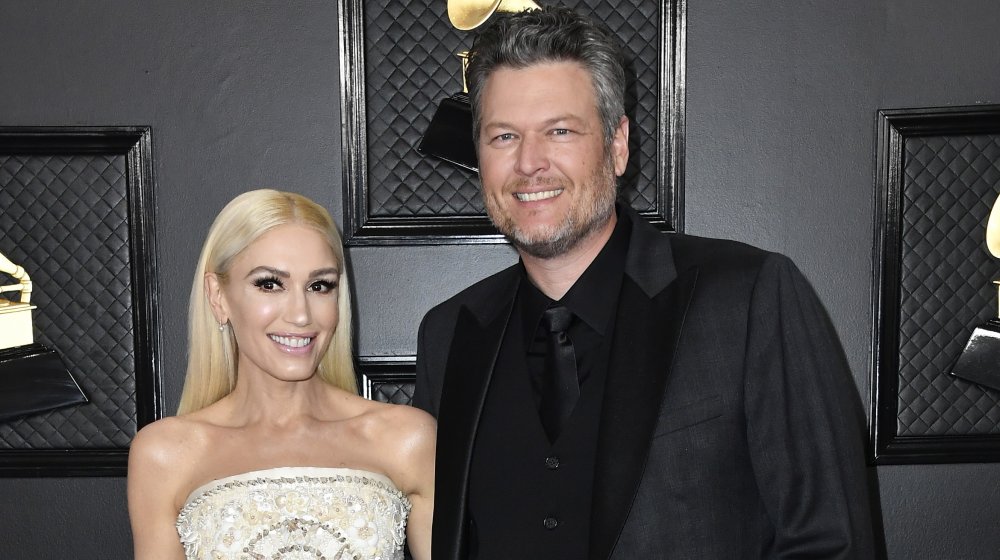 Frazer Harrison/Getty Images
When life coach and relationship expert Nicole Moore analyzed the body language in Gwen Stefani and Blake Shelton's engagement photo, she told us, "Some couples post engagement photos where the couple is holding hands and smiling and the picture looks nice but you can contrast that with this photo in which the two are intertwined as close as can be to tell just how strong their partnership is."
"The picture shows Gwen's neck fully revealed and turned toward Blake," Moore added. "Revealing the neck is a classic body language signal of surrender and vulnerability." In contrast, Moore said people cover their necks and mouths with their hands "to protect" themselves when they're uncomfortable. The No Doubt singer's "wide open neck" conveys "take me, I'm fully yours and I feel safe giving all of myself to you."
Pre-engagement, the singers' body language revealed a lot about their dynamic. Citing Shelton's surprise appearance at Stefani's February 2020 concert, Moore said that Stefani's "body language showed just how happy she was to see him." After her performance, Stefani jumped up to wrap her legs around him "hugging him as tightly as she could," which says that "she's so happy he's in her world."
Moore said, "For a performer, their world is their stage and she was nothing but thrilled that he came into that world with her at her concert." And now he will be a part of her world forever, onstage and off.