Strange Things About Teyana Taylor And Iman Shumpert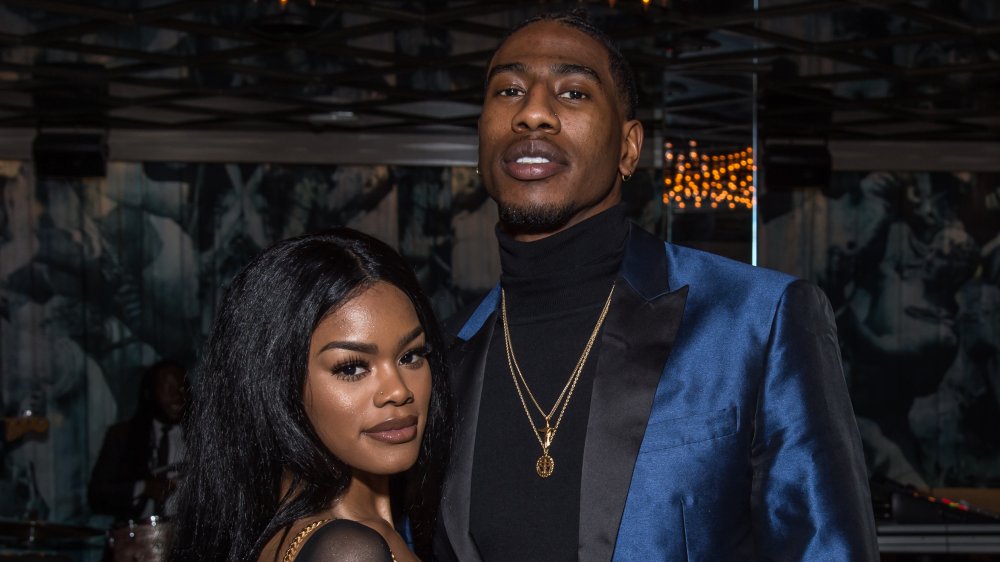 Mark Sagliocco/Getty Images
Teyana Taylor turns heads wherever she goes, whether that's sitting in the front row at New York Fashion Week or bringing fire to the dance floor. Her relationship with her husband, NBA player Iman Shumpert, has also been a head turner.
As reported by Essence, the singer-actress met Shumpert at a party in 2014. A friendship quickly blossomed between the two and they then began dating. A year into their whirlwind romance, the couple announced that they were expecting a baby girl. Shumpert subsequently proposed to Taylor at their baby shower, and the celeb pairing could not have been more smitten. "Thank You @imanshumpert for putting the color back in my life! I love you so much," Taylor gushed in an Instagram post showing off her pink gemstone ring in November 2015. After welcoming their first child, Iman Jr. (or Junie), in December of that year, Taylor and Shumpert eventually tied the knot in October 2016, and welcomed baby No. 2, daughter Rue Rose, in September 2020.
Their love story seemed to be a bit of a free throw at first, but Taylor and Shumpert have proven that they made a slam dunk with their relationship. However, that doesn't mean that they're always sticking to the rules on the court. Here are some strange things about Teyana Taylor and Iman Shumpert.
Teyana Taylor and Iman Shumpert wore matching outfits to say 'I do'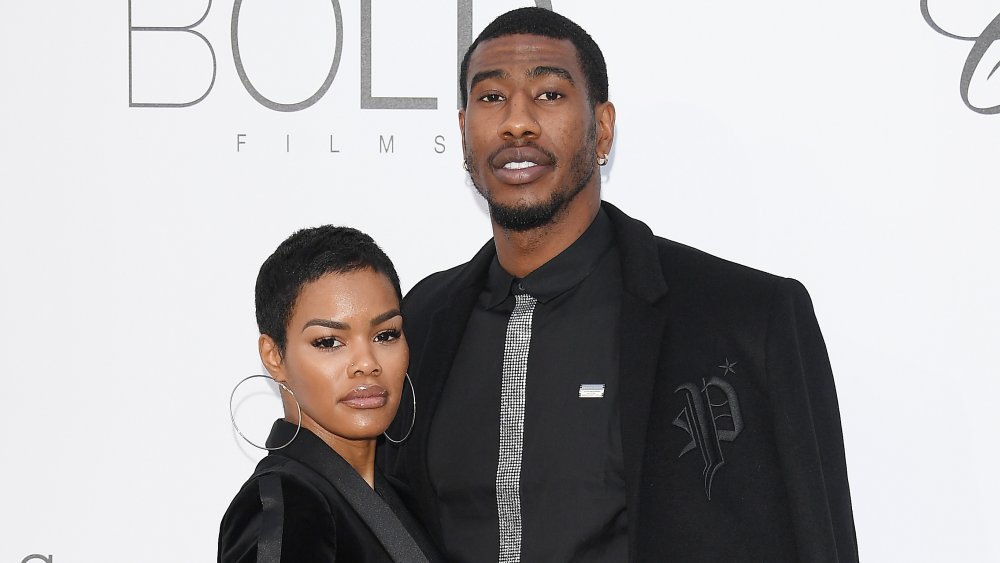 Daniele Venturelli/Getty Images
Teyana Taylor and Iman Shumpert did not get married in the traditional way. Instead, they decided to have a super secret ceremony in a super secret location: their Cleveland apartment (per Essence). 
The strange part, though, is that there were no white dresses adorned by the bride on her wedding day. In fact, Taylor and Shumpert wore the exact same outfit when they walked down the aisle, or should we say hallway. Taylor posted a throwback photo on their first anniversary in October 2017, which showed the lovebirds smiling in matching blue jeans, white t-shirts with a blue print, and maroon leather jackets. The words "I do" were painted in white on the back of Taylor's jacket, while "I do too" was displayed on Shumpert's. Along with the picture, Taylor sweetly wrote, "A year ago today we became ONE, in our biker jackets exactly where our child was born... I said 'I Do' & I meant every bit of it from the bottom of my heart. I will forever love you baby, Happy Anniversary my husband, my lover, my best friend & my rock." Their oldest daughter, Iman Jr., was also adorably dressed in a maroon leather jacket. 
However, the power couple may have chosen their C-town apartment as their surprising wedding location for one important reason: it's where their first child was born, and it would also serve as the birthplace of their second kiddo.
Why Teyana Taylor and Iman Shumpert delivered both their kids in an apartment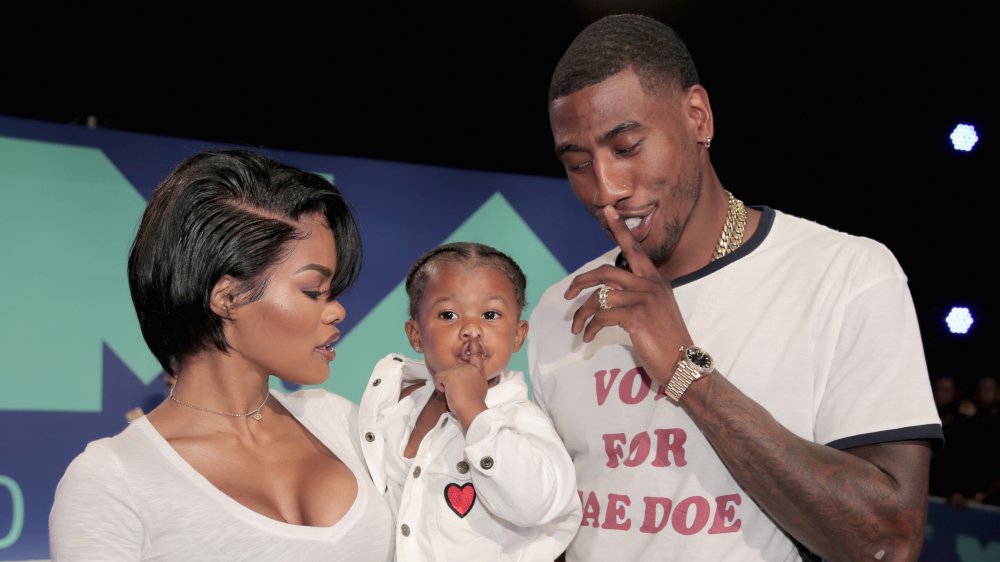 Christopher Polk/Getty Images
When Teyana Taylor found out she was pregnant, the last thing she expected was to give birth in her apartment with husband Iman Shumpert delivering their baby — but that is exactly what happened. While announcing the arrival of baby No. 1 on Instagram in December 2015, Taylor wrote in part, "Junie decided she wanted to take her first breath into this world. She came out as a wonderful surprise to everyone! Not knowing I was in labor until I felt her head...it took two ten count pushes with my fiancé playing Dr and she entered this world into his bare hands!"
Meanwhile, their second child, Rue Rose, was delivered unexpectedly in the bathroom of their apartment — just like her older sister. "Now...when we buy homes, we always find a bathroom with great energy... but not in a million years would you be able to tell me we'd deliver both of our daughters in a bathroom without the assistance of a hospital!" Shumpert joked on Instagram in September 2020.
The proud parents were clearly shocked by the unique circumstances of their daughters' births, and have also been vocal about wanting a third child. But will they make it to the hospital the third time around? "I don't know if I want to go to the hospital for this next baby," Taylor told Nick Cannon prior to welcoming little Rue Rose (per Page Six), quipping, "I'll make sure it's not on the toilet or the bathroom floor."