Here's What We Know About Scarlett Johansson And Colin Jost's Wedding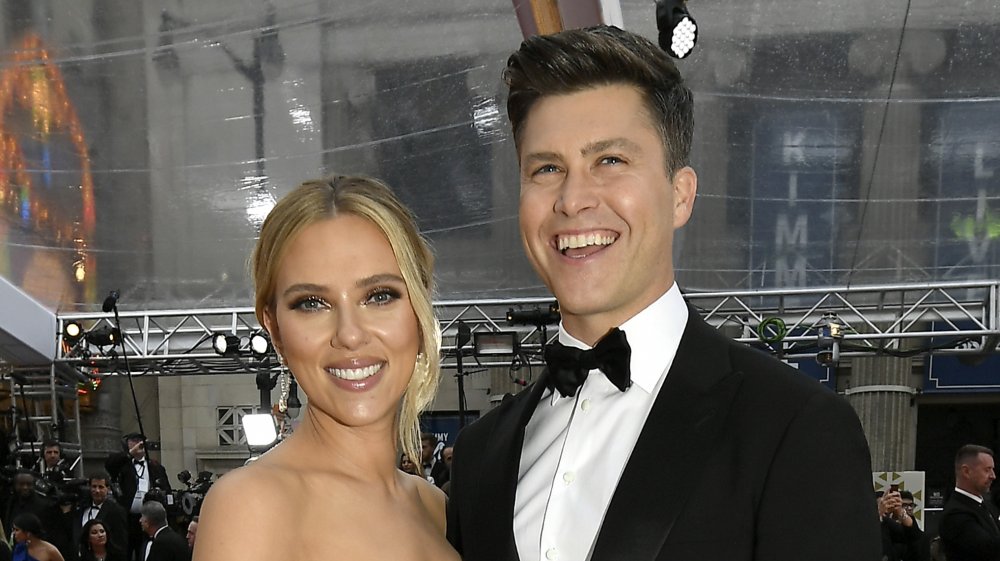 Kevork Djansezian/Getty Images
Scarlett Johansson and Colin Jost have officially tied the knot. The Saturday Night Live star and head writer married the Academy Award-nominated actress in October 2020 after a slow-burning courtship. The couple first met in 2006 on the set of SNL, when Jost was just a writer and Johansson was the guest host of the week. It wasn't until 2017 that they actually began dating, however, when Jost confirmed their relationship to Entertainment Tonight.
The pair became engaged in May 2019. Johansson showed off her jaw-dropping engagement ring the following July, according to People, at San Diego Comic-Con. Johansson has upgraded her 11-carat diamond for a wedding band as of late October 2020, according to news confirmed by an unlikely source: the Meals on Wheels Instagram account.
Yes, you read that correctly. Jost and Johansson used their wedding announcement to bring attention to a good cause in the midst of the coronavirus pandemic. Here's everything we know so far about their recent nuptials.
Scarlett Johansson and Colin are "Jost Married"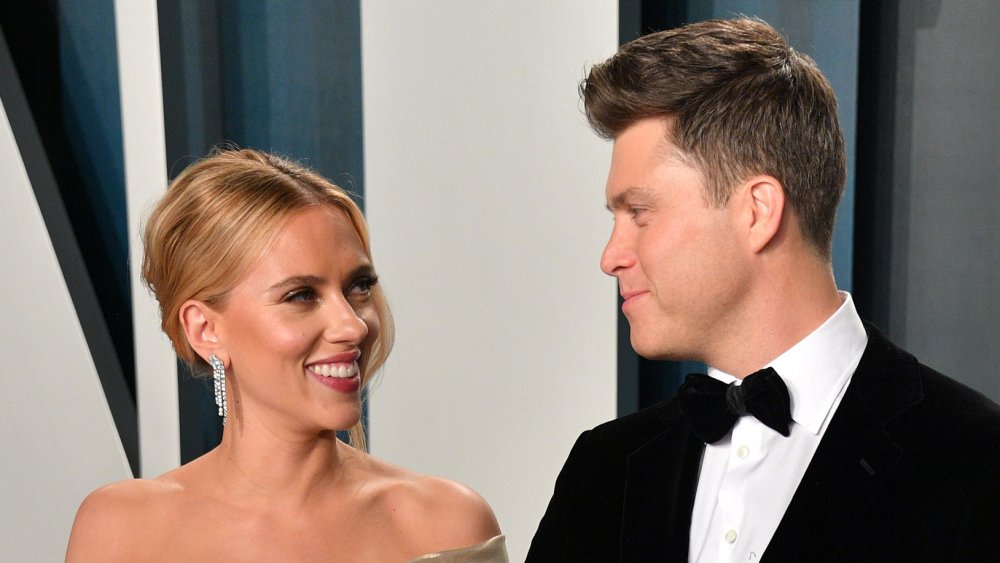 George Pimentel/Getty Images
On October 29, 2020, the Meals On Wheels official Instagram account broke the news that Scarlett Johansson and Colin Jost were officially married. Sharing a photo of the Staten Island Ferry with cans tied to the back and "Jost Married" written on it, the charity confirmed that the two "were married over the weekend in an intimate ceremony with their immediate family and loved ones, following COVID-19 safety precautions as directed by the CDC."
Jost and Johansson chose to break the news this way because, "Their wedding wish is to help make a difference for vulnerable older adults during this difficult time by supporting [Meals on Wheels]," and encouraged those who were able to donate to the organization. With senior citizens considered some of the most vulnerable to COVID-19 and thus encouraged to stay home, the work Meals on Wheels does is more important than ever.
Since the couple chose this moment to highlight the work of the charity, they have yet to share any of their own photos or details from the wedding. While it seems likely that they eventually will share more about the special day, they definitely made a deliberate decision to withhold information for the time being, and they may not share more. In any case, we congratulate the pair and wish them all the best.