Anderson Cooper Is Worth More Money Than You Think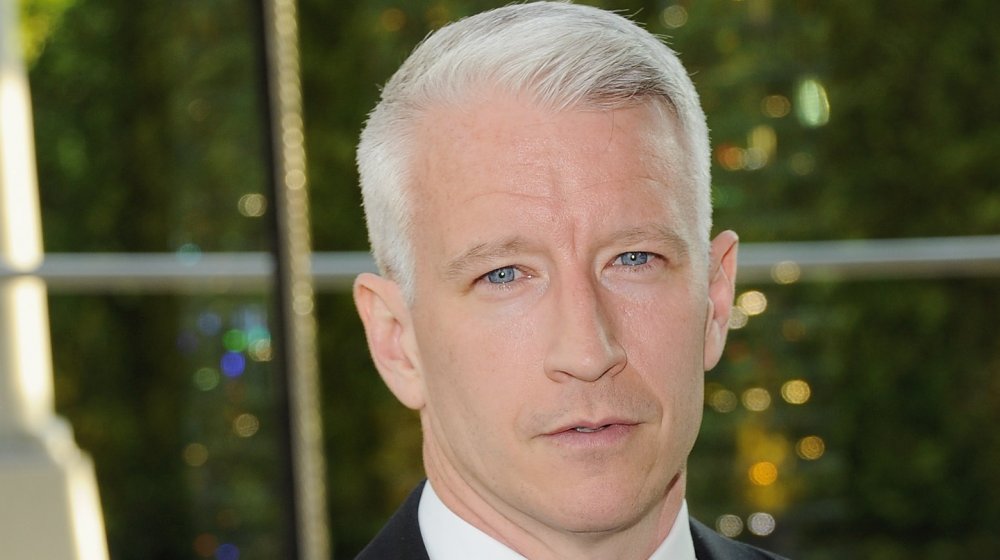 Larry Busacca/Getty Images
We may receive a commission on purchases made from links.
If you go channel surfing, it doesn't take long to land on the dapper Anderson Cooper! The longtime host of Anderson Cooper 360° is arguably one of CNN's biggest stars and a huge part of the media landscape. Though he began his journalism career at ABC, where he started out post-Yale in 1995 (via Biography), he's been at CNN for nearly 20 years and additionally hosts their annual New Year's Live special. Speaking of being on-air, Cooper emotionally shared the news that he had become a father in April 2020. Cooper announced his newborn, Wyatt Morgan Cooper, live on TV to the world. "As a gay kid, I never thought it would be possible to have a child," Cooper told viewers. Surely, the courteous cable news stalwart is an inspiration to the LGBTQ+ community and anyone who wants to get into network news.
Anderson Cooper's life hasn't always been easy (he had a stalker for years), but he does have a lot of money. And that's not only due to his TV salary. Cooper is the son of the late Gloria Vanderbilt, a railroad heiress who became a well-known artist and fashion designer (via The Hollywood Reporter). On his mom, Cooper once said on-air, "What an extraordinary life. What an extraordinary mom. What an incredible woman."
Yup, between his impressive legacy and the fact that his Emmy-winning show has been on the air for 17 years, Cooper has amassed a fortune. Read on for how much Anderson Cooper is worth.
Anderson Cooper is prouder of the money he's earned than inherited
Kevin Mazur/Getty Images
So what is Anderson Cooper's net worth? The New York City-born star, whose mom was a Vanderbilt and whose father was Wyatt Emory Cooper, is wealthy as a result of his background and his amazing career. It's been reported that Cooper's CNN salary is as much as $12 million per year (via Celebrity Net Worth), and he's also written two books.
So let's talk inheritance. Although the celebrity newscaster has previously denied that he would inherit a large sum of money from his mother, according to Fast Company, that figure could actually be somewhere around $200 million, since Gloria, who tragically passed in 2019, left Cooper the "vast majority" of her fortune. It's also worth noting that when Cooper's great-great-great-grandfather, Cornelius Vanderbilt, died, he was worth (with inflation) around $200 billion. Pretty wild, right? He was one of the wealthiest people of all time. 
That said, Gloria Vanderbilt believed her inherited wealth was invalid compared to money earned. She told The New York Times in 1985, "I'm not knocking inherited money, but the money I've made has a reality to me that inherited money doesn't have." Ultimately, son Anderson Cooper feels similarly. "I don't believe in inheriting money. I think it's an initiative sucker. I think it's a curse" (via Town & Country). 
All that said, between his inheritance and bustling career, Cooper is worth somewhere around a cool $200 million today.