The Untold Truth Of Jim Gaffigan's Wife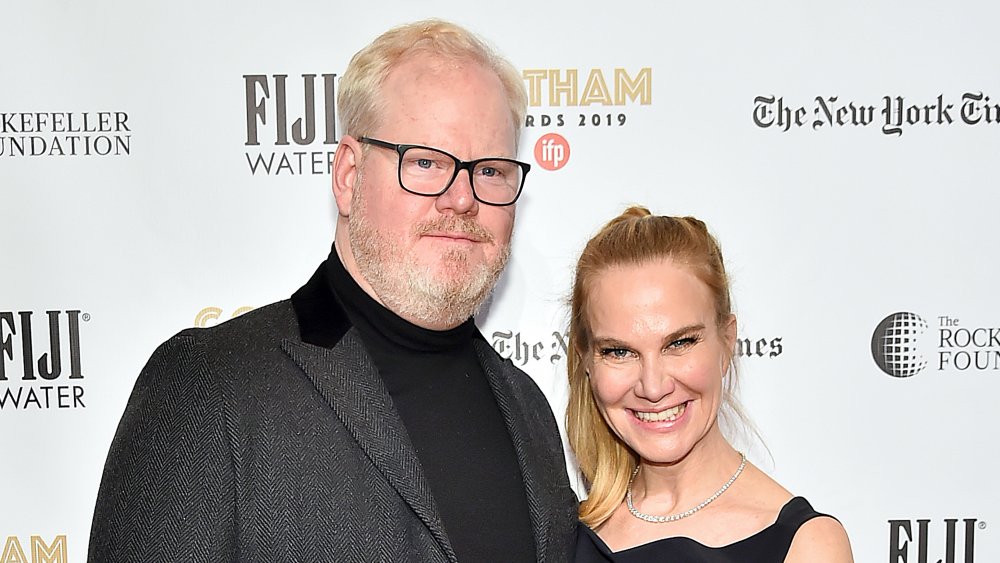 Theo Wargo/Getty Images
Jim Gaffigan is a comedian who's appeared on shows like That '70s Show and Unbreakable Kimmy Schmidt. However, he's also a husband, and according to Country Living, "what many people don't know is that his wife, Jeannie Noth Gaffigan, is also his career co-pilot."
The pair met in New York after they both moved to the big city from the Midwest. Country Living notes that they "ended up living on the same block in the same Manhattan neighborhood. Which is how they eventually met." Jeannie had first spotted Jim while he was doing a sketch group performance and thought he was "really good." When they bumped into each other at a Korean market, they ended up chatting "and quickly became friends." Jim and Jeannie eventually got married in 2003 and welcomed their first daughter, Marre, in 2005. Their family kept growing when their son, Jack, was born in 2006, followed by Katie Louise, who made her entrance into the world in 2009, then Michael in 2011, and Patrick in 2012.
Nowadays, Jeannie is indeed involved with Jim's career, as she's either the co-writer or producer of every one of her husband's "comedy projects since 2005's Beyond the Pale, including the Jim Gaffigan Show and two bestselling books, Dad Is Fat and Food: A Love Story."
If it sounds like they are "one of those couples" who are ideally suited to ride through the good times together, read on to find out how they also faced a very scary situation together.
Jim Gaffigan's wife Jeannie battled a brain tumor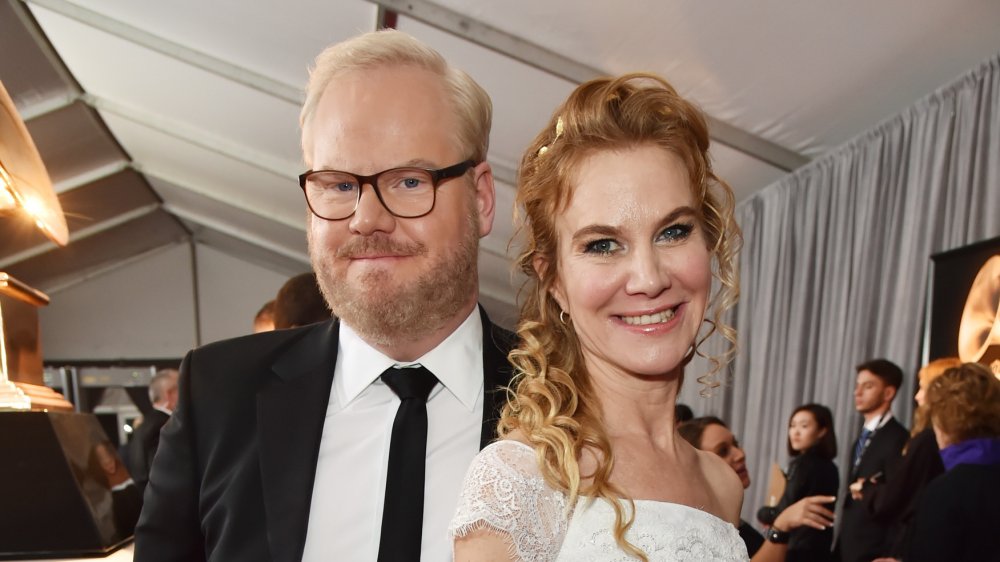 Kevin Mazur/Getty Images
Jim Gaffigan opened up to CBS Sunday Morning in September 2019, and explained that "until April 2017," his wife's "life was pretty much perfect." However, after Jeannie Gaffigan spent months "brush[ing] off her recurring headaches, dizziness, and coughing fits, blaming the symptoms as byproducts of life as a working mom of five," per People, she found out something was seriously wrong with her health.
While Jeannie was at a pediatrician's appointment for her children, she told the doctor that she was having trouble hearing properly. Jeannie told CBS, "So, she sent me to an ear, nose, and throat doctor, and that's when the MRI revealed that I had, you know, like 30 seconds to live!" In other words, Jeannie received a scary diagnosis when she was told that she had a brain tumor. She told People, "I was a ticking time bomb, waiting to be paralyzed." Jeannie underwent surgery, but Jim explained to CBS that she also "suffered from a life-threatening pneumonia, and because of the tumor's location, some cranial nerves had been compromised, inhibiting her ability to breath on her own or swallow," meaning that she couldn't eat or drink.
Although Jeannie has faced a difficult battle, she said "that sometimes you need like a big reminder to realize how grateful you are to be alive, and for your life. And just for me, it happened to be a massive, pear-sized brain tumor on my cranial nerves. So..."