What You Don't Know About Amy McGrath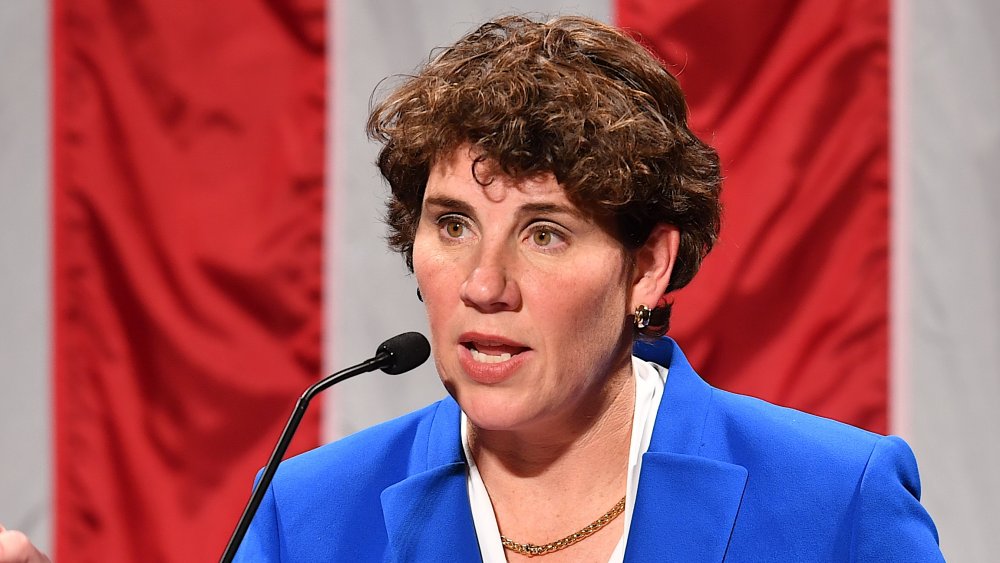 Jason Davis/Getty Images
Smaller political battles will take place this Election Day, and one of the most publicized matches concerns Amy McGrath's mission to oust six-term Kentucky Sen. and Senate Majority Leader Mitch McConnell. 
Perhaps you've seen the Democratic candidate's Top Gun-reminiscent ads on TV, which was inspired by her career as a Marine fighter pilot. Although McGrath has long odds at blasting down the Washington, D.C. fixture, she's trying to plant seeds of change in Kentucky, a historically red state. McGrath has fundraised a stunning $88 million as of October 2020, according to the Center for Responsive Politics, proving she has garnered the interest of many who want change. "You can't drain the swamp until you get rid of the guy who built it, and that's Mitch McConnell," McGrath told ABC News regarding McConnell's 36 years of being "entrenched," in Washington politics. "My fellow Kentuckians don't come up to me and say, 'Wow, Sen. McConnell's power is really working for us.'"
So whether or not Amy McGrath wins on Nov. 3, there seems to be a growing consensus that she's a rising political star. With that in mind, keep scrolling to learn more about Amy McGrath's backstory.
Amy McGrath didn't give up on her dreams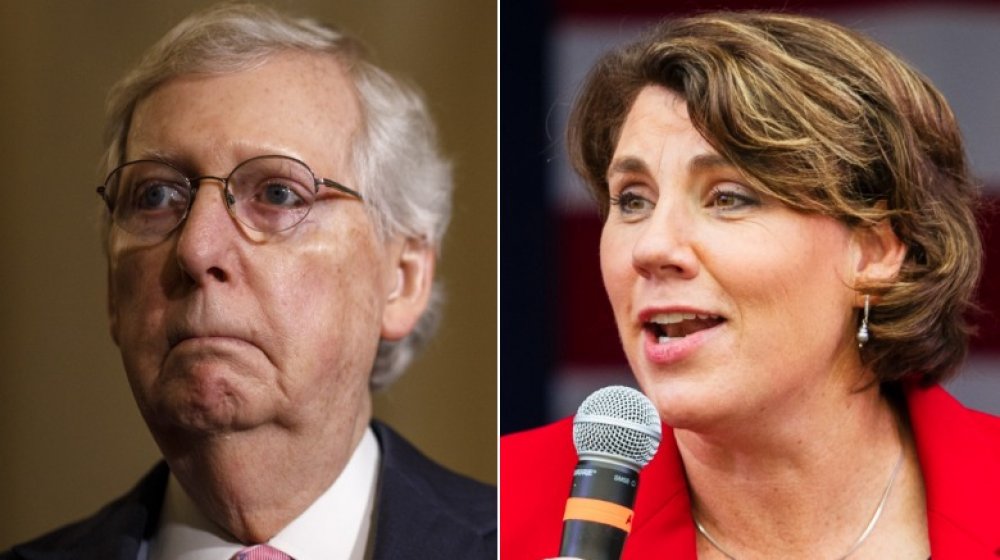 What should you know about Kentucky's Democratic Senate candidate Amy McGrath? For one thing, she has impressive military experience. According to her campaign biography, McGrath was 13 years old when she began dreaming of flying fighter jets in the military. At the time, women weren't eligible for combat roles, but she didn't give up. She wrote a letter to (coincidentally!) Kentucky Sen. Mitch McConnell asking for reforms, and although she didn't hear back, McGrath did become a Marine ... and the first woman serving to fly an F/A A-18 in combat!
Throughout her 20-year military career, the retired fighter pilot went on 89 combat missions in Iraq and Afghanistan. McGrath turned to her mom for support during this time, joking to The New York Times in 2018, "Who has a psychiatrist on speed dial? Nothing ever got to the point of a total crisis because I got to talk it through with her." Speaking of tight family bonds, McGrath is a devoted mom to her three kids, Theodore, Eleanor, and George.
Although McGrath is running as a Democrat, she defies party labels. McGrath registered Independent for 12 years and is married to a Republican. However, she is progressive on issues like abortion, climate change, and legalizing marijuana. McGrath would also push for senators to have term limits, as the Associated Press noted. "I don't think you can put me in a box," she told the Louisville Future. "And I think this is what's wrong with politics today...there are issues where I'm more conservative and there are issues where I'm more progressive. That's most Americans."