This Is The Duggar With The Saddest Romantic History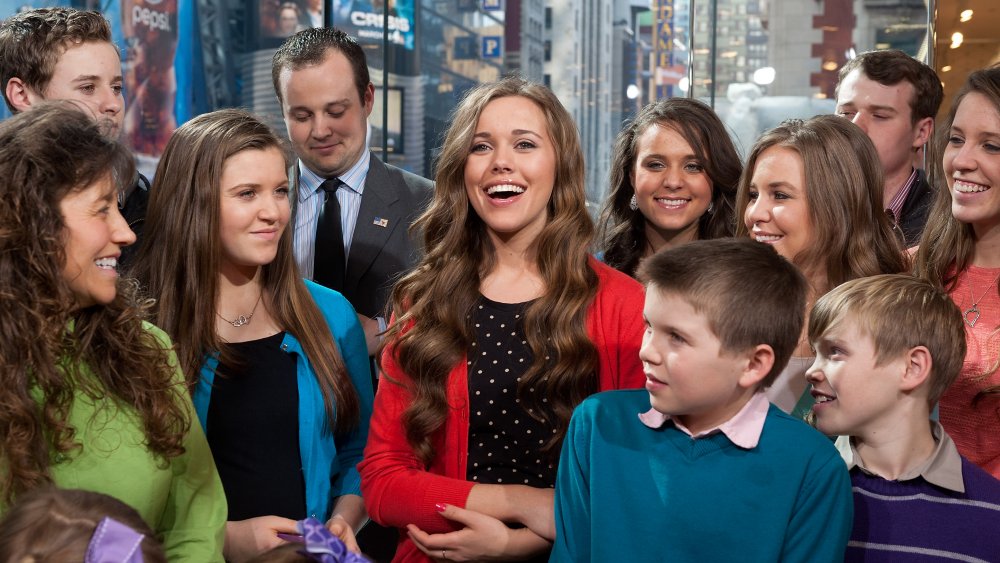 D Dipasupil/Getty Images
Even those who haven't watched TLC's 19 Kids and Counting and Counting On know the reality shows' basic premise: The Duggars are a Christian family with a lot of kids. Since the original show premiered in 2008, many of those 19 kids have gone on to start families of their own. But there's one older Duggar daughter who's still single: Jana Duggar. In most cases, a 30-year-old single woman would not be anything out of the ordinary. However, when you pause to consider that this is the Duggar family, the fact that an unmarried woman is living on her own terms, rather than settling down and having kids, is a big deal.
Not many of the Duggar children attended college, and most of the Duggar women don't work outside the home. Of course, that's fine if it's their choice, but for the ultra-conservative family, it seems to be a requirement. So the fact that Jana is single — and that she may be single by choice — is hard for some fans to wrap their heads around. Here's what you should know about Jana Duggar's relationship status and what fans think of the fact that she's not married.
Could a Jana Duggar courtship revitalize Counting On?
As CheatSheet pointed out, the Duggar family hasn't announced a courtship in two years. That might not sound like a huge deal — until you think about the fact that almost every season of Counting On and 19 Kids and Counting has featured one, of course. If this were the year that Jana Duggar started seeing someone, it could potentially bring lapsed viewers back to the show.
Between Jill Duggar Dillard's recent "rebellion" — she now drinks alcohol and uses birth control, and her family is no longer on Counting On — and the scandal surrounding Josh Duggar, there are plenty of reasons fans might not tune into the show anymore. And, while the Duggars have become TLC mainstays, it's more than possible that Counting On could be canceled in the near future. But if Jana started dating someone, it might inspire fans to tune in once again. 
As the oldest Duggar daughter, Jana has a lot of pressure weighing on her, whether she likes it or not. In fact, as speculation about Jana's single status reached new heights, the reality TV star was compelled to post an Instagram photo of herself with a "Please Form Single Line" sign in August 2020, emphasizing her relationship status. But such jokes haven't been able to curb fans' desire to know the truth behind Jana's personal life.
Fans have long speculated about Jana Duggar's sexuality
With the Duggar family's focus on marriage and parenthood, the simple fact that Jana Duggar is still single at age 30 has some fans convinced there must be a more profound reason behind it. Some fans have speculated that Jana is gay and has secretly dated her friend Laura DeMasie, but Jana has firmly denied the rumors. "I would like to stop that rumor. I have no interest in girls that way whatsoever," Jana wrote in an Instagram comment, according to OK! Magazine. "I have 'courted' or 'dated' a few guys, but so far nothing has gone into a serious relationship. Just continuing to wait and pray for the right guy to come along."
As the saying goes, minding your business is free, and it's disappointing that Jana had to issue this statement in the first place. There's nothing wrong with being single (at any age!), and if Jana wants to keep her relationships private, that's her right. If Jana Duggar does start courting someone, however, and decides to share that news with fans, they'd likely be thrilled to see her happy in a new relationship. And if she doesn't, that's OK, too — it's her life.