Shia LaBeouf Marries Mia Goth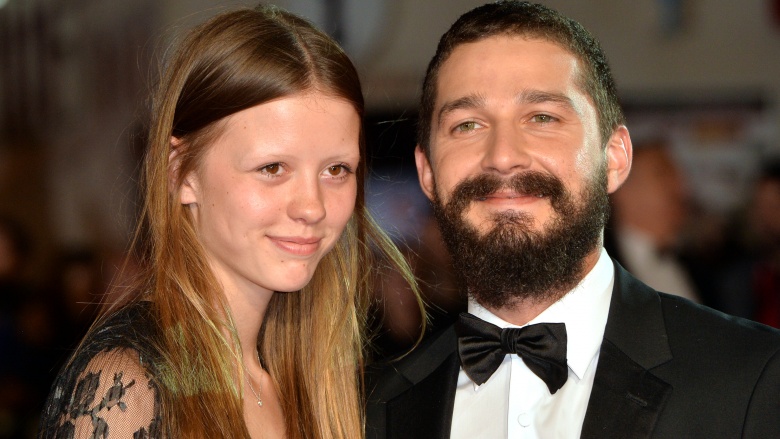 Getty Images
Shia LaBeouf continues to let his freak flag fly in a big way: the Transformers star got hitched Oct. 10, 2016 to longtime girlfriend Mia Goth...in an Elvis chapel.
TMZ reports that LaBeouf, 30, and Goth, 23, arrived at the Viva Las Vegas chapel in a limo. The venue performs traditional weddings, but specializes in gladiator, gangster, Elvis, and Alice Cooper-themed nuptials. LaBeouf and Goth reportedly opted for an Elvis to officiate and live-streamed the experience. The couple laughed and danced along to the faux-King. Their vows included, "to adopt each other's hound dogs, not to wear [their] blue suede shoes in the rain, to always be each other's teddy bear, and to give each other a hunka-hunka-burning love." The ceremony closed with a dance to "Hungry Heart" by Bruce Springsteen.
It's the first marriage for both Goth and LaBeouf, who have been dating since meeting on the set of Nymphomaniac: Volume II in 2012.
In July 2015, Goth and LaBeouf made headlines when they got into a very public, nearly-physical altercation in Germany that was caught on video obtained by Entertainment Tonight. In the clip, LaBeouf tells local bystanders, "I don't want to touch a woman, I don't want to hit a woman, but I'm being pushed." He then tells Goth, "I don't wanna touch you. I don't wanna be aggressive. This is the kind of s**t that makes a person abusive." He later told the bystanders, who gave him a ride to the airport, "If I'd have stayed there, I would have killed her."
The couple seems to have reconciled in a big way. Goth was first spotted rocking what appeared to be an engagement ring in March 2016, and now the lovers have their wedding on paparazzi videos for posterity. Mazel tov, we guess!