The Tragic Death Of Marie Osmond's Son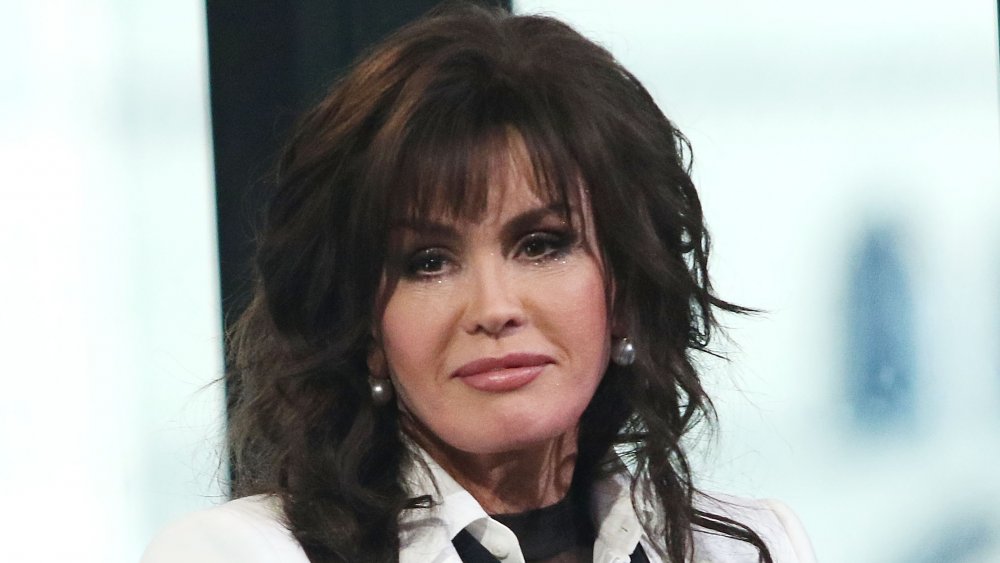 Laura Cavanaugh/Getty Images
As one of the legendary Osmond family members, Marie Osmond has been famous for her entire life. Her stardom exploded in 1976 when she hosted the Donny & Marie variety show with her brother Donny Osmond. A little more than 20 years later, she and Donny landed a syndicated daytime talk show, also titled Donny & Marie, which ran for two seasons. In 2019 Marie joined The Talk, but left the show after just one season.
While TV viewers have witnessed Marie grow up on television, she has, for the most part, guarded her family from the spotlight. Marie has been married three times, per Rare. Her first marriage to basketball player Stephen Lyle Craig lasted only three years, ending in divorce in 1985. In 1986, the singer married Brian Blosil, with whom they had two children, Rachael and Matthew. The couple also adopted five children: Jessica, Michael, Brandon, Brianna, and Abigail. In March 2007, the couple announced they were divorcing. Then, in the twist to end all twists, People reported that, on May 4, 2011, Marie remarried her first husband, Stephen Craig, wearing the wedding dress from their first wedding in 1982. 
However, 2007 was an extremely devastating year for Marie Osmond. Her marriage to her husband of 20 years, Brian Blosil ended, her father died at age 90, and her teenage son Michael Blosil entered rehab. Ultimately, after battling depression and substance abuse for years, Michael died on Feb. 26, 2010, per The Hollywood Reporter. Keep reading for details on what lead up to Marie Osmond's son's tragic death.
Marie Osmond's son Michael Blosil died by suicide at 18
According to The Hollywood Reporter, singer Marie Osmond's 18-year-old son, Michael Blosil, jumped to his death from the 15th floor of his apartment in Los Angeles, Calif. At the time, Blosil was a student at The Fashion Institute of Design and Merchandising, the school featured on the L.A. season of Project Runway. His friends and roommates told TMZ he was clean and sober at the time of his death.
The year before Blosil's death, Osmond told People he seemed to be doing better. In March 2009, she said, "I couldn't be more proud of him. He's got a 3.9 GPA in high school. He's looking at scholarships to some wonderful colleges." Following his death, Osmond released the following statement, per HuffPost: "My family and I are devastated and in deep shock by the tragic loss of our dear Michael and ask that everyone respect our privacy during this difficult time."
According to TMZ, Blosil did leave a suicide note in his apartment for a female friend who lived in his apartment building. He texted the woman to let her know of the message. At that point, she went to his apartment, his roommates let her in, and the group found the note. While it did not specifically mention suicide, it did list things he was doing for one final time. In late 2019, Osmond opened up about the last time she spoke with Blosil.
Marie Osmond's son Michael Blosil was a victim of bullying
Shortly before Michael Blosil's death, Marie Osmond had spoken to him and became concerned. "When I heard him say to me, I have no friends, it brought back when I went through depression, because you really feel so alone," Osmond recalled to Oprah Winfrey (via ABC News). Referring to her struggle with postpartum depression — which she discussed in her 2002 book, Behind the Smile: My Journey out of Postpartum Depression — she said, "I'm not a depressed person, but I understand that place, that darkness. I told him, I said, 'Mike, I'm gonna be there Monday and it's gonna be OK.' But depression doesn't wait 'til Monday," she said. Blosil died on Friday, Feb. 26, 2010.
During a 2019 episode of The Talk (via USA Today), for the first time, Osmond revealed Blosil was being bullied. Osmond told the other women on the panel, "He was bullied very heavily right up until the time that he committed suicide, because of his sobriety." She continued, "I've got the texts — I mean they're horrendous, and I never took action against it, but I can tell you, honestly, that I believe that was a high component in him just feeling overwhelmed and that he didn't fit in." Osmond noted that, in the wake of Blosil's death, she knows the bullies, "have to live with that consequence," and hopes "it'll help other kids that don't think much about it, take it seriously."
If you or someone you know is struggling with substance abuse and mental health, please contact SAMHSA's 24-hour National Helpline at 1-800-662-HELP (4357).
If you or someone you know is having suicidal thoughts, please call the National Suicide Prevention Lifeline at 1-800-273-TALK (8255) or text HOME to the Crisis Text Line at 741741.