The Truth About Donald Trump And Dr. Fauci's Relationship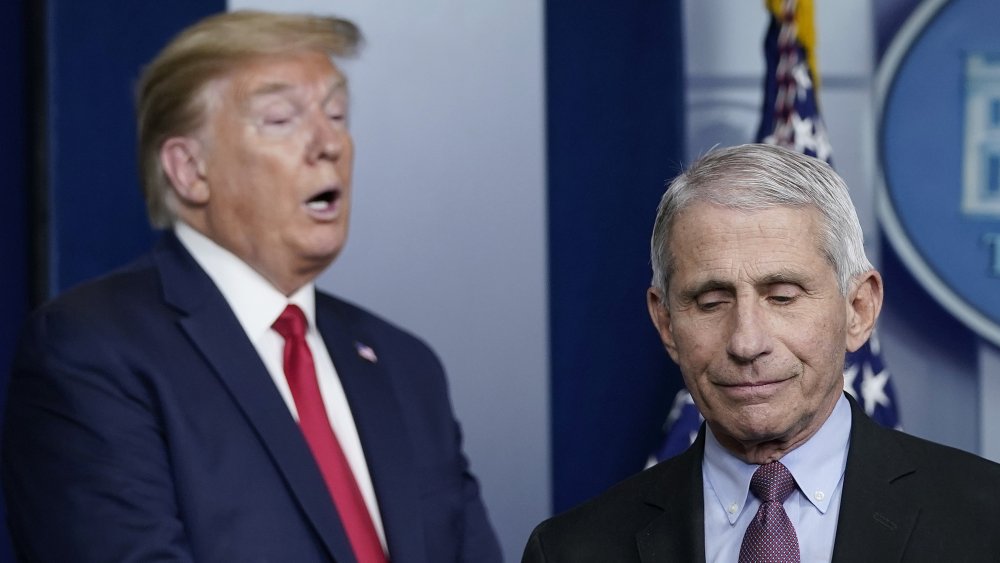 Drew Angerer/Getty Images
During a July 2020 interview with Fox News (via Politico), President Donald Trump said he had "a very good relationship" with National Institute of Allergy and Infectious Diseases Director Dr. Anthony Fauci. Well, that relationship has been quite contentious, to say the least. In the same interview, Trump said, "Dr. Fauci's made some mistakes. He's a little bit of an alarmist. That's OK."
The White House coronavirus task force was created on Jan. 29, 2020, and early on, Trump and Fauci appeared together during the team's daily televised briefings. Reports of a strained relationship between the two men emerged in the early stages of the pandemic due to the pair being at odds about public policy decisions and the seriousness of COVID-19. While Trump attempted to minimize the dangers of the virus to protect the American economy, Dr. Fauci expressed concern about how bad it could get for citizens.
Even so, Dr. Fauci had vocally praised the president on policy decisions, like when he decided to close down travel from Europe in March. ABC News reported that Dr. Fauci testified before Congress that month that he supported the bans, "calling the case for them 'pretty compelling.'" But the infectious disease expert was also critical of "the U.S. testing system" during the same testimony, calling it "a failing."
In the early months of the pandemic, another incident occurred during a White House coronavirus task force briefing once again put Dr. Fauci at odds with Trump — and it reportedly led to one huge argument. 
Donald Trump's miracle drug comment pushed Dr. Fauci over the edge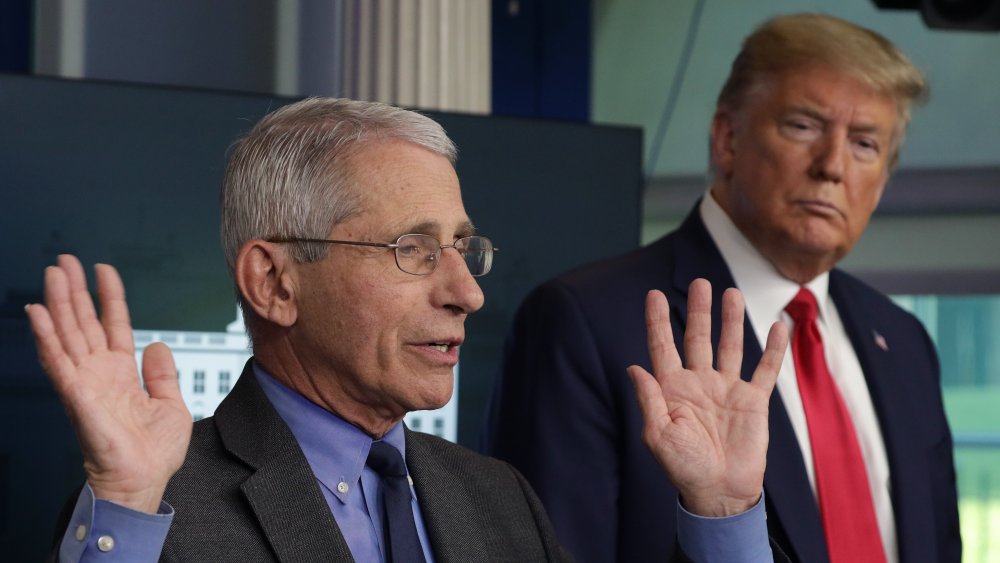 Alex Wong/Getty Images
In April 2020, the president called hydroxychloroquine a "miracle drug" while Dr. Fauci told CBS News (per ABC News), "In terms of science, I don't think we can definitively say it works." In a September 2020 CDC study of "Hydroxychloroquine and Chloroquine Prescribing Patterns by Provider Specialty," it was determined the potential benefits of taking the drug did not outweigh the risks.
After months of contradicting one another, things got nasty. In mid-October 2020, The Washington Post reported that Trump lashed out at Dr. Fauci as the president attempted to defend his handling of the pandemic with just two weeks until the election. "People are tired of listening to Fauci and these idiots," Trump reportedly said on a call with campaign staff. "Every day he goes on television, there's always a bomb, but there's a bigger bomb if you fire him. But Fauci is a disaster." This statement was apparently in reference to Fauci telling CBS's 60 Minutes he was "absolutely not" surprised that Trump had caught the coronavirus.
During an October 2000 campaign rally in Florida, while Trump talked to a crowd of unmasked supporters about COVID-19, the group started chanting, "Fire Fauci. Fire Fauci. Fire Fauci." Trump responded by stating, "Don't tell anybody, but let me wait till a little bit after the election." The AP points out that since Dr. Fauci "is not a presidential appointee," Trump could not "directly fire" him. As the pandemic continues to wreak havoc on the country, it is not looking like President Donald Trump and Dr. Anthony Fauci will ever be on the same page.