Owning A TV Network Could Be In Donald Trump's Future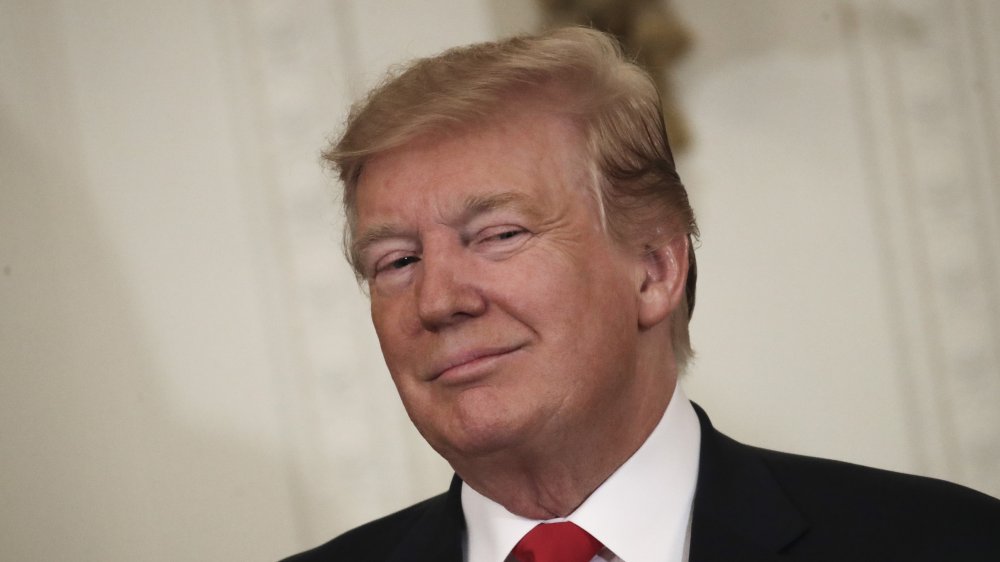 Drew Angerer/Getty Images
Throughout his time as president, Donald Trump has been very vocal about his distrust of the media. According to the Independent, Trump has called the press — from networks to individual journalists to publications — "fake news" over 2,000 times. Entertainment Weekly rounded up a series of Trump's "fake news" tweets, and per their roundup, the first time Trump used that term on Twitter was on December 10, 2016. "Reports by @CNN that I will be working on The Apprentice during my Presidency, even part time, are ridiculous & untrue – FAKE NEWS!" Trump tweeted.
In late October 2020, Trump addressed accurate news reports, like this New York Times article, that asserted the coronavirus outbreak was worsening. He lashed out by adding another of this famous phrases "lamestream media" to a tweet, "Covid, Covid, Covid is the unified chant of the Fake News Lamestream Media. They will talk about nothing else until November 4th., when the Election will be (hopefully!) over. Then the talk will be how low the death rate is, plenty of hospital rooms, & many tests of young people."
The president has even lashed out at the very Trump-friendly Fox News. During an interview with Rush Limbaugh (per Deadline) in early October 2020, Trump went on a Fox News rant where he attacked the network as a whole. He complained that Fox News was less favorable to him than it was four years ago and, at one point, blamed former Speaker Paul Ryan, who is on the board of Fox's parent company. So how could Donald Trump guarantee positive media coverage? By owning his own network.
Donald Trump may very well launch Trump TV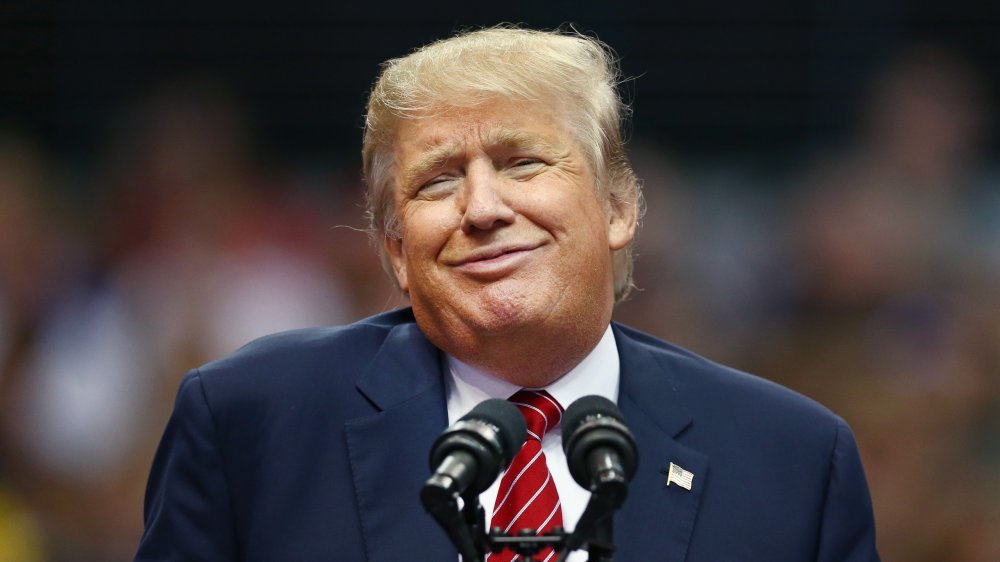 Tom Pennington/Getty Images
Donald Trump is a massive consumer of media, especially TV; he's always tweeting about how he watched this show and that show, and he loves the media when they love him back. As of this writing, the final outcome of the 2020 election hasn't been decided as of yet, but there are rumors that if he does lose the election, Trump will most probably make another run for the president in 2024. Trump's former Chief of Staff Mick Mulvaney told The Irish Times, "I would absolutely expect the president to stay involved in politics and would absolutely put him on the shortlist of people who are likely to run in 2024." A surefire pro-Trump TV network could make things a whole lot easier for them.
As far back as 2016, there were rumors that Trump wanted to launch his own news channel. The Financial Times, per Vice, reported Trump's son-in-law, Jared Kushner, had informally approached a top media dealmaker to discuss setting up a network after the presidential election in November. Now, it looks like Kushner is once again floating the idea of a Trump-branded media company. A source told Business Insider, "There's no doubt in my mind that Jared's future is in building a media empire of some kind. He believes that controlling the media means controlling the policy, controlling the people." That falls right in line with Trump and his wish to control the narrative. Trump TV may be coming to a television set near you.