Why Southern Charm's Leva Bonaparte Confronted Kathryn Dennis
The ladies and gentlemen of Bravo's Southern Charm are sometimes not all that charming. The show, which chronicles the day-to-day life of the wealthy elite as they navigate the upper echelon of Charleston's social scene, skews more Real Housewives than Billions. Like most reality shows on Bravo, the main focus is on the cast's relationships, and those bonds are complicated, to put it mildly.
Take Kathryn Dennis and Thomas Ravenel, for example. Season 1 began with Kathryn learning she was pregnant with Thomas', a disgraced politician, child. They've been on and off for years, but Kathryn has also hooked up with Shep Rose and other cast members, per People. Kathryn's relationship with Thomas was a significant source of drama for as long as he appeared on the show (he left in 2018). Season 7, though, has turned out to be about something other than Kathryn and Thomas, although Kathryn still found a way to get in the middle of the drama.
The episode on Nov. 5, 2020, saw an explosive fight between Kathryn and newbie Leva Bonaparte, which surprisingly wasn't about either of their relationships. So what caused the rift? And why did Leva feel the need to call Kathryn out?
Leva Bonaparte stood up for her friend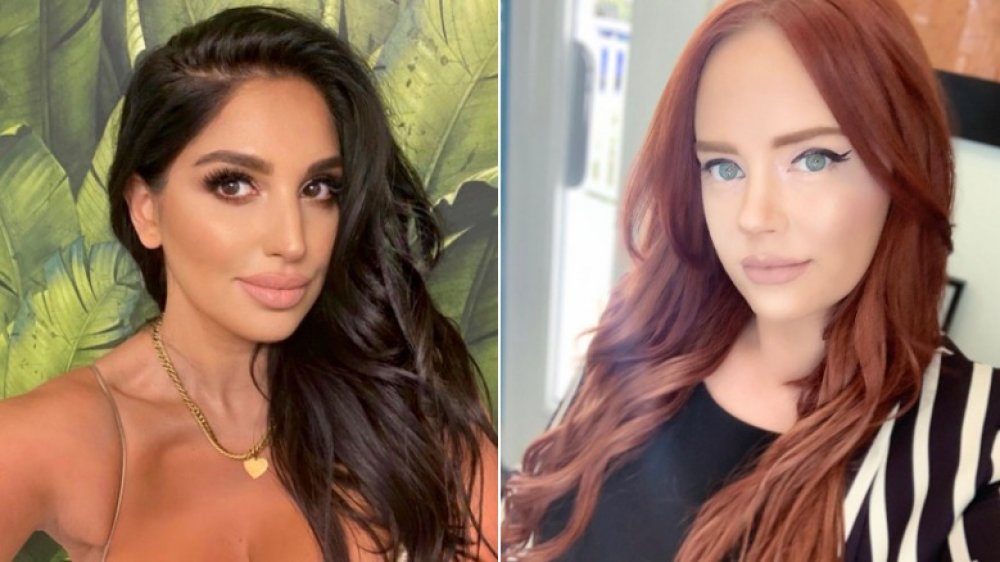 Leva Bonaparte/Instagram, Kathryn Dennis/Instagram
She might be the new girl, but Leva Bonaparte earned her place on Bravo when she went head-to-head with Southern Charm OG Kathryn Dennis in Season 7. The issue? Kathryn was spreading rumors that former castmate Cameran Eubanks' rarely seen husband, Jason Wimberly, had an affair.
"I'm going to start by saying that I was very, very upset this afternoon," Leva said to Kathryn. "I'm really trying to be calm because I'm so angry. I see red. You made something up. You were going after my friend and people that I love." Leva, who is close with Cameran, has repeatedly insisted that there is no truth to the rumor. The supposed other woman, a Charleston-based makeup artist, has also denied the allegations. "They are a beautiful family. I don't want any of this," Leva added, as reported by People. However, Kathryn seemed to have her complicated relationship with Cameran on her mind and did not back down. "Remember the last five years, Cameran?" she said in a confessional, per People. "Did you know that quote your mom told you, 'What goes around comes around?' That's where we're at." Yikes. 
Unfortunately, Cameran wasn't there to defend herself or her husband, as she left the show at the end of the last season when Kathryn first started spreading the rumors. Weird timing for sure, but Cameran maintains her choice to leave had nothing to do with the renewed focus on her marriage.