Inside George W. Bush's Intimate Letter To Barack Obama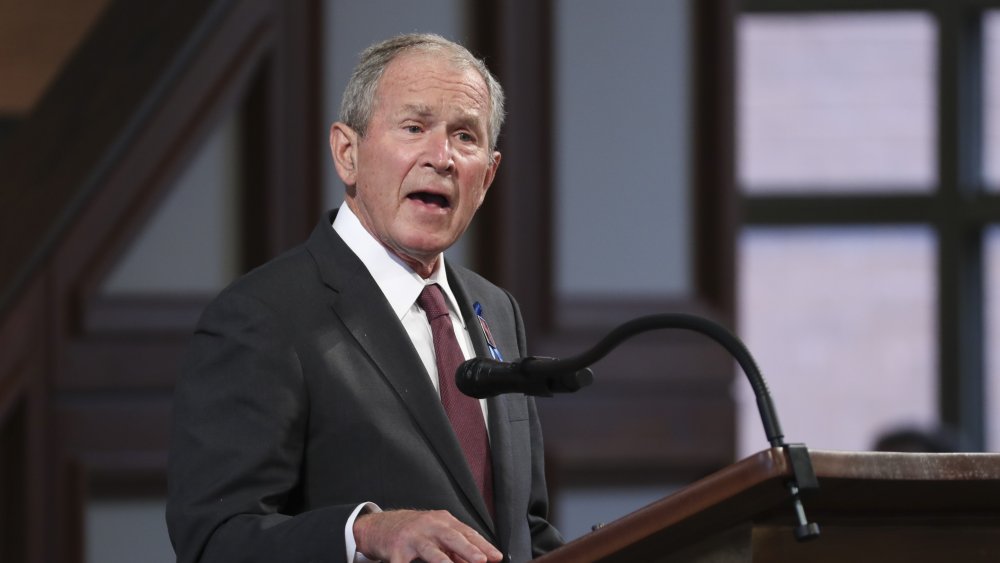 Pool/Getty Images
It's an American tradition for the outgoing president to write a letter to the incoming president and leave it on the Resolute Desk in the Oval Office. As the 46th president comes into power, Americans wonder if President Donald Trump will leave a letter for President-elect Joe Biden. The letter President George W. Bush left for his successor Barack Obama, who was sworn in as the 44th President of the United States on January 20, 2009, is intimate and heartfelt. His message made it clear that he supported America's new leader. 
"Dear Barack, congratulations on becoming our President. You have just begun a fantastic chapter in your life. Very few have had the honor of knowing the responsibility you now feel. Very few know the excitement of the moment and the challenges you will face," reads the letter Bush left for Obama (via CNN). "There will be trying moments. The critics will rage. Your 'friends' will disappoint you. But, you will have an Almighty God to comfort you, a family who loves you, and a country that is pulling for you, including me. No matter what comes, you will be inspired by the character and compassion of the people you now lead. God bless you. Sincerely, GW."
George W. Bush's letter to Barack Obama was part of a peaceful transfer of power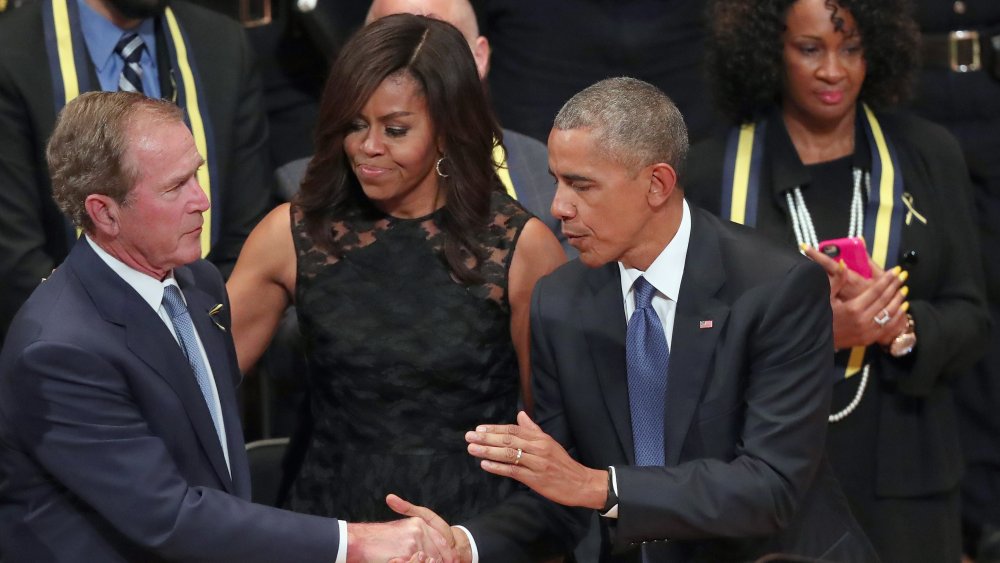 Tom Pennington/Getty Images
One of the American government's hallmarks is the peaceful transition of power from one president to another. Before Trump, it was the norm for current and former presidents to work together. But Trump has criticized Obama throughout his term, and he attacked George W. Bush in May 2020 (via CNN).
In June 2020, Presidents Barack Obama and George W. Bush showed unity as they both spoke to Americans during the nationwide protests after George Floyd's death (via ExtraTV). The message from the former commanders-in-chief was a stark contrast to Trump's tweets and TV interviews about the demonstrations. The friendship between George W. Bush and Barack Obama appears to have grown after the 44th president left office. Additionally, Bush and Michelle Obama have become developed a sweet friendship that has inspired several viral moments.
We have to wonder what kind of message the current president will leave Biden, given his history of breaking norms. On Election Night 2020, President Trump addressed the country, making accusations there was cheating going on: "Millions and millions of people voted for us tonight, and a very sad group of people is trying to disenfranchise that group of people." On Nov. 7, 2020, Vanity Fair reported that Trump said he will never concede to Biden. We hope that isn't true, and that he leaves office on his own terms in a peaceful way. Maybe instead of writing a letter, he can tweet a message to incoming President Biden!