The Truth About Reba McEntire And Dolly Parton's Friendship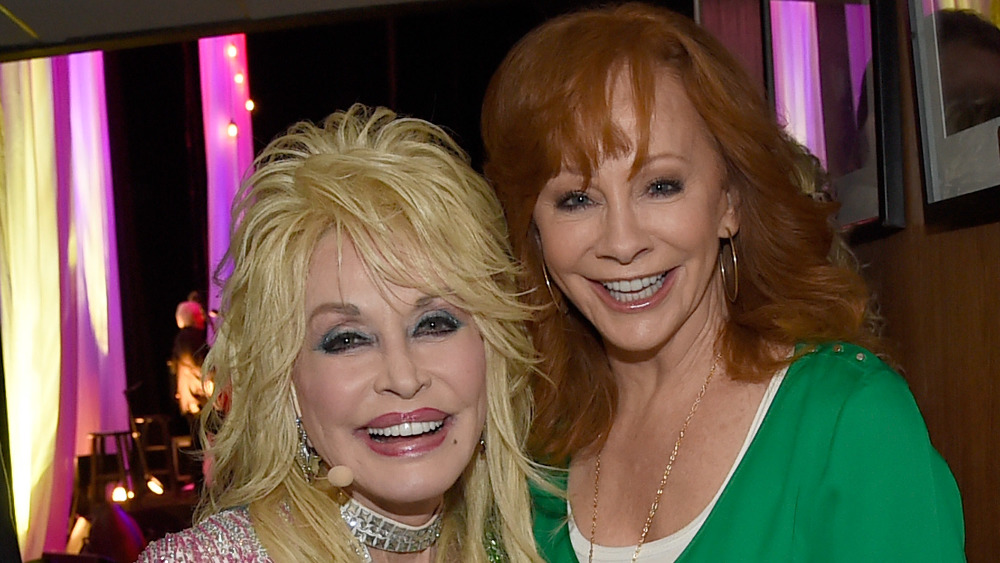 Rick Diamond/Getty Images
Dolly Parton is a living legend — during a career that has spanned over 50 years, she has written countless timeless songs, both for herself and others, starred in feature films like 9 to 5, written a Broadway musical, and won dozens of awards. As approachable and friendly as Parton seems, those stats are certainly intimidating, especially for those of us that don't even have one Grammy nomination, let alone 49.
But if there's anyone even close to Parton's stature in country music, it's Reba McEntire. Parton may have a decade on McEntire in life and the music industry, but that hasn't stopped them from developing an enduring friendship. Parton shared a photo on Instagram in September 2020, toasting their relationship. "With a friendship that's lasted over 40 years, @reba and I always have a lot to talk about!" Parton wrote. Aw! 
Want to know more about McEntire and Parton's bond? Here's a look inside four decades of fame, fortune, and friendship.
Dolly Parton and Reba McEntire adore each other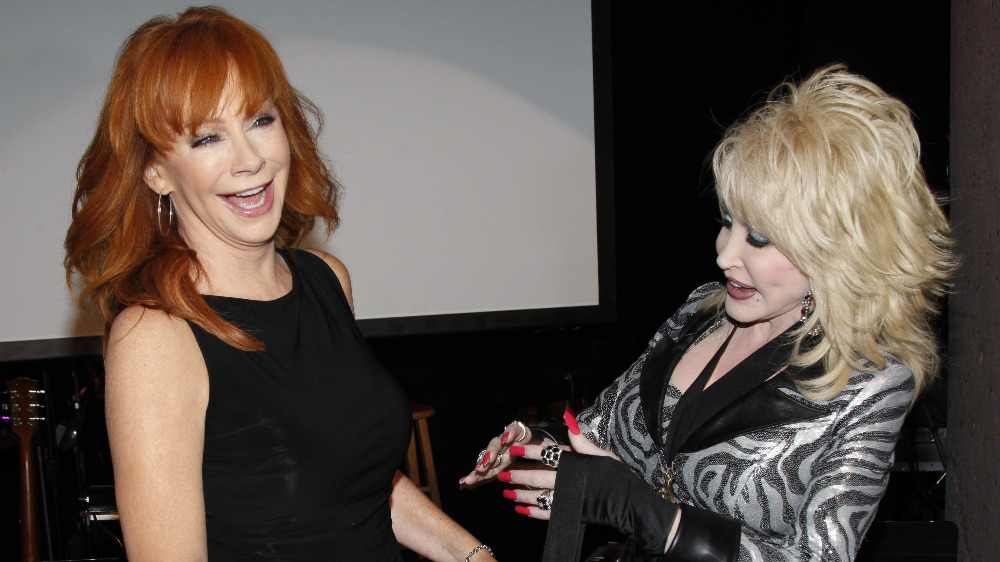 Ed Rode/Getty Images
Dolly Parton and Reba McEntire aren't just musicians, but actors, writers, and all-around icons. The two first crossed paths in 1977 when McEntire made her debut at the Grand Ole Opry. McEntire told The Tennessean that she was slated to perform two songs that night but got told last-minute that she could only do one because an unexpected visitor showed up: Dolly Parton. McEntire described Parton walking in like a "vision," saying, "It was worth the drive from Oklahoma just to see Dolly."
The two collaborated in a big way when Parton guest-starred on McEntire's show, Reba, in 2005. McEntire reflected on the experience to E! News in 2017, saying, "Dolly spent the whole week with us on set." McEntire said she would be open to working with Parton as much as possible, saying, "I love Dolly Parton... Why wouldn't you want to hang with her?" 
Parton surprised McEntire at the Grand Ole Opry once again in 2017, but this time it looked a bit different. When McEntire was celebrating the 40th anniversary of her debut on the stage, Parton showed up once again, shocking McEntire and the whole theater. "I remember 40 years ago," Parton said, according to Southern Living. "You were supposed to have two spots at the Opry and they gave me one of them and I just wanted to give it back to you tonight." Leave it to Dolly Parton to have the perfect way to celebrate an anniversary.