The Truth About Justin Bieber And Dan + Shay's Relationship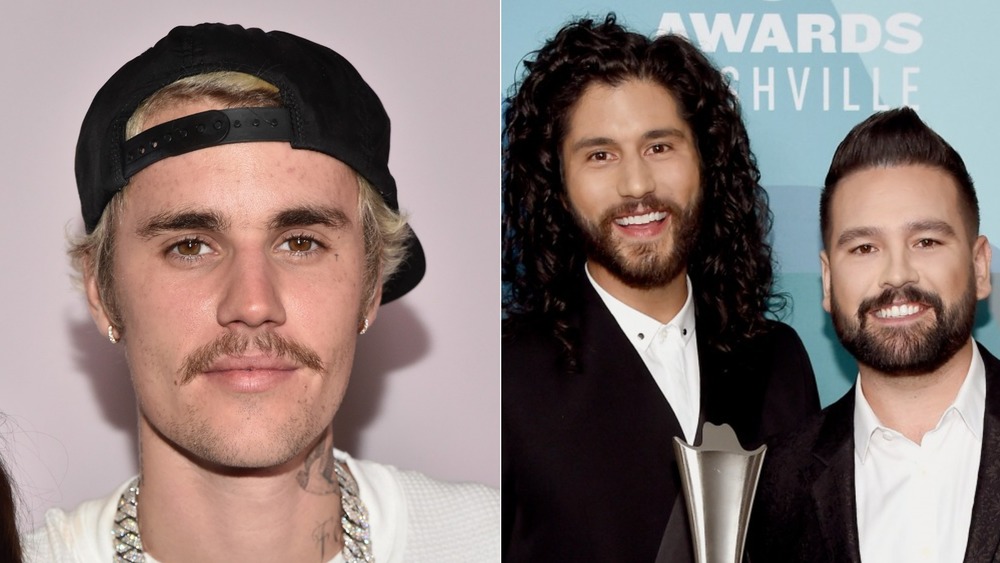 Alberto E. Rodriguez, John Shearer/acma2020/Getty Images
It's been over a year since "10,000 Hours," Dan + Shay's duet with Justin Bieber, dropped and it's finally getting the attention it deserves. Bieber took the stage with the country duo to perform the song live for the first time at the 2020 CMA Awards, commemorating three nominations for the song, including Single of the Year.
Ahead of the performance, Shay Mooney admitted that he was a bit nervous to take the stage with Bieber, but in a good way. "Excited, I would say," the singer told RADIO.com, while his musical partner, Dan Smyers, praised the country world's inclusiveness regarding pop artists like Bieber. "It's so welcoming," he said. "It's like a family."
While the country music scene may have accepted Bieber with open arms, it wasn't much of a stretch for Dan + Shay. Bieber has known the partners for years, developing a friendship that extends beyond professional collaborations and into family life.
Dan + Shay were at Justin Bieber's wedding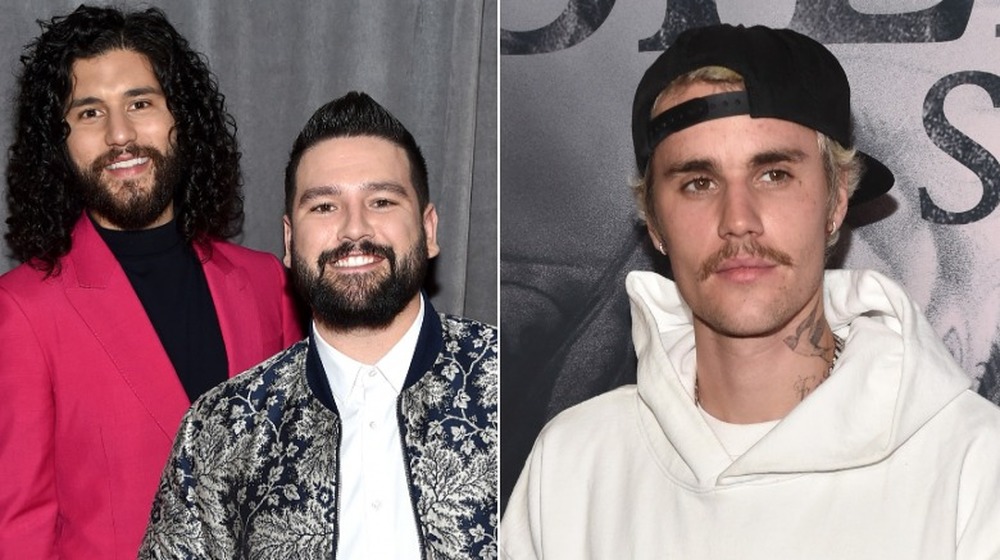 John Shearer, Alberto E. Rodriguez/Getty Images
When "10,000 Hours" was released in 2019, Rolling Stone reported that Dan + Shay and Justin Bieber had been friends for years. The magazine noted that, both being managed by Scooter Braun, the prolific music manager who works with other mega-stars, like Ariana Grande and Kanye West and whose renown has earned him Drake lyrics, may have something to do with their initial connection. 
The country duo also attended Bieber's 2019 wedding to Hailey Bieber (née Baldwin), with Dan Smyers' wife, Abby, sharing a photo on Instagram confirming that they "had a really good time." Hailey, Abby, and Shay Mooney's fiancée Hannah Billingsley linked up with their men once again for the "10,000 Hours" music video.
Since the wedding, Dan + Shay have acknowledged that collaborating with Justin has changed everything. "[We're] very thankful, it completely changed our careers," Smyers told RADIO.com. While winning any CMA award would be great, he noted that "having one with Biebs would be pretty cool." Smyers added, "We already have the song that we got to have a big moment with him, and that was such an honor." "It would be awesome to put a bow at the end of that one." Win or lose, something tells us that Justin Bieber and Dan + Shay will be friends for a long time.