The Real Reason Twitter Is Roasting Bobby Bones' CMAs Shoutout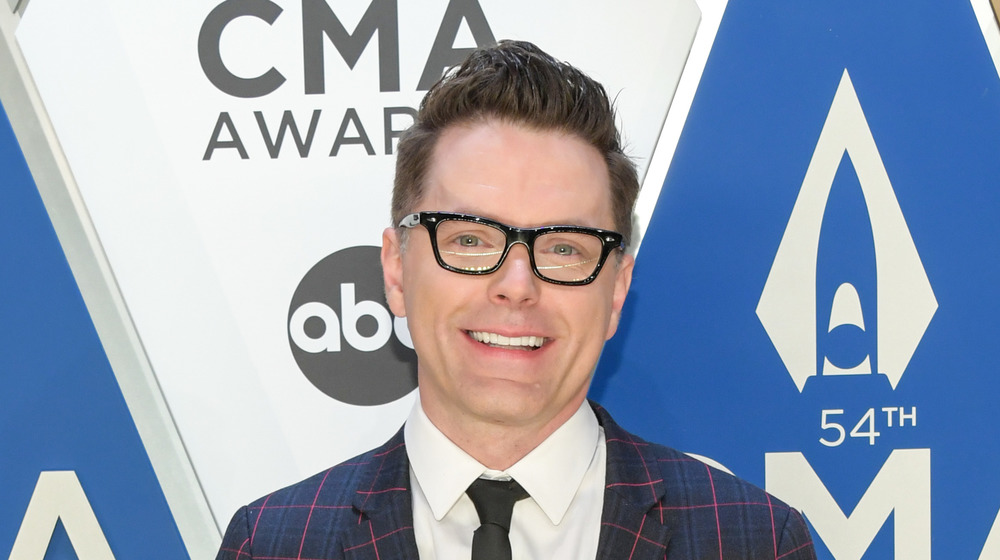 Jason Kempin/Getty Images
Award shows in 2020 are very different, to say the least. Fortunately, production teams have done their best to bring fans some aspect of normalcy with social-distanced performances and pre-recorded acceptance speeches. We're used to seeing all sorts of important people shouted out during award show acceptance speeches: parents, record companies, fans, film production companies, directors, children, spouses, a higher power. Usually, these friendly nods are made after an entertainer of some sort has won an award.
However, a special someone got a shout during the 2020 Country Music Awards, but not during an acceptance speech. Nashville-based country radio personality Bobby Bones — and winner of Dancing with the Stars — took it upon himself to give a shoutout to someone he cares about during his CMAs stint, and Twitter is freaking out. And it's not just because he announced "The Bones" as the CMA Single of the Year.
Keep reading for the real reason Twitter is roasting Bobby Bones' CMAs shoutout.
Bobby Bones' CMAs shoutout was for a special person
As Bobby Bones was speaking to the camera at the 2020 CMAs, he shouted out his fiancé with a simple, "Hi Caitlin." While this may seem innocent, Twitter had something to say about it.
One fan showed his thoughts with a GIF of a group pretending to whip the air and also showed the word "whipped." Another person wrote, "Can Bobby Bones go 5 minutes without mentioning he's ENGAGED!" A different user suggested it was probably a bet. Maybe Bones can clear the air about the frenzy he caused on The Bobby Bones Show.
Even if he is whipped, some fans did come in his defense. "It's sweet! Boy is in love, he got it bad, and ain't nothing bad about it!" a viewer tweeted in response to the shoutout. 
Bones has made it quite apparent he is in love, and admitted he waited "so long" for his bride-to-be. In his engagement announcement post, he wrote, "I am the luckiest." He wrapped up the sweet post by saying he was happy to marry the "love of his life."