Reba McEntire's CMA Looks Ranked Best To Worst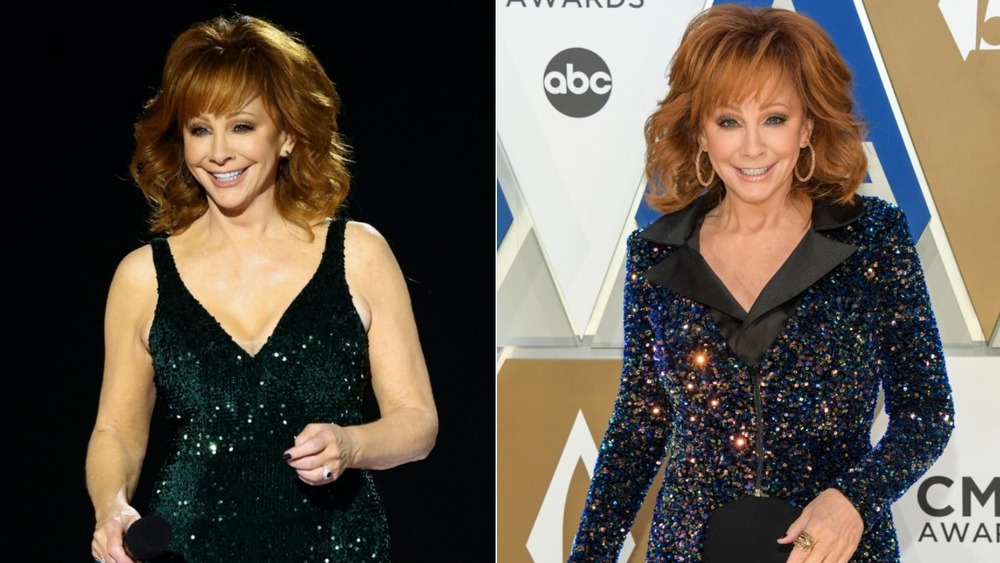 Terry Wyatt, Jason Kempin/Getty Images
The 2020 CMA Awards featured electrifying performances from some of country music's biggest stars and saw awards presented to some of the most deserving people in the music industry. It also featured something quite notable: Host Reba McEntire wearing a bunch of different sparkly outfits. McEntire rocked all of her Nashville-inspired looks with ease; even so, some ensembles stood above the rest.
Of course, fashion is subjective, but we're going to go out on a limb and say McEntire's best look was her last of the evening. The country phenomenon wore a floor-length gown (pictured left) entirely covered in emerald sequins. The gown's silhouette complimented McEntire's figure, while the color complimented her flaming red hair.
Continuing on, McEntire's next best outfit came from the show's red carpet. She wore a floor-length sequined blazer over black pants (pictured right), serving up ringleader realness as she made her first appearance of the night. The outfit not only set the tone for the evening, but it was original and playful. Let's take a look at some of the star's other fits of the night.
Not every Reba McEntire look was a homerun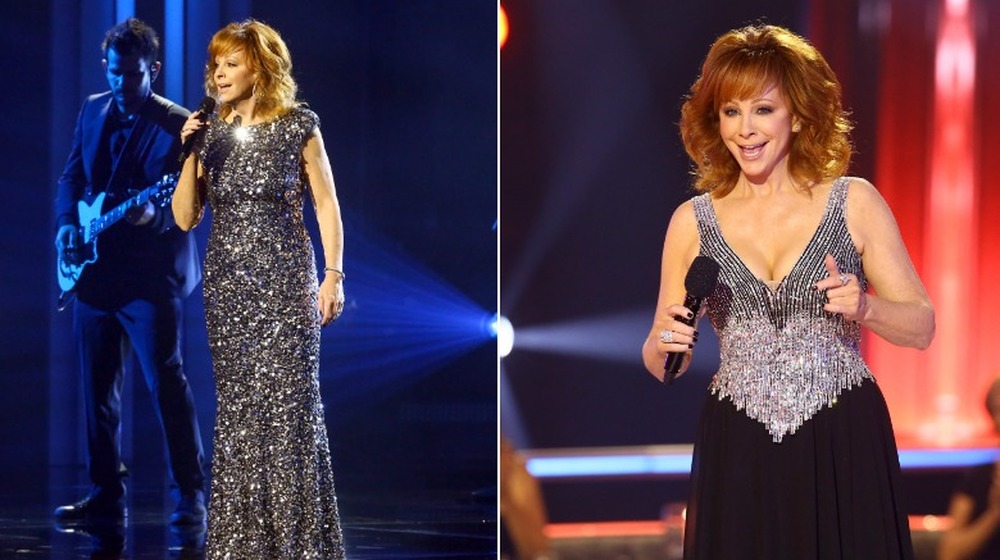 Terry Wyatt, Terry Wyatt/Getty Images
Landing smack dab in the middle of the pack was a floor-length black number Reba McEntire wore during her performance honoring Mac Davis. The point of this look was obviously to be respectful to the late songwriter, which it was, and it was flattering for McEntire's frame, but it also wasn't particularly memorable.
Following the black gown was the outfit Reba wore to open the show, which consisted of a silver-sequined bustier with a long black skirt. This outfit wasn't exactly a home run, but it was daring, and arguably her most "country" look of the night. This ensemble brought to mind old-fashioned showgirls you might expect to see in a Western, so it earns points for being on-theme.
Finally, in last place, was the outfit McEntire wore while performing with Chris Tomlin and Thomas Rhett. To be clear, Reba still looked great here, but there's just something... awkward about this one. The gown's silhouette is something you might expect to see on a First Lady at an Inaugural Ball, but that didn't quite gel with the head-to-toe sequins she sported. We all love sequins, especially at the CMA Awards, but this look goes to show that there it is possible to have too much of a good thing. But overall, McEntire reigned supreme throughout the evening.