The Heart-Wrenching Tribute At The CMAs You Need To See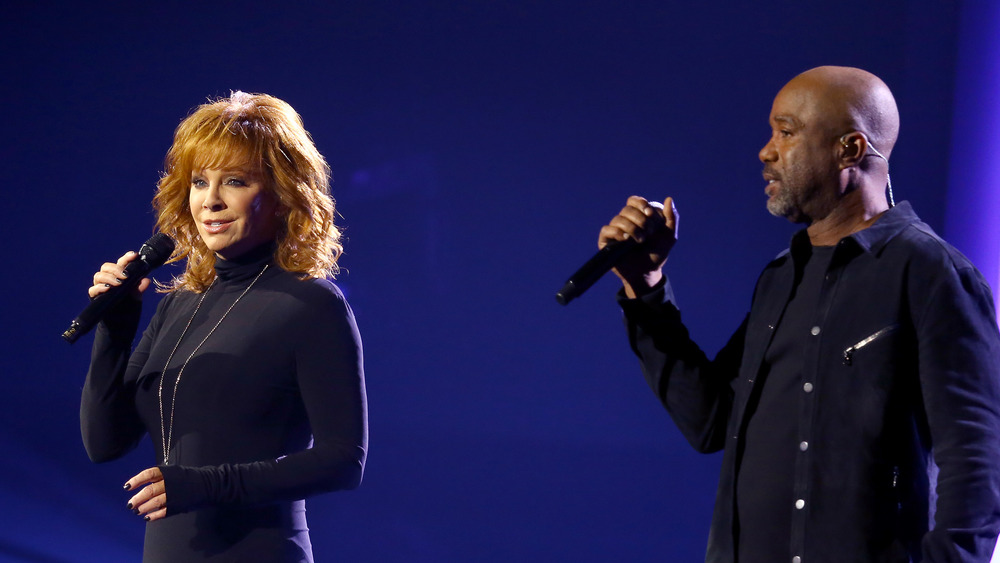 Terry Wyatt/Getty Images
The 2020 CMA Awards on Nov. 11, 2020, was one for the books. Dan + Shay teamed up with Justin Bieber to perform their hit, "10,000 Hours," from the (empty) Hollywood Bowl. Back at the main stage, it was nice to see other performers like Luke Combs, Miranda Lambert, Gabby Barrett, and Charlie Puth belt out tunes in front of a live audience. (Even if it was a smaller one than pre-2020 award show viewers are used to).
But if there was one performance that won the night, at least in terms of sentimentality, it came from the show's co-hosts, Reba McEntire and Darius Rucker. The two demonstrated a tremendous rapport throughout the entire evening, employing playful energy to keep the show moving between two and a half hours worth of performances and awards. Then, when it came time to honor legendary songwriter Mac Davis, who died in September 2020, the hosts switched gears to deliver a performance that was heartfelt and moving.
Keep reading to see how the co-hosts honored Davis.
Reba McEntire & Darius Rucker covered this Mac Davis song
Paul Morigi/Getty Images
Honoring the late Mac Davis (pictured above), Reba McEntire and Darius Rucker took the CMA Awards stage to give their spin on a song he wrote for Elvis Presley. McEntire and Rucker delivered an emotional performance of "In The Ghetto," a tune with a message that is just as poignant today as it was when Presley recorded it over 50 years ago.
The performance got introduced by CeCe Winans, the best-selling gospel artist of all time, who noted that the song's message (a warning that injustice will only make things worse for everyone) is especially timely in 2020. And McEntire and Rucker's sweet harmonies and affected delivery beautifully added to the song's theme.
McEntire and Rucker's display was also a fitting tribute to Davis, demonstrating his ability to write songs that make for perfect covers. Although Presley's take on the diddy is the definitive version to which all other covers will get compared, the song has enough depth that the CMA Awards hosts were able to step out of The King's shadow and deliver for the man behind the words.