The Surprising Way Conan O'Brien Met His Wife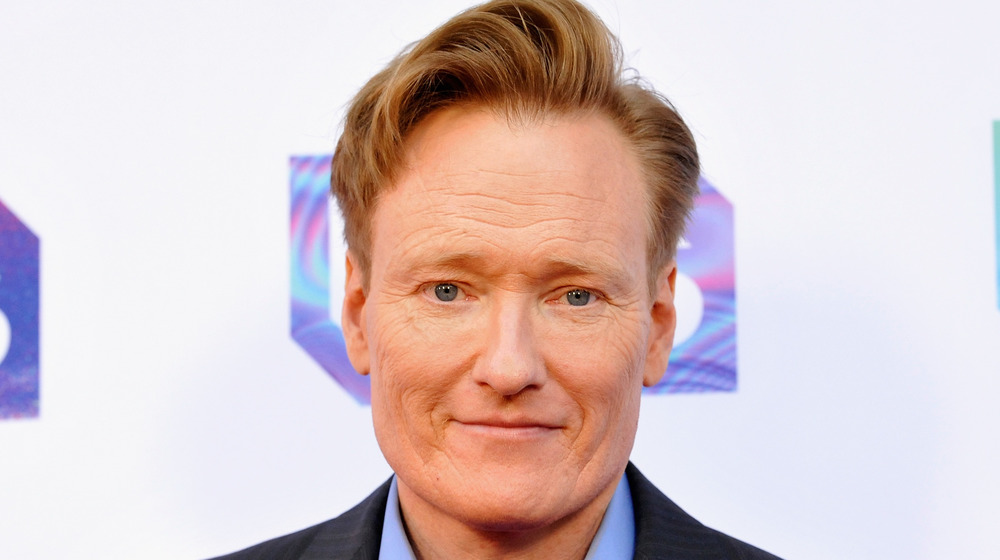 Michael Tullberg/Getty Images
On paper, comedian Conan O'Brien didn't exactly have it rough. Born in Massachusetts into wealth (his father was a prominent doctor, per Biography), the ginger-haired funnyman attended Harvard University and became president of the prestigious comedy magazine The Harvard Lampoon. He became a TV writer out of college, soon landing a writing gig at Saturday Night Live. Essentially, he went the "Colin Jost track." But, as his early Emmy win for Outstanding Writing on SNL in 1989 hinted, the longtime TV host had a career ahead of him that was no joke.
O'Brien joined The Simpsons as a writer and producer for their 1992-1993 season, writing fan-favorite episodes such as "Marge Vs. The Monorail" (Time ranked it as the best episode in history). Then, in 1993, he began Late Night with Conan O'Brien. Stepping into the late-night NBC slot, the lanky, 6-foot-4 newcomer had a ton to prove, but boy, did he. With Andy Richter as his sofa sidekick and employing a wacky tone, O'Brien's show ran for nearly 20 years, and some consider its peak years to be the best late-night television of all time! Sure, he's had his feuds, like with fellow late-nighter Jay Leno over their slots, but there's no doubt that O'Brien is one of the greats. 
But, enough on his professional life. Who is O'Brien married to? Scroll down to find out more about his less-discussed and super-sweet marriage. How they met is a tale even he couldn't write!
Conan O'Brien spotted his future wife in the audience of his show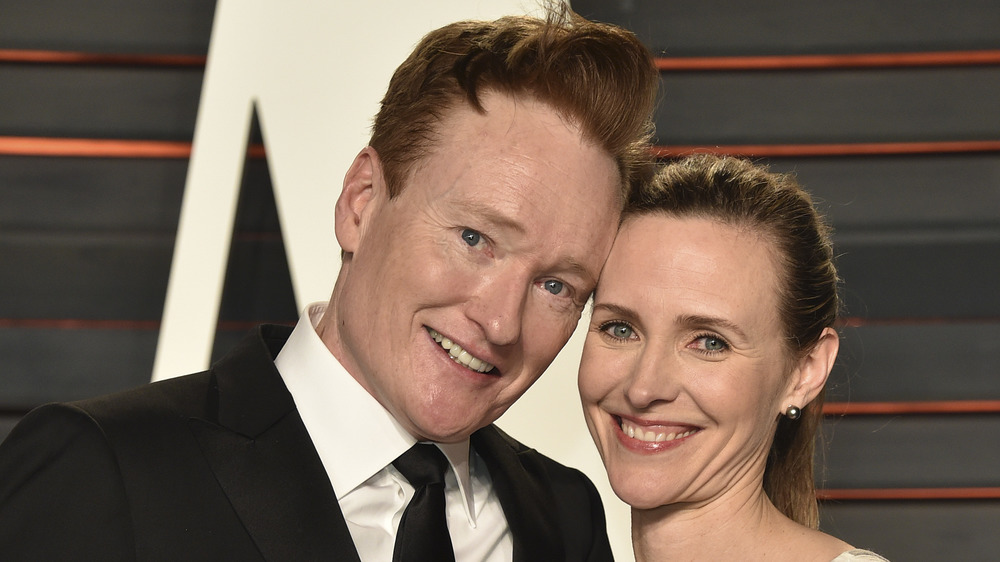 John Shearer/Getty Images
Call it love at first laugh! Conan O'Brien met, and fell for, his future wife when she attended a taping of Late Night. According to Yahoo! News, O'Brien and his wife Liza Powel O'Brien have been married since 2002 and share two children. But, they met when she was in the audience of his show in 2000.
Per Yahoo!, Liza was working at an advertising agency that produced a segment on the show. She attended a taping and quickly caught O'Brien's eye! "Somewhere, in the vault at NBC, there's footage of me literally falling for my wife on camera," he told Piers Morgan during a 2012 CNN interview. Aww.
"To be crass, she's incredibly beautiful," O'Brien said. "So that was the first attention-getter... We did talk on the phone for a while... and she's very intelligent and funny and a really good person. So the nice thing is that, that was the basis for the relationship. And so I just knew." They've been together since. Um, how adorable is that!
Today, Liza — who went to another impressive school, Vassar College — is a playwright and also dedicates her time to a charity in Los Angeles, which helps at-risk high school students who are academically talented. While O'Brien is known for his laughs, he has a romantic backstory he rarely talks about that is pure, earnest goodness.