Does Donald Trump Really Have The Power To Pardon Himself?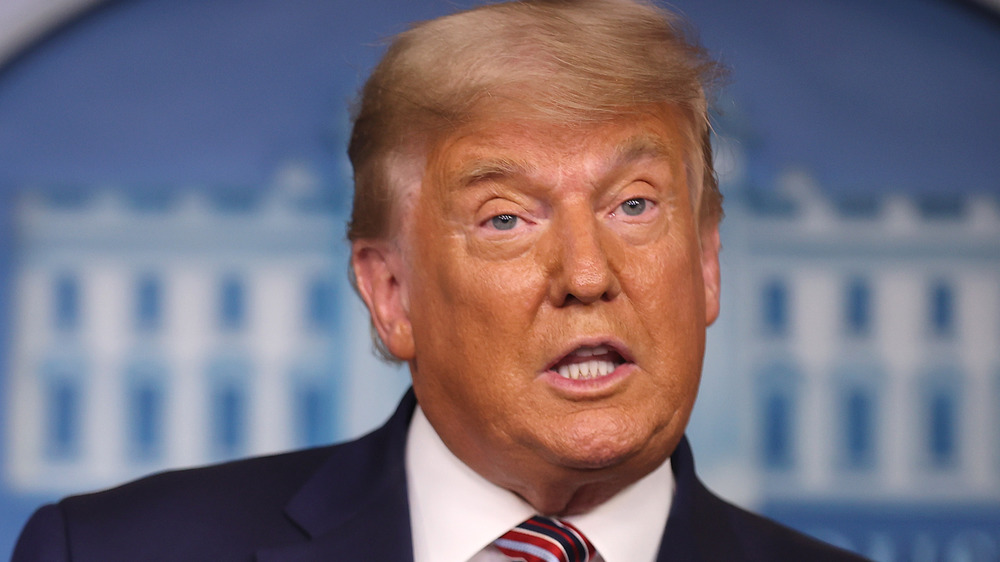 Chip Somodevilla/Getty Images
The 2020 presidential election has passed and the votes have been tallied, but the presidential race is far from over — at least, according to President Donald Trump. Just hours into the ballot counting process, Trump promised there would be legal action taken, claiming that illegal ballots were being found and counted. "We want the law to be used in a proper manner so we'll be going to the U.S. Supreme Court," he said in the early morning hours of Nov. 4, 2020 (via Newsweek). Trump unleashed a slew of accusatory tweets in the days following election night and opened lawsuits in Arizona, Georgia, Michigan, Nevada and Pennsylvania, per Time. He also declared victory for the second time, tweeting, "I WON THIS ELECTION, BY A LOT!" on Nov. 7, 2020.
As of this writing, Trump has yet to concede, which is an American tradition carried out when a candidate loses a presidential election. People are starting to question whether or not he will actually leave the White House at all. Furthermore, people are suspicious that he may plan to pardon himself from any potential crimes he previously committed. 
In 2018, Trump made it clear he would use the power of pardon if needed. "As has been stated by numerous legal scholars, I have the absolute right to PARDON myself, but why would I do that when I have done nothing wrong?" he tweeted. That leaves a big question: Does Donald Trump really have the power to pardon himself?
There is a chance that Donald Trump will be pardoned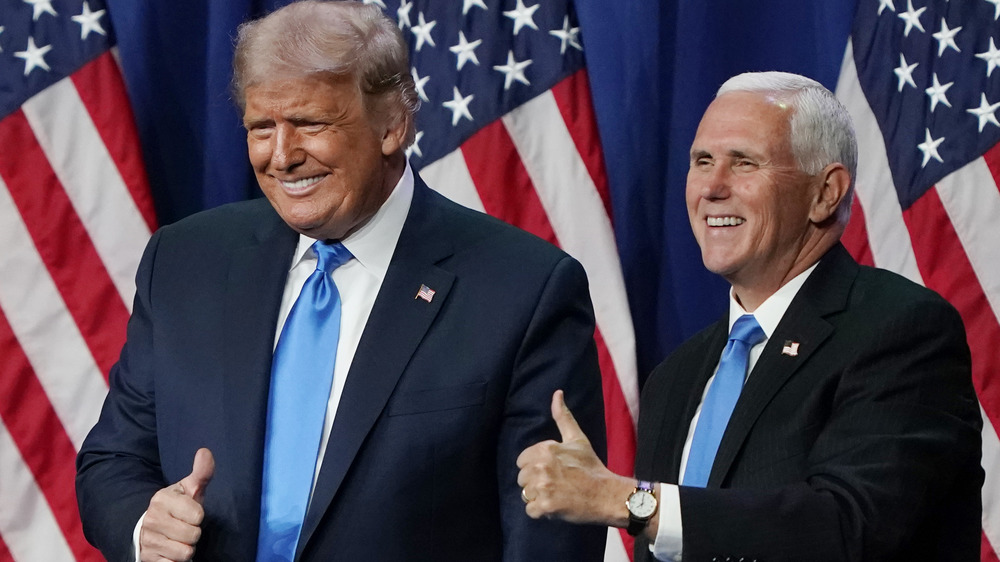 Pool/Getty Images
As of this writing, President Donald Trump does not have any formal charges against him. However, during the 2016 presidential race, his past behavior began to come to light. As Elite Daily noted, over the years, he's faced numerous sexual assault allegations, been the subject of several financial investigations and dealt with claims of campaign misconduct. 
While, at this point, Trump is without any formal criminal charges, there could be a legal reason for that. Per the U.S. Department of Justice, there is a legal precedent which states that the "indictment or criminal prosecution of a sitting President would unconstitutionally undermine the capacity of the executive branch to perform its constitutionally assigned functions." Of course, that can change once he leaves office.
If Trump becomes worried about potential criminal charges once he leaves the White House, there is a loophole he could use to gain immunity. While in 1974, the U.S. Department of Justice's Office of Legal Council determined that "the President cannot pardon himself," Matthew Dallek, Ph.D, a professor of political history at George Washington University's Graduate School of Political Management, told Elite Daily that Vice President Mike Pence can do the honor if Trump were to resign before the end of his term. 
That situation wouldn't be the first in American history. Richard Nixon was pardoned by his vice president and successor Gerald Ford when he resigned due to his involvement in the Watergate scandal. However, that would be an unlikely route if Trump plans to run for president again in 2024.